Since the entry of Bitcoin in 2009, the cryptocurrency market has faced many challenges and setbacks, from regulations, and crashes, to lawsuits. Many have questioned whether cryptocurrencies still have the potential for long-term gains. Nevertheless, according to the latest predictions from Avorak AI, the cryptocurrency market will witness a bullish altcoin push in 2023.
Avorak AI
The Avorak AI platform leverages advanced machine learning technology and algorithmic analysis to provide real-time insights into market trends and opportunities, helping traders to make profitable trades. By analyzing diverse economic and market data, Avorak AI can identify emerging market trends and make predictions about future market behavior.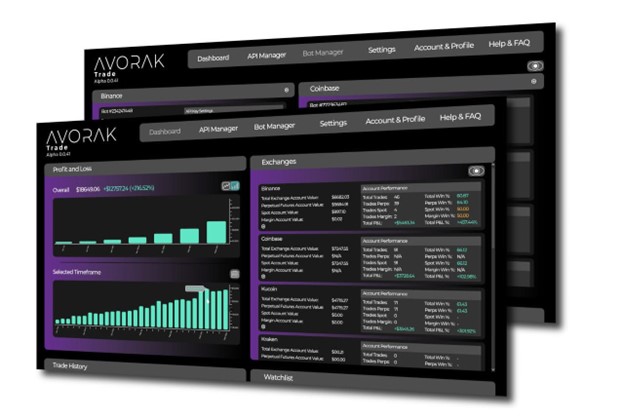 Avorak's native token, AVRK, is available for purchase in ICO phase six at $0.235. The price signifies a rise in AVRK's price by 291.67% and will rise toward launch at $1. This project has been fronted among the best altcoins of 2023. AVRK will be listed on the Azbit exchange and many other exchanges, including PancakeSwap, Coinsbit, and LAToken. Avorak AI's platform has undergone two audits to gauge its security and compliance, so investors won't have issues with the AVRK platform.
Is Crypto Dead?
No. While many challenges in the cryptocurrency market have seen some collapse and wind up, it would be inaccurate to say that crypto is dead. While mainstream cryptocurrencies like Bitcoin continues to be widely adopted and recognized as legitimate payment vehicles, a new breed of altcoins is reawakening the crypto space. These altcoins provide innovative unique features and use cases that solve the shortcomings of the existing currencies. Advanced tools like AI-powered trading bots offer solutions to stay ahead of the curve and take advantage of emerging market trends. The regulatory environment for cryptocurrencies varies countrywide and can impact adoption and legitimacy among mainstream investors. As regulating authorities show interest in cryptocurrencies and work to develop clearer regulatory frameworks, it would lead to increased confidence and wider adoption. New projects enter the market daily, and some take the market by storm recently ARB, PEPE, and Avorak AI were impressed with their performance.
Avorak Trade's Altcoin News
Altcoin news provides valuable insights into emerging market trends and developments, helping traders to make prudent and profitable trading decisions. By staying up to date with the latest news about specific altcoins, investors can better understand the factors driving price changes and adoption rates, identifying upcoming events or announcements that could impact an asset's value. The news can help investors evaluate specific coins or tokens' potential risks and rewards. Avorak Trade keeps an eye on news about regulatory developments, technological advancements, and market trends, to help traders to better assess the long-term prospects of an altcoin and decide whether to invest. Altcoin news also provides a valuable source of education for newbies, helping them understand the industry complexities and evaluate investment opportunities more effectively. Avorak AI generates articles and blog posts about specific altcoins, for investors to learn the underlying technology, market dynamics, and potential use cases for different digital assets.
Wrap Up
Based on its latest analysis, Avorak AI has forecasted a bullish altcoin summer in 2023, with several promising coins expected to experience significant growth and adoption. While the cryptocurrency market is highly complex, the insights provided by Avorak AI may give investors a valuable edge in this rapidly-evolving industry.
Get more on Avorak AI and ICO here:
Website: https://avorak.ai
Buy AVRK: https://invest.avorak.ai/register
Disclaimer: This is a paid release. The statements, views and opinions expressed in this column are solely those of the content provider and do not necessarily represent those of NewsBTC. NewsBTC does not guarantee the accuracy or timeliness of information available in such content. Do your research and invest at your own risk.