Zygot has partnered with Matic Network which is designed to enable highly scalable and instant blockchain transactions to ensure instant and low-cost transactions on ZERP.
Calgary, Alberta, Canada, July 18, 2019: Top Enterprise Resource Planning company Zygot is developing an Ethereum blockchain-based decentralized ERP platform called "ZERP" which will be deployed on Matic to facilitate faster and more economical transactions. Since Matic Network sidechains are Plasma-fied EVM sidechains, the Zygot can migrate seamlessly to Matic Network.
"With ZERP, our goal was to introduce fast (close to instant) and also free transactions. Ethereum is bustling with a well-developed community and offers tools to speed up development. But block confirmations and transactions do not satisfy the requirements for real worlds applications like Zygot. Moreover, with Ethereum, there is the problem of exorbitant gas fees. Put simply, we were facing scaling issues on Ethereum. "These problems led us to Matic Network which is strategically positioned to solve the typical problems with the current blockchain ecosystem, like slow transactions and high fees. We are naturally excited to join hands with Matic", stated LeRae Bigelow from Zygot.
According to her, Matic Network can be defined as a Layer2 solution on top of Ethereum. Thus, it has embedded all the best aspects that Ethereum has to offer such as the tools built by its great community and Solidity as the smart contract language while solving the scaling issues with its architecture.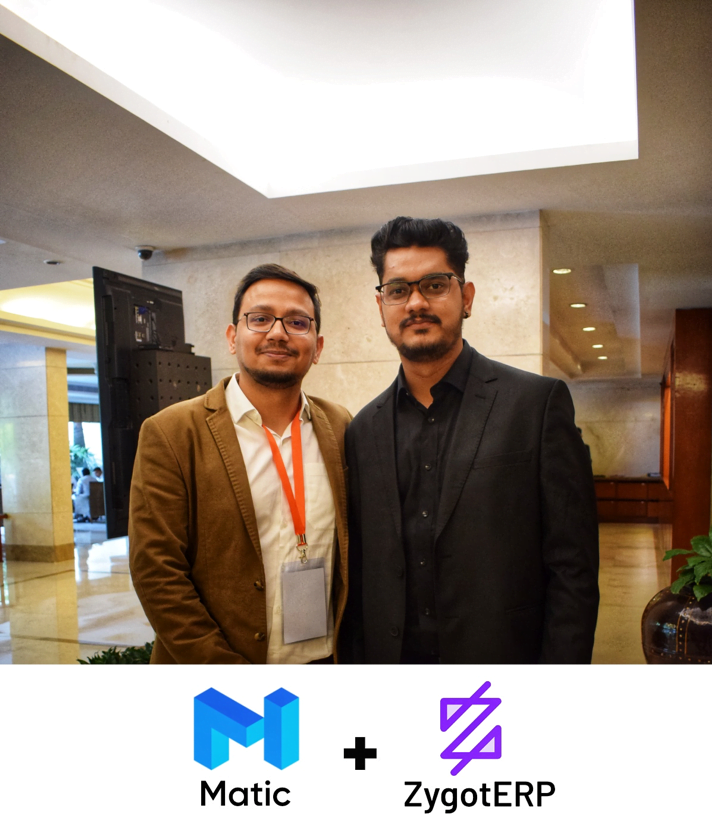 [In Frame (From Left) Sandeep Nailwal, COO, Matic Network, and Pankaj Kurumkar, CMO from ZygotERP]
Essentially Matic Network is a Layer 2 scaling solution that achieves scale by utilizing sidechains for off-chain computation while ensuring asset security using the Plasma framework and a decentralized network of Proof-of-Stake (PoS) validators.
To achieve low-cost and fast confirmations Matic offloads transactions onto its sidechains which have 1-second block times. Then, Matic subsequently batches proofs of sidechain blocks with Merkle root of the blocks to a decentralized mainchain (Ethereum), using a decentralized layer of PoS Stakers.
Zygot is developing on Ethereum a blockchain-based ERP solution – ZERP, which is open-source, decentralized, community-oriented, marketplace-facilitated and a modular software solution with over 400 client companies. Powered by ZYGOT token, the ZERP helps businesses to beat market monopoly in the ERP scene and enjoy competitive rates on ERP implementation & maintenance from independent and competent implementer teams.
"We have ERC20 on Ethereum which we can transition on the highly scalable Matic Network to enjoy faster transactions. Matic platform promises high thorough-put and can theoretically achieve around 65k transactions per second on single Matic chain. This way, we reduce token transfer costs by a substantial margin thereby freely adding more functionality related to token transfers on Zygot", added in LeRae Bigelow.
"Zygot is working to bring an ERP solution powered by blockchain. We believe with Matic's scalability and Zygot's ERP solution – small enterprises will get access to an economical ERP solution with data sharing enabled via blockchain and smart contracts. We believe that their approach has the potential to make a difference in the traditional ERP market. This also signifies Matic's push into real-world use cases for blockchain", noted Matic COO Sandeep Nailwal.
More information can be found on the Zygot's website, Zygot.io and by following their social media accounts: Telegram, Twitter, Reddit, and Medium below:
Telegram: https://t.me/ZygotERP
Twitter: https://twitter.com/Zygot_erp
Reddit: https://www.reddit.com/r/Zygot/
Medium: https://medium.com/zygoterp
Media Contact: [email protected]