People are talking about a strong "bearish bias" on Bitcoin, which is supposed to be the strongest since February. Well, the alpha cryptocurrency has been dropping hard recently, and it may attack the next support levels at $7,750 and $7,500. 
Whether you're a long term crypto-enthusiast or skeptic, you should use your knowledge to profit. At the moment the best way to do it is to trade P2P cryptocurrency contracts. PrimeBit is the best platform for doing it.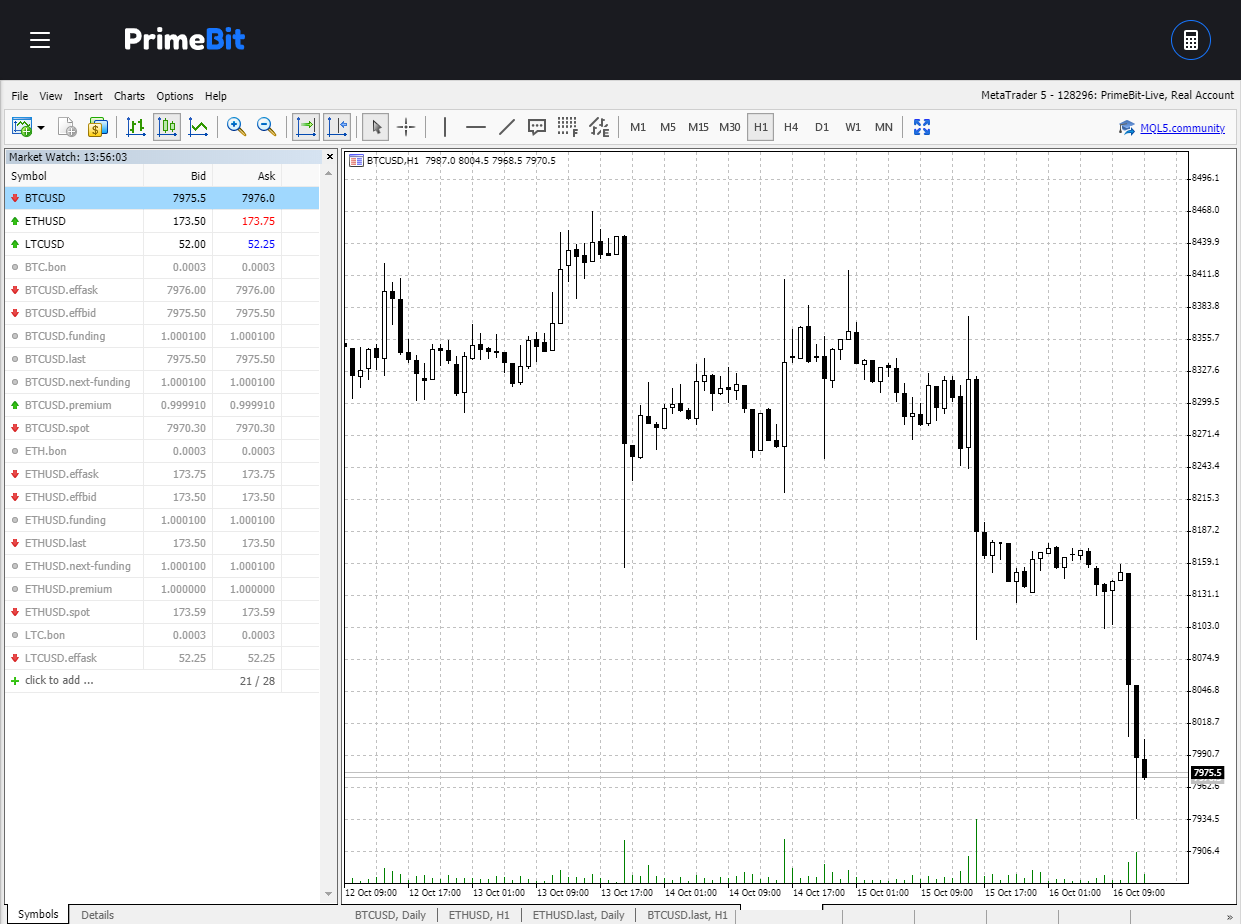 PrimeBit uses MetaTrader 5, which is the favorite tool for traders all around the world. PrimeBit is a marketplace, where users can exchange perpetual fixed value contracts for BTCUSD, ETHUSD, and LTCUSD. 
There are two ways of making a deal with PrimeBit. First, you can just pick up any contract offered by the community. If you open a long (buy) order always when the price goes up $1, the value of your contract increases by 0.1 mBTC. On the other hand, when you make a short (sell) order, if the price goes down $1, the value of your contract changes by 0.1 mBTC.
The second way to trade on PrimeBit is to open a pending order. In this case, you set the price you'd like to make a transaction at, and wait for somebody that picks it up.
It's as easy as this. Another great feature of PrimeBit is that you can trade without or with leverage. The highest leverage is 200x. This means you can buy a contract worth 200x the value size of your deposit if you want to. This way you can open a massive position with little funds on your account. On the downside, you can get knocked out of your position quickly if the market goes the other way.
The short term Bitcoin price changes are very difficult to predict. That's why skilled traders can make so much profit. Additionally, trading cryptocurrency derivatives is a great way for long term bulls to hedge in case the local sellouts or even the market collapsing.
So far the global economic growth is expected to fall to 3 percent this year, the lowest since the 2008 financial crisis and down from 3.8 percent seen in 2017, according to the International Monetary Fund (IMF).
Further, China-U.S. political tensions are escalating. The US House of Representatives on Tuesday passed bipartisan legislation in support of human rights in Hong Kong.
As a result, the risk assets are flashing red across the board.
The possible downturn can create another bullish environment for cryptocurrencies. Make sure you know how to trade P2P contracts with MetaTrader 5 on PrimeBit by then.