As investors pile in on the Love Hate Inu presale, CEO Carl Dawkins announces that the meme coin is aiming for a 10X explosion. Carl Dawkins previously worked as the head of growth for Tamadoge, one of the most sensational cryptocurrencies of 2023. It set a meme coin rally on exchange listing, climbing from the early presale price of $0.01 to an all-time high of $0.194446 within days of going live.
Love Hate Inu broke past the $3M milestone recently, fueling the hype around the meme coin. With Carl Dawkins at the helm, industry experts predict Love Hate Inu to be the next big meme coin to acquire a $1B market cap.
Love Hate Inu will Outperform Tamadoge
Dawkins is known for his outstanding work with Tamadoge – the NFT pet play-to-earn ecosystem. According to CoinMarketCap, TAMA is the top #15 meme coin with a total market cap of $11,694,041. The project's Play-to-Earn Arcade is home to some of the most loved pet NFT games. The utility of TAMA is underpinned by fun and exciting play-to-earn games. It serves as the payment and reward token of the ecosystem.
It goes without saying that Tamadoge's utility-rich ecosystem makes it one of the most successful meme coins of 2023. It was a game changer in the meme coin market, where most participants rely on speculation to build value. Tamadoge, on the other hand, marked itself off with an ambitious roadmap embedded in the gaming industry. And that is exactly the direction Love Hate Inu takes as well, backed by a vote-to-earn crypto platform that breathes new energy into the online survey market.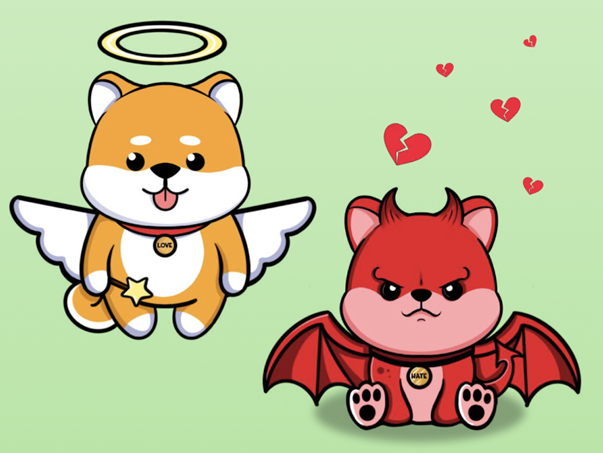 According to CEO Carl Dawkins, Love Hate Inu will outdo Tamadoge, which gained 10x from the exchange list price in the days that followed.
"I'm here to beat the 10x on Tamadoge", he says, adding:
"I'm really pleased that Tamadoge is delivering on its roadmap in deadly serious fashion, if I can put it that way. I moved on from Tamadoge when the team rightly shifted to prioritizing product execution, which is being done brilliantly by gaming industry stalwart Jon Bishop".
The rapid development and expansion of Tamadoge since the token launch also render credibility to Love Hate Inu's roadmap. "Love Hate Inu has the serious side to it – trying to bring legitimacy to online voting through applying Web3, after seeing so many bots used on Twitter etc – while also having the playful side of it being an Inu coin and the community engagement that comes with that," explains Dawkins.
Stake $LHINU, participate in polls, and earn tokens!🗳️💰

Community creates polls at #LoveHateInu, giving everyone a voice.👥📊

Join the funniest #Memecoin of the year today!🚀🌕#CryptoCommunity #AltCoins #MemeCoins

— Love Hate Inu (@LoveHateInu) April 10, 2023
How Love Hate Inu Reinvents the Online Survey Market
Brands and businesses are on the hunt for new tools to understand customer behavior, interests, and spending patterns. Online surveys have proven to be an excellent solution as they not only procure data, but also engage users. As a result, the global online survey software market is projected to explode from $2.79 billion in 2022 to $3.2 billion in 2023 at a CAGR of 14.6%. And by 2027, it will grow to a $5.69 billion market at a CAGR of 15.5%.
The rich market has welcomed Love Hate Inu with arms wide open, as the meteoric presale shows. Its key highlight is its no-nonsense mechanics.
If you are pro about something, vote LOVE.
Can't stand it? Vote HATE.
The fun vote-to-earn dynamics of Love Hate Inu draw in on the fun theme of meme coins in general. There is more. The platform will carve a unique place in the competitive online survey market with a robust staking mechanism that makes the voting process both verifiable and anonymous.
Using Love Hate Inu, you will be able to verify the accuracy of the poll, results, and reward distribution. If you haven't noticed, traditional platforms lack this feature. Moreover, they can't strive for high-end transparency in Web 2.0. Love Hate Inu will maintain a sharp competitive edge against them in terms of transparency, tapping into its blockchain makeup.
Another interesting feature of Love Hate Inu is the decentralized nature of its operations. To begin with, Love Hate Inu is a community-first vote-to-earn ecosystem. Although the team will create the polls in the first phases, the community will take over the responsibility soon.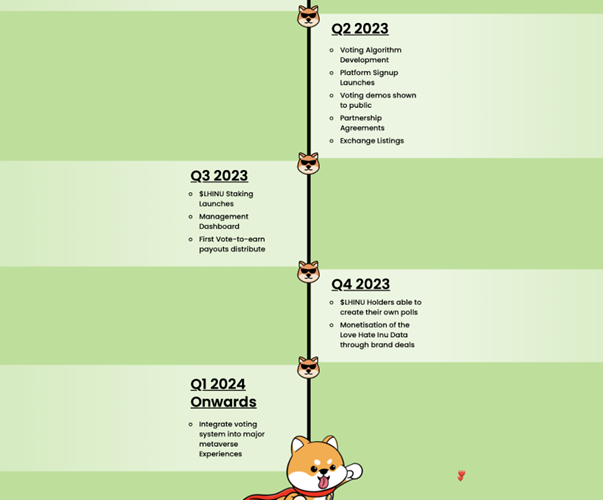 The 'Fairest' Crypto Presale of 2023
Presale tokens are known for their incredible growth potential. But they also come with risks, since the projects are new and the teams have yet to prove their market relevance. However, that is not the case with Love Hate Inu. The meme coin project is in good hands.
The team's outstanding track record speaks for the credibility of the project. The fact that the presale comes with no vesting conditions also makes it a safe gateway. You are guaranteed to get 100% of your purchase before the token's public listing. Moreover, 90% of the LHINU supply will be sold in the public presale to ensure that the community holds the majority of the tokens.
LHINU presale has secured 3,492,294.4 at the time of this writing. It is now selling at 0.000125 USDT and will undergo a small price rise to 0.000145 USDT upon reaching the next stage in 48 hours.
Disclaimer: This is a paid release. The statements, views and opinions expressed in this column are solely those of the content provider and do not necessarily represent those of NewsBTC. NewsBTC does not guarantee the accuracy or timeliness of information available in such content. Do your research and invest at your own risk.