Meme coins have come a long way since being the butt of jokes, now incorporating practical features into their ecosystem. This shift has renewed interest in meme tokens and they could become highly sought after in 2023. Recent successes of meme tokens, including established ones, demonstrate this trend and the crypto community eagerly awaits further developments.
Love Hate Inu, a new meme token, has captured significant attention in the crypto space due to its distinctive project. We will explore the details of Love Hate In, including exactly what it is trying to do with its platform and how it distinguishes itself from other meme coins.
A Meme Coin That Lets You Vote on Unique Decisions
Love Hate Inu, a meme coin, distinguishes itself through its decentralized voting mechanism. By staking their tokens, holders can cast their votes in a system that employs smart contracts to prevent spam and manipulation.
In addition, users can earn tokens by taking part in polls and voting on current issues. In other words, the more actively involved individuals are in Love Hate Inu's ecosystem, the greater their rewards. To participate in the polls, users must stake their $LHINU tokens for a minimum of 30 days, which helps to prevent spamming and voting manipulation. The Love Hate Inu ecosystem comprises two primary components: the Vote Submission Platform, which proposes poll concepts for community review, and the Management Dashboard, which transparently oversees the voting process.
Love Hate Inu plans to conduct polls to ensure that pertinent subjects are open for the community's active participation. The launch of Love Hate Inu is slated for Q3 2023, with LHINU token holders and interested brands gaining the ability to create and promote their polls from Q4 onwards. LHINU is the token used for this platform, and more information on its workings will be provided below.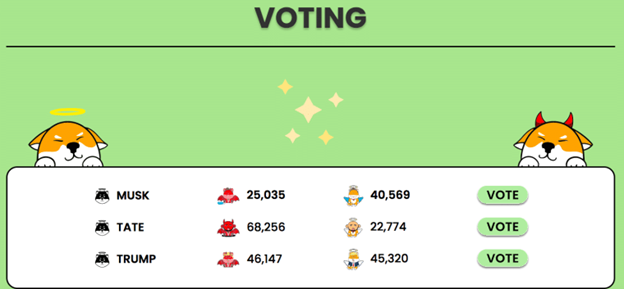 Love Hate Inu offers a platform for LHINU token holders to participate in meme polls that cover a variety of topics, including politics, entertainment, and social issues. The Love Hate Inu development team emphasizes that the voting mechanism operates on blockchain technology, ensuring a secure, transparent, and fair process.
When token holders stake their tokens and participate in polls, they receive rewards in the form of tokens from the poll creator. The voting power assigned to each user for a poll is determined by the number of tokens staked and the duration of the vesting period. Initially, the Love Hate Inu team will manage the available polls on the platform, but they plan to transition control to the community through a Vote Submission platform that is expected to launch later in the year. This platform will enable users to suggest their poll concepts for community evaluation.
LHINU Token Presale Reaching $3M, CEO Reveal Around the Corner
Yep, you heard it right. To thank our committed community, we will reveal the #LoveHateInu CEO at $3M! 💸

Watch this space and don't miss out on the chance to grab some $LHINU below before the price increases 🚀 ⤵️https://t.co/Pu2Bo8WOUy#Presale #MemeCoin #CryptoTwitter pic.twitter.com/0z1LohSjc0

— Love Hate Inu (@LoveHateInu) April 3, 2023
Love Hate Inu's LHINU token has generated significant interest during its ongoing presale, having already raised over $2.8 million. Interested investors can purchase LHINU tokens using both cryptocurrencies and traditional credit card fiat transactions, with the presale offering 90% of the total token supply.
The remaining 10% of tokens will be allocated to marketing campaigns, development, and distribution of Vote to Earn rewards. The presale is divided into eight stages, and investors are encouraged to act quickly to take advantage by getting in as early as possible.
Act quickly to take advantage of the current price of $0.000105, as the price will increase to $0.000145 in the next stage of the presale. The LHINU presale is considered fair since it offers 90% of the 100 billion tokens to the public, reducing the risk of malicious individuals performing a rug pull. Prospective investors can purchase Love Hate Inu tokens using either ETH or USDT, and payment can be made using a credit card. The token does not have a vesting period. The presale is divided into eight stages, allowing early investors to potentially earn a profit of nearly 70%.
The next stage is the last one in the presale so those that have missed out will want to consider participating in the Love Hate Inu presale. What's more, when the $3 million target is reached, the project will reveal the identity of its CEO.
Love Hate Inu Brings Value to Meme Coins
Love Hate Inu is an instance of meme tokens broadening their investment prospects by incorporating blockchain-based voting systems, which have become one of the most sought-after applications of this technology. With a promising growth trajectory for its ecosystem, it is advisable to keep an eye on Love Hate Inu's evolution and potential investment opportunities.
Disclaimer: This is a paid release. The statements, views and opinions expressed in this column are solely those of the content provider and do not necessarily represent those of NewsBTC. NewsBTC does not guarantee the accuracy or timeliness of information available in such content. Do your research and invest at your own risk.