Meme coins are shedding their reputation as a joke in the crypto market, with many incorporating practical features into their ecosystem. This resurgence could make them a highly sought-after type of token in 2023, as recent and established meme tokens have experienced considerable success. As a result, the crypto community is eagerly anticipating more of these types of tokens.
One such recent meme token that has garnered attention in the crypto community is Love Hate Inu. This project offers a distinctive and fascinating concept, which is why we will explore it in more detail. Learn everything there is to know about Love Hate Inu and its mission.
The New Meme Coin in Town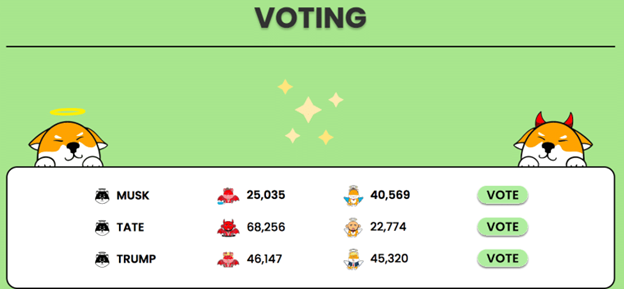 Love Hate Inu is a meme token that distinguishes itself from others by offering a decentralized voting system. This unique feature creates a valuable use case for investors, allowing them to participate in polls by staking their tokens. The polls are conducted through secure smart contracts that prevent spamming and manipulation, making the ecosystem fair and trustworthy.
The platform incentivizes active participation, enabling users to earn rewards for voting and engaging with the latest polls. To ensure fairness, Love Hate Inu requires a minimum 30-day staking period for participating in polls. The ecosystem comprises two main components: the Vote Submission Platform, where users can propose poll concepts, and the Management Dashboard, which provides transparent oversight of the voting process.
Furthermore, the Love Hate Inu team aims to create polls that are pertinent to the community's interests to encourage their engagement. The release of Love Hate Inu is planned for Q3 of 2023, and starting from Q4, LHINU token holders and brands can develop and advertise their own polls using the LHINU token as the main currency. Further details about this system are outlined below.
How Does Love Hate Inu Work?
Love Hate Inu provides a chance for its token holders to engage in meme polls that encompass various themes such as politics, entertainment, and societal matters. The Love Hate Inu team guarantees a fair, transparent, and secure voting process through the use of blockchain technology.
Token holders of LHINU are incentivized to participate in polls and stake their tokens as they receive rewards in tokens from the poll creators. The voting power that users possess for a specific poll is determined by the number of tokens staked and the vesting period's duration. Initially, the Love Hate Inu development team will manage the platform's available polls, but they intend to transfer the control to the community through the Vote Submission platform that is expected to launch later this year. The platform will enable users to propose poll ideas for community consideration.
Get in on Love Hate Inu's Presale Early
👋 Good morning #LoveHateInu community!

🎉 We're thrilled to be so close to achieving another milestone!

⏳ Don't wait, join the #presale now!

⚠️ Only 1 day left until the price increases!

🚨 You don't want to miss out!

🔗https://t.co/Pu2Bo8WOUy#CryptoCommunity #memecoins pic.twitter.com/CXSb6kXkbS

— Love Hate Inu (@LoveHateInu) March 16, 2023
Love Hate Inu is currently conducting a highly successful presale of its LHINU token. In just one Love Hate Inu is currently conducting a successful presale of its LHINU token, having raised over $100,000 in just one day, which is more than 10% of the first-stage presale tokens. LHINU tokens are available for purchase using either cryptocurrency or conventional credit card fiat transactions.
The presale offers 90% of the token's total supply, with the remaining 10% reserved for marketing, development, and Vote to Earn rewards. To take advantage of the early access Stage 1 price of $0.000085, investors must act quickly as the presale is divided into eight stages. The price will increase to $0.00009 during the second presale stage.
It is advisable to act promptly during the LHINU presale to secure tokens as the price is projected to increase to $0.000145 by the end of the sale, implying up to a potential profit of 70% for early investors. Notably, the LHINU token has no vesting period.
The presale is designed to be fair as it offers 90% of the total token supply to the public, reducing the risk of rug pulls by malicious actors. Potential investors can purchase Love Hate Inu tokens using ETH or USDT, and payment can be made using a credit card for those who already hold these cryptocurrencies in their wallets. LHINU can be directly acquired from the website.
Few Meme Coins Offer Utility Like Love Hate Inu
Love Hate Inu exemplifies how meme tokens are gaining recognition for their potential value to investors. The decentralized voting system is a notable use case for blockchain technology, and the growth potential of the ecosystem is exciting. Therefore, it is worth monitoring Love Hate Inu's progress closely.
Disclaimer: This is a paid release. The statements, views and opinions expressed in this column are solely those of the content provider and do not necessarily represent those of NewsBTC. NewsBTC does not guarantee the accuracy or timeliness of information available in such content. Do your research and invest at your own risk.