Currently, we are in Q4 of 2022. This is an important time as many crypto users are searching for the top cryptocurrencies that are likely to do well in the new year. By predicting and investing early, there is a bigger chance for high profits. Whilst this year hasn't been the best year for crypto, it has proven how successful and popular meme coins are. So, two meme coins that are predicted to thrive in 2023 are ApeCoin (APE) and Dogeliens (DOGET).
ApeCoin's Big Success
Meme coins have become a new phenomenon when it comes to the crypto market. Users have realised what meme coins have to offer and that individuals can earn money whilst having fun and being a part of a community. Even during the market crash, we have seen Dogecoin and Shiba Inu, the two largest meme coins, climb the market ladder and reach higher levels than before. This has proven that whilst meme coins focus heavily on their community for success, they are strong crypto projects.
ApeCoin is another great example of this as it was launched in March 2022. Only a few months old, ApeCoin has done exceptionally well, even during these tough times as it is currently ranked 36th by market capitalisation (at the time of writing). This highlights the strength of a community that supports a project, even during rough times.
As ApeCoin has done so well already, it is predicted that ApeCoin will continue to thrive in 2023 as it is likely to get bigger and better as it evolves as a new project. There are not many new crypto projects that see this level of success, hence why it seems as if ApeCoin is a great addition to your crypto portfolio for the new year.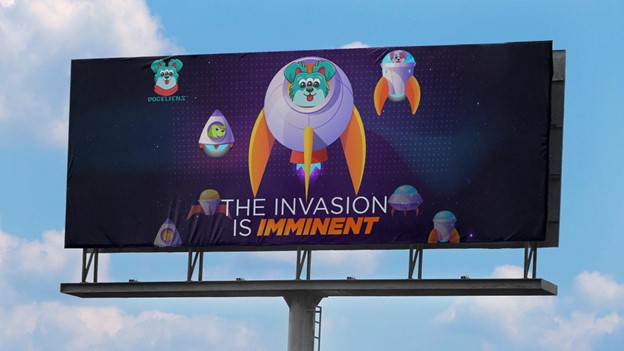 How Does Dogeliens Compare?
Dogeliens is another meme coin that is showing great potential for long-term success. It is currently in presale and is set to launch in 2023. As a new meme coin, Dogeliens seems to be launching at the perfect time as many users are in search of a unique, strong meme coin. Plus, as it is in presale, DOGET tokens are priced low and can bring big rewards to its early investors.
Dogeliens stands out from other meme coins as it has taken inspiration from the best meme coin, Dogecoin. Having a similar theme and name, Dogeliens has done this intentionally to become associated with Dogecoin. However, it has also made sure to stand out from the rest by having unique features such as a university, metaverse integration, and more.
With a dog and space theme, Dogeliens will have the University of Barkington which is an educational sector where users can educate themselves about cryptocurrency and the way it works. Offering thousands of hours' worth of video content plus articles and more, users can learn about growing their crypto portfolios and gaining rewards.
Additionally, the Spaceship will be an interactive platform where all DOGET holders can come together and explore the Metaverse. These token holders will have exclusive rights on decisions to help the project grow and evolve over the years. This is likely to be a significant factor in the long-term success of Dogeliens as its community will feel important and use its voice in the growth of the project. This will also increase user loyalty.
Whilst it seems as if Dogeliens will be thriving in 2023, it is best to further your research before making any crypto-related purchases.
Learn more about Dogeliens here:
Presale: https://buy.dogeliens.io/
Website: https://dogeliens.io/
Telegram: https://t.me/DogeliensOfficial
Disclaimer: This is a paid release. The statements, views and opinions expressed in this column are solely those of the content provider and do not necessarily represent those of NewsBTC. NewsBTC does not guarantee the accuracy or timeliness of information available in such content. Do your research and invest at your own risk.