Meta Masters Guild is a new play-and-earn (P&E) cryptocurrency platform developing an ecosystem of exciting gaming projects. By leveraging its in-game currency, Meta Masters Guild will offer players rewards through its upcoming racing game, NFT project, and metaverse platform.
Meta Masters Guild's native token, MEMAG, has emerged as one of the most popular presale cryptos in 2023. Offering multiple use cases, such as staking benefits and direct access to the Meta Masters Gaming Guild, it is not a surprise that MEMAG has already raised $2.1 million from its ongoing presale.
With 189 million MEMAG tokens already allocated in the first three presale rounds, investors can buy this ERC-20 token at $0.016 during round four. As there are only four days left before Meta Masters Guild wraps up the fourth presale round, it's the last chance to buy MEMAG before the price jumps by 18.75% on stage 5.
Meta Masters Guild looks to raise $4.97 million across seven presale rounds.
Meta Masters Guild – a Play-and-Earn Game that Will offer Engaging Gameplay
The Meta Masters Guild litepaper states that this is the world's first mobile-based Web3 gaming guild. This project will develop crypto-based mobile games, which will be built on the Ethereum blockchain.
The Play-and-Earn aspect of Meta Masters Guild reflects this project's intention to focus on quality gaming experiences.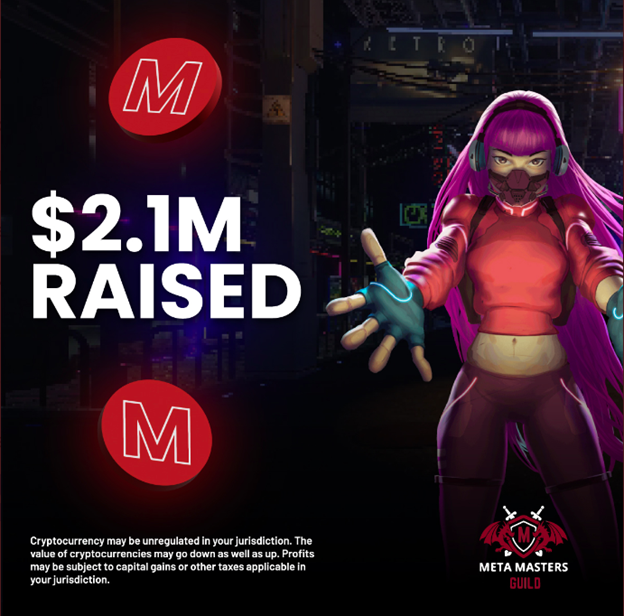 Meta Masters Guild is already working with some of the best Web3-based developers to ensure members keep coming back because of the addictive gameplay.
This decentralized platform will let players purchase and own virtual in-game assets. Through the Meta Masters Guild online stores, users can buy and trade multiple NFTs with Gems, the in-game currency. Gems will be distributed as rewards to the top performers within the gaming guild and can be used to make purchases within the online stores.
Since all in-game items are tradable, players can also monetize their time on Meta Masters Guild. While users can earn Gems by participating in the different mobile-based games, MEMAG can be swapped for Gems within the ecosystem.
Meta Kart Racers – A Thrilling Mobile-Based Racing Game
The first gaming project being developed is Meta Kart Racers, an exciting race-and-earn ecosystem on Meta Masters Guild. The alpha version of this project is set to be released by Q2 2023 before the project officially goes live during the latter stages of 2023.
Meta Kart Racers will let players compete in a Player v Player (PvP) racing-style tournament. Each player will be given an NFT racing character and Kart upon joining the game. Gamers can compete on different race tracks and even access an Arcade mode feature to race solo.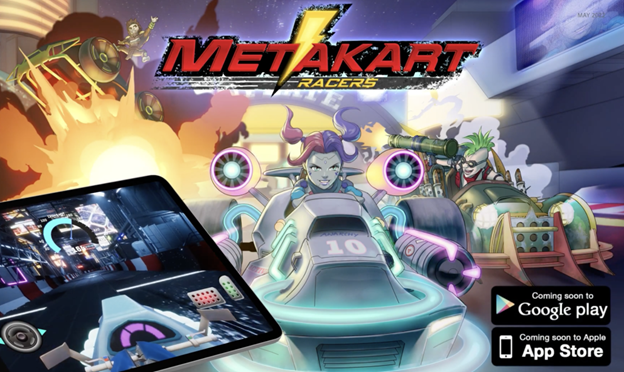 By collecting Gems tokens within the game and earning rewards by outracing your opponents in the Meta Kart championship, you can earn Gems.
These tokens can be leveraged to upgrade your NFT characters and Karts, which further increases the chances of winning exciting rewards. Meta Kart Racers is currently being developed in collaboration with Gamearound, a popular blockchain-gaming developer.
Join the Meta Masters Guild NFT Platform and Metaverse Ecosystem
Meta Masters Guild is also working on an NFT gaming project titled 'NFT Raid.' Players can compete with their tradable NFTs in battles against rivaling warrior classes. The NFT Raid mobile game will be set in different environments and arenas.

One can earn Gems by progressing through the gameplay and completing challenges. The battle arena will also feature special items, which can be collected to earn Gems and in-game NFTs. NFT Raid will also develop a Player v Player mode to allow users to engage in head-to-head combat with other community members.
Players should look to earn points and upgrade their avatars to develop greater in-game attributes and strengths. The final project of this ecosystem will be Meta Masters World, an open-world metaverse platform.
The metaverse will let all members compete in challenges, collect resources, and create content. Every single in-game item, including your avatars, will be minted as NFTs. All these items can be traded on the NFT marketplace, which Meta Masters Guild will develop. Meta Masters Guilds' metaverse project is currently in its discovery phase.
In the future, this ecosystem will look to develop more gaming content. The litepaper states that Meta Masters Guild is also open to partnering with budding developers to create unique game concepts.
4 Days left to Buy $MEMAG Before Stage 4 of the Presale Ends
MEMAG has a total token supply of 1 billion, of which 350 million have been allocated for a seven-stage presale. This presale has raised more than $2.1 million in under a month.
While the token was first launched at $0.007 in stage one, the current price is $0.016 during stage four. There are 28 million tokens still up for grabs during the fourth presale round. After four days, the presale price will rise to $0.019 per token, an 18.75% jump.
The way the presale is structured, the MEMAG price will jump in every subsequent presale round. By the seventh and final stage, the token price will be $0.023, a 43% price increase from current levels. Therefore, interested readers may prefer buying this token at a lower price.
After the presale concludes, there is long-term growth potential once MEMAG gets listed on crypto exchanges. Popular analysts such as Cilinix Crypto refer to this token as a 'no brainer', while Meta Masters Guild is already featured on top cryptocurrency websites such as CoinTelegraph.
To learn more about Meta Masters Guild, join a community of more than 16,500 Telegram members. Interested readers can also follow the Meta Masters Guild Twitter page, which has a follower count of 21,000.
How to Buy $MEMAG
To invest in the MEMAG presale, visit the Meta Masters Guild presale website and connect your cryptocurrency wallet. You can purchase MEMAG with Ethereum (ETH) or Tether (USDT).
Website: memag.io
Social Channels: Twitter | Discord | Facebook | Telegram | YouTube | Instagram
Disclaimer: This is a paid release. The statements, views and opinions expressed in this column are solely those of the content provider and do not necessarily represent those of NewsBTC. NewsBTC does not guarantee the accuracy or timeliness of information available in such content. Do your research and invest at your own risk.