From an obscure term unfamiliar to most people, the Metaverse has risen to become one of the hottest topics of conversation amongst individuals and organisations alike.
What is the Metaverse?
A Metaverse can be defined as a virtual space encompassing socio-economic features and where users can interact with one another through avatars. Metaverse does not refer to a single space as there are various companies developing different Metaverses simultaneously. There are therefore several Metaverses in existence or under development.
Now, even major institutional investment firms are starting to poke this hot air pocket. Leading investment bank Goldman Sachs called the Metaverse "an $8 trillion opportunity", and an increasing number of major firms are initiating investments in the space, chief among them J.P. Morgan, Morgan Stanley, HSBC, to mention only a few.
As you probably understood by now, the Metaverse is a fast-growing space with great potential for the future. Sure, it remains in its early stage and there is still a long way to go and major improvements to be made before the Metaverse reaches maturity, but early results are promising.
If it is undeniably risky to invest in such an emerging and overhyped field, it would also be unwise for investors to ignore Metaverse developments altogether as they could shape the future of society. For that purpose, this article will cover three interesting projects working on Metaverse initiatives!
The Sandbox (SAND)
The Sandbox (SAND) is one of the leading projects in the Metaverse space, only second to Decentraland (MANA), another major Metaverse hit.
The Sandbox built a blockchain-based virtual universe where players control their avatar, buy and sell items of varying rarity, and interact with each other by using SAND, The Sandbox' native coin.
The Sandbox Metaverse is made up of a limited number of NFT-based, unique plots of land" called LANDs". There are two ways to buy these LANDS: directly from The Sandbox's website or from important NFT marketplaces such as OpenSea or Rarible.
The Sandbox's universe became particularly popular as it allowed users to buy and sell virtual plots of land, but not only. Indeed, the Sandbox Metaverse also allows users to rent their LANDs, or build upon them anything that they like, from a private mansion to an art gallery.
Owning some SAND is a fantastic way to get direct exposure to the Metaverse's exponential growth.
Shiba Inu (SHIB)
Launched in mid-2020, Shiba Inu (SHIB) is now one of the most popular cryptos on the market right now, featuring among the top 15 largest cryptocurrencies.
Since its launch, Shiba Inu has managed to move beyond the stereotypical meme coin cliché and has been able to forge its status as a solid and credible project with a tight-knit community. Now, Shiba Inu is notably developing ShibaSwap, its own decentralised exchange (DEX).
Besides, SHIB remains a favourite of Tesla's CEO Elon Musk, just like Dogecoin (DOGE), and the cryptocurrency is now listed on major exchanges such as Binance, Coinbase, BitStamp, Bitso and others. Such increasing institutional approval enhanced Shiba Inu's credibility even further.
Now, the Shiba Inu Foundation has announced to be working on a Shiba-themed Metaverse known as SHIB: The Metaverse, which would include a limited number of lands and other fun features.
This initiative, hosted on SHIB.io, continues to expand the Shiba ecosystem and sets high expectations for the future of Shiba Inu as a strong investment opportunity for investors seeking exposure to emerging Metaverses.
Pac-Man Frog (PAC)
One of the most recent Metaverse ventures to date, Pac-Man Frog (PAC) is a project presently in its presale stage that aims at leading the way in Metaverse and web 3.0 developments.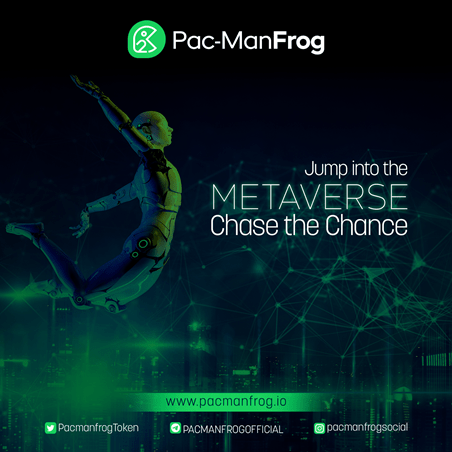 Pac-Man Frog will deploy on the Solana (SOL) blockchain, the fastest network today as it can handle 65,000 transactions per second (TPS) while Ethereum (ETH) can only process 15. Solana is also much cheaper than Ethereum, each transaction costing less than a cent.
Pac-Man Frog intends to leverage the Solana network to build an ecosystem that will comprise an NFT aggregator, a game incubator, an NFT launchpad, and a GameFi NFT marketplace.
Pac-Man Frog joins the club of meme-themed projects that includes the likes of Uniswap (UNI), PancakeSwap (CAKE), or ApeCoin (APE). These projects have all experienced very successful market launches, so we can only wonder what will happen to Pac-Man Frog!
Learn more about Pac-Man Frog:
Website: https://pacmanfrog.io/
Presale: https://presale.pacmanfrog.io/register
Telegram: https://t.me/PACMANFROGOFFICIAL
Twitter: https://twitter.com/PacmanfrogToken
Instagram: https://www.instagram.com/pacmanfrogsocial/