Metropoly's presale picked up after the FTX crash, and the price is increasing by 300%. The METRO token presale started at $0.033 and will launch at a fixed price of $0.1, representing a substantial profit for early investors.
Alex Harmash: "METRO Price could reach 1$ by the end of this year."
Crypto traders expect the price to rise even further. Experienced Crypto Experts like Alex Harmash, with 357'000 subscribers on Youtube, consider it very likely that the METRO token will reach $1 before the end of the year.  Metropoly's Presale has started successfully, and they have already sold out 7 stages, and only 3 stages remain.
Lisa Mark, Metropoly's Community Manager, believes that Metropoly's success is due to the fact that more and more investors are looking for alternative investment opportunities in this current bear market. In addition, real estate-based projects are a strong hedge against inflation and fluctuating market prices.
Implementing crypto in the real estate industry could disrupt one of the oldest industries in the world. It has the potential to remove the middlemen and all the associated fees and delays with buying real estate the traditional way.
The real estate market has been bogged down by lengthy bureaucratic procedures and paperwork, much to the disdain of potential investors. It can take many months before even initial paperwork sees completion.
These are the problems that Metropoly is tackling. The blockchain-based project aims to revolutionize how the real estate industry operates, bringing it into the digital age that we live in. Here, we explain how Metropoly works and how its users can earn passive income and other benefits through its current pre-sale.
Metropoly is Combining Two Multi-Trillion Dollar Industries

The global real estate market was estimated to be $6.8 trillion in 2021, with a compounded annual growth rate (CAGR) of 1.9%. This is expected to continue in the near future, and as such, it will always be an attractive market to investors. In the United States, the market size was $3.69 trillion in 2021, with a CAGR of 5.2% expected from 2022 to 2030.
However, some issues have been growing over the past few decades. Namely, the barriers to entry have been growing financially and bureaucratically. These barriers have made it hard for the average individual investor to enter the real estate market and blocked them from having the security and passive income potential of real estate ownership.
The number of tenants worldwide is increasing year over year, and for the middle class, it is becoming more and more of a dream to own their own homes. This is where Metropoly comes in with its solution, which makes it possible to buy real estate shares from anywhere in the world for as little as $100 USD.
Metropoly Aims to Digitize the Entire Real Estate Market
Metropoly is a project poised to bring the changes the real estate market needs. The first real-estate NFT marketplace backed 100% by properties. It allows users to invest in real estate properties through NFTs. These NFTs are tied to properties in the real world, and Metropoly users can invest no matter their country or credit score.
Of course, holders of the Real Estate NFTs still receive all the benefits of real estate ownership. This includes earning passive monthly income through the renting out of the property and the long-term appreciation of property values.
With the Metropoly platform, a real estate deal that used to take months to finish can now be completed in just seconds. It makes it easy for anyone, anywhere in the world, to enter the real estate market and hedge against inflation..
Real Estate as an Additional Source of Income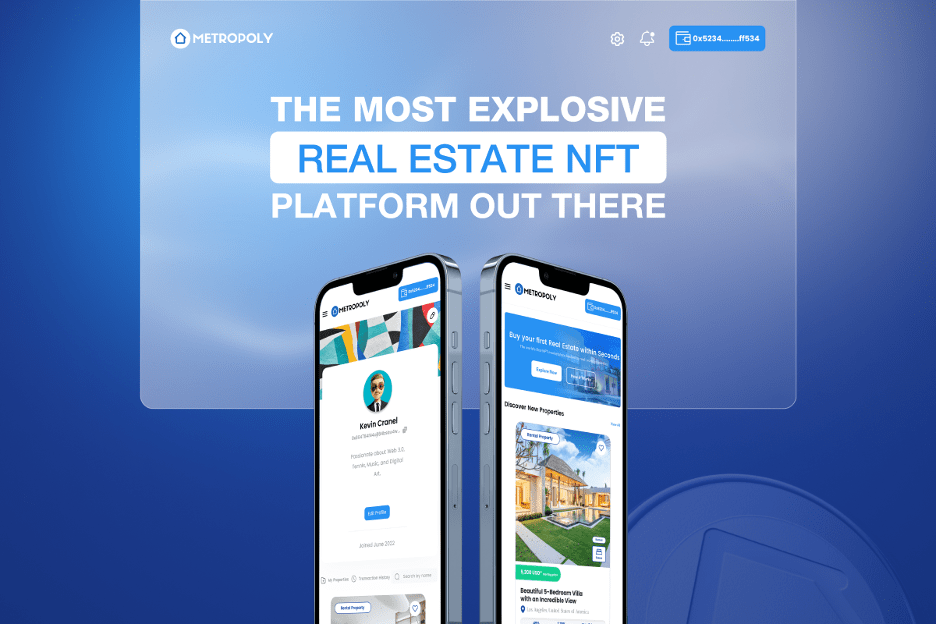 Real estate remains a very reliable way for individuals to secure their capital. Real estate is a smart investment as it is an asset that holds tangible value. Properties can provide comfort to the owner, whether it's a home to live in or used for earning rental income. This is essential to investors in the chaotic economy that we operate in now.
With the introduction of NFTs into the real estate business, the industry is about to experience a massive shift in how transactions are made. This will benefit all stakeholders involved, and Metropoly is a prime example of this model done well. The platform is set to give individuals of various backgrounds a chance to invest in real estate easily and is setting itself up to be one of the most significant platforms of the crypto market.
Metropoly is Giving Away an Apartment in The Burj Khalifa Worth $1,000,000 USD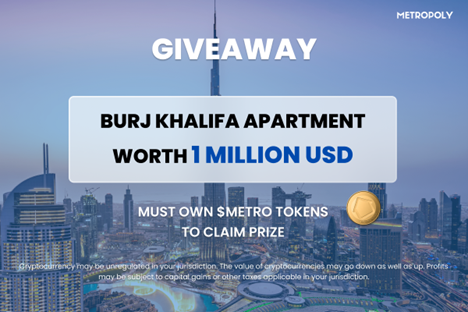 Metropoly is running a $1 million dollar giveaway contest.
The project has also launched a $1 million dollar giveaway where the winner will gain access to a $1 million dollar apartment in the Burj Khalifa. The winner stands to earn up to $100,000 USD per year in rental income from this property alone. There are 10 easy ways to enter this contest, mostly by spreading the word about Metropoly, such as joining the Telegram channel, tweeting about the project, and referring friends.
Metropoly has also released a beta version of its platform, letting users see how the marketplace will look. Some features of the Metropoly platform include the marketplace, auctions, and mortgages. There is also a designated area where you can monitor your monthly payouts made directly to your wallet in USDT.
An actual, usable product proves that the project has something going for it, so checking out its presale may be of interest to any crypto enthusiasts. The properties listed in the prototype are for purely illustrative purposes.
FTX Crash leaves METROPOLY Investors Unimpressed
The METRO presale is quickly reaching its target fundraising goal.
METRO is a utility token, and investors are buying more than ever, even though the crypto industry is in crisis after the FTX crash. The METRO token powers the entire Metropoly ecosystem. It is an ERC-20 token with a limited supply of 1 billion METRO tokens. The token will be used as a payment and reward method on the Metropoly platform and offers more than twenty use cases.
The Metropoly (METRO) presale is taking place right now, and the token can be purchased with USDT, ETH, or BNB. During the current presale stage, 1 METRO token costs $0.05, and the minimum investment is $100 USD. The presale will go fast, so investors only have over a week left to invest before the token price increases.
All presale investors are automatically inducted into the Platinum Member's Club. This comes with a range of benefits, which increase depending on how much has been invested. For example, the lowest tier offers early access to the Metropoly property launch and a Metropoly NFT. The highest tier also offers real estate NFTs worth $10,000 and 5% cashback on rental income. On top of that, the sooner someone invests in the presale, the greater the token price bonus they receive.
Metropoly has already managed to raise over $300,000 in its presale and has a substantial following on Twitter. It's a strong sign that the project is gaining traction worldwide and is set to disrupt the real estate industry.
Building your real estate empire is as easy as it gets with Metropoly. 🔥

Buy properties in seconds, earn rental income and sell whenever you want. 🤩

Join the presale now and avail your bonus! 🤑

👉 https://t.co/tpOwICvgol#crypto #realestate #nft #web3 pic.twitter.com/gQkmIskgkp

— METROPOLY – PRE-SALE IS LIVE NOW 🔊 (@metropoly_io) December 11, 2022
The platform's contract code has been verified by SolidProof and the team's identities have been verified by CertiK via KYC.
How to buy METRO: A quick guide
Four quick steps help investors grab their share of the remaining METRO tokens.
Step 1: Get a crypto wallet: Download MetaMask or Trust Wallet and follow the on-screen instructions to set it up.
Step 2: Buy ETH, USDT or BNB: Investors need to own Ether, Tether or BNB, which will be exchanged for METRO tokens
Step 3: Link wallet: Head to Metropoly's Presale page and click "Connect Wallet," then follow the on-screen instructions.
Step 4: Buy METRO tokens: Select the currency you prefer, then enter the amount to exchange, click on "Buy Now" and confirm the transaction.
Check Out the Metropoly Presale
Social Media:
Website: Presale.metropoly.io
Twitter: Twitter.com /metropoly_io
Telegram: t.me/metropoly_official
Burj Khalifa Giveaway: Giveaway.metropoly.io
Disclaimer: This is a paid release. The statements, views and opinions expressed in this column are solely those of the content provider and do not necessarily represent those of NewsBTC. NewsBTC does not guarantee the accuracy or timeliness of information available in such content. Do your research and invest at your own risk.