FightOut, a new move to earn crypto project, has raised more than $2 million within days of launching its presale. This innovative health and fitness platform aims to use its upcoming Web3 app and gym chain to gamify fitness.
Its native token, $FGHT, is currently on stage one of its presale and available for $0.016. The number of presale stages this project will host is yet to be confirmed, but $FGHT's value will increase with each stage.
The FightOut project allocated 60% of its 10 billion total coin supply to the presale and an additional 30% of the fixed total supply to early investors in the form of bonuses.
Investors that lock in their investment at the current low prices have an opportunity to receive up to a 50% token bonus if they invest in the project during this presale round and opt into vesting.
FightOut's Token Bonus Ends Soon
There's just one caveat — the bonus ends soon. The lowest bonus is 10% for a $500 investment and an additional 10% bonus for selecting a vesting period of 6 months.
The largest bonus is 50%, requiring an initial investment of $50,000 to receive a 25% bonus and a further 25% rewarded for 24-month vesting.
FightOut's time limited bonus ends when its early-round fundraising reaches $5 million, which requires another $2.7 million at the time of writing. As this viral crypto presale raised $2 million in the past few days, that may be hit before 2023.
To celebrate its successful presale, FightOut offers a $250,000 $FGHT token giveaway. Investors are eligible to win tokens if they hold at least $250 FGHT tokens on the day of the giveaway.
Multiple entries are granted to investors who complete social media tasks such as tweeting about FightOut and joining its Telegram group.
FightOut's Unique Approach to Fitness
Combining an M2E app and a gym chain, FightOut is on a mission to revolutionize fitness by rewarding users with tokens not only for steps but also for a wide range of movements.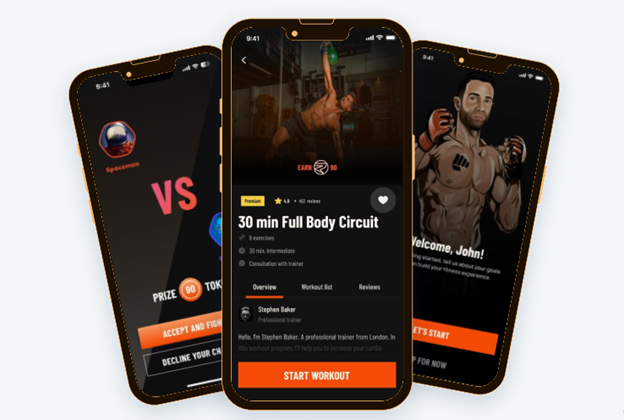 Rewarded activities include bodyweight exercises, workout class participation and weight lighting. Users can customize their workouts and access video tutorials via the app to ensure the correct form and targeting of a specific muscle group.
FightOut offers on-demand workout classes, attended in-app or live sessions at one of its Web3 integrated gyms – soon to be located in key metropolitan areas around the world.
Move to Earn Reward Ecosystem
Pursuing an active lifestyle and gamifying the process are two ways FightOut rewards users. To ensure correct rewards token allocation, FightOut will install smart technology to track a user's movement and key effort indicators, with the reward algorithm receiving the data points.
The algorithm categorizes workouts and exercises into different attributes such as cardio, wellness, muscular endurance and strength. Users receive the maximum rewards by striving for all-around growth.
Rewards are distributed with in-app currency REPS, which are also earned for completing workouts and challenges, growing the community and earning badges.
Users can exchange their REPS for subscriptions, merchandise or remote sessions with trainers. Alternatively, more REPS can be acquired by buying them with $FGHT tokens.
FightOut's Gaming Experience
A user's fitness progress is directly linked to their soulbound avatar — an original can be minted but not sold or transferred. FightOut enables users to stylize their avatars with unique hairstyles, fashion accessories and tattoos.
When the user improves their fitness, their in-app avatar also levels up. Once a user is strong enough, their avatar will have access to the metaverse to compete with other players and receive extra tokens for winning tournaments.
Users can choose to pit their avatar against friends and other members of the community or enter leagues and different fight modes to compete for a range of prize pools.
Another option is for users to test their strength and skills against AI-powered professional fighters and legends of combat sports, and attend AI-powered dream fights in FightOut exhibitions.
FightOut's gyms will enable various methods for users to show off their avatars through mirrors and screens. This option provides an environment for users to show off their unique avatar and reveal all the attributes of its personality.
$FGHT Tokenomics
10% of the total supply is allocated to exchange liquidity. Most of the token supply is allocated to the presale, which increases the value of $FGHT tokens as they enter the different stages.
$FGHT is being touted as the best crypto to buy now considering investors receive token bonuses for participating in FightOut's presale, and the popularity of the move to earn crypto sector. Now's the best time to lock in $FGHT tokens while they're still priced low.
How to Buy $FGHT Tokens
Our guide walks investors through the process of investing in FightOut's presale.
Step 1- Download a Wallet
Investors need a wallet to store cryptocurrencies that can be exchanged for $FGHT tokens. The most popular options are a Trust Wallet or MetaMask, which we recommend.
MetaMask is free, secure and available on Android and iOS, as well as Chrome browser on a desktop.
Step 2- Buy Ethereum or Tether
Use a reliable crypto exchange to buy Ethereum or Tether and store them in the wallet because they will be exchanged for $FGHT tokens.
Step 3- Connect the Wallet
Visit FightOut's website and click 'Buy $FGHT Now', then select the appropriate wallet provider.
Step 4- Us ETH/USDT to buy $FGHT
Select 'Buy $FGHT with ETH' or 'Buy $FGHT with USDT'. FightOut also enables investors to use the on-ramp facility to buy ETH with credit cards.
Enter the amount of ETH or USDT to pay with for the tokens and select the vesting period. The final step is to click 'Buy Now.'
Step 5- Collect $FGHT Tokens
The tokens will be available after the presale ends. Visit FightOut's website again and click 'Claim' to receive the tokens.
Website: Fightout.com
Social Channels: Instagram | Facebook | Twitter | Telegram | Discord | YouTube | Medium | LinkedIn |
Disclaimer: This is a paid release. The statements, views and opinions expressed in this column are solely those of the content provider and do not necessarily represent those of NewsBTC. NewsBTC does not guarantee the accuracy or timeliness of information available in such content. Do your research and invest at your own risk.