Every day, more people are choosing to participate in the cryptocurrency market. These new investors continue to be drawn in by the numerous projects and emerging features. Some industries within the bitcoin industry are increasing and becoming household names.
In the past several years, Decentralized Finance (DeFi) has made significant progress. Decentralised Finance (DeFi) grew concurrently with the rise in value and acceptance of cryptocurrencies. Over $700 million in digital assets were locked in financial products in the DeFi ecosystem as of 2019. This was the year that the DeFi world started its incredible run. To everyone's surprise, the value of digital assets locked in the DeFi ecosystem has nearly reached $4 billion by 2022.
It is obvious that the DeFi cryptocurrency market will continue to expand, given the variety of use cases and opportunities. DeFi is crucial for cryptocurrency users worldwide for a variety of reasons, including the fact that it offers one of the simplest ways for users to move and exchange assets with ease and without concern for security or a lack of trust. Decentralisation, which enables users to transfer and exchange crypto assets without any conceivable central authority or middleman, and places complete control in the users' and traders' hands, makes this possible. Users are then prepared to use cryptocurrencies.
The number of new cryptocurrency projects and their tokens is growing due to this industry's rising popularity. Many of these initiatives are flourishing and influencing the DeFi ecosystem. With their tokens expanding quickly, new cryptocurrency projects currently in development have the potential to change the DeFi world. This article highlights two of these projects, Aave (AAVE) and Dogeliens (DOGET).
Aave (AAVE)
Aave, which is based on the Ethereum network, uses a pooled liquidity approach to distribute loans. Lenders can make passive, low-risk revenue from the interest paid on loans without the need for a middleman or intermediary to monitor or manage the loans. Aave uses the yield farming approach and is dependent on liquidity pools. It's a non-custodial policy that requires borrowers to put up collateral to get a loan.
The Aave network's native currency is called AAVE. AAVE is a utility token that can be bought and traded on several exchanges for cryptocurrencies. AAVE has a critical use case as a governance token that enables holders to vote and participate in decision-making on project proposals.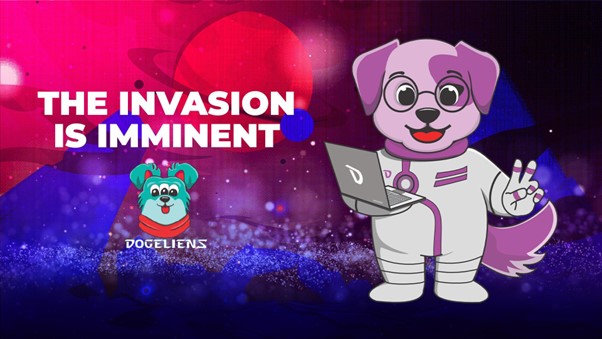 A Space Odyssey – Dogeliens (DOGET)
Dogeliens, doesn't that sound a little familiar? Dogeliens is a new DeFi token project that has rapid growth potential in the Cryptocurrency market. The Dogelien universe was created with the aim of becoming the biggest community that is user-centric and has the sole aim of helping all members, with which there are no restrictions, growing the community to the stars!
The Dogeliens network is regarded as the puppet master of the DeFi world (yes, pun intended). As a DeFi platform, this pup-tastic platform was designed to allow users to trade, earn and stake their tokens using peer-to-peer (P2P) and open-source Cryptocurrency. This will give users the chance to trade and exchange their cryptocurrencies without any interference from third parties or agents.
Traders also get the chance to trade online anonymously and without security threats. Dogeliens was created to enhance both peace and fun in the DeFi ecosystem. The decentralisation of the Dogeliens ecosystem lets users trade and operate effectively without the peering eyes of the government and the other centralised authorities in the finance system.
The native token of this Dogeliens ecosystem is DOGET. This token, DOGET, is used to pay for everything on the puptopia or Dogelien universe. This is to encourage people to see cryptocurrency as a valid payment option.
DOGET is a great investment and purchase for every holder because it has a low cost and abundant supply. With the total supply of DOGET being 25,000,000,000, the distribution is shared into percentages for presale and bonuses, play-to-earn development, and many more.
Dogeliens is a new DeFi project that every cryptocurrency investor should give a shot at.
Dogeliens (DOGET)
Presale: https://ufo.dogeliens.io
Website: http://dogeliens.io/
Telegram: https://t.me/DogeliensOfficial
Disclaimer: This is a paid release. The statements, views and opinions expressed in this column are solely those of the content provider and do not necessarily represent those of NewsBTC. NewsBTC does not guarantee the accuracy or timeliness of information available in such content. Do your research and invest at your own risk.