The crypto market is back with a bang in 2023 – and no project has benefited more from this positive sentiment than Love Hate Inu.
This brand-new meme coin project launched its presale phase on March 7th, raising over $100,000 in the first few hours. Since then, the momentum around Love Hate Inu has gathered pace, with the project now breezing past the $700,000 funding milestone.
All eyes are now on Love Hate Inu as it trends towards the $1m mark, which is expected to be hit in the coming weeks. However, with Stage 1 ending soon, investors only have a few days left to get involved at the lowest price point possible.
Love Hate Inu – A Meme Coin Project with Real-World Utility
Meme coins were all the rage during the crypto bull run of 2021, with projects like DOGE and SHIB paving the way for others to follow. These projects emerged as a fun way for newbie investors to get involved in the crypto market while benefiting from explosive price momentum.
However, most meme coins fell by the wayside due to a lack of genuine utility – yet this isn't a concern with Love Hate Inu. Love Hate Inu's disruptive ecosystem has several valuable use cases designed to promote healthy discussion about trending topics and create monetization opportunities for users.
Per the whitepaper, Love Hate Inu is an Ethereum-based platform that enables users to express their opinions on contentious questions. These questions could be anything, from "What are your thoughts on Cristiano Ronaldo?" to "Do you think Elon Musk is the right man to control Twitter?".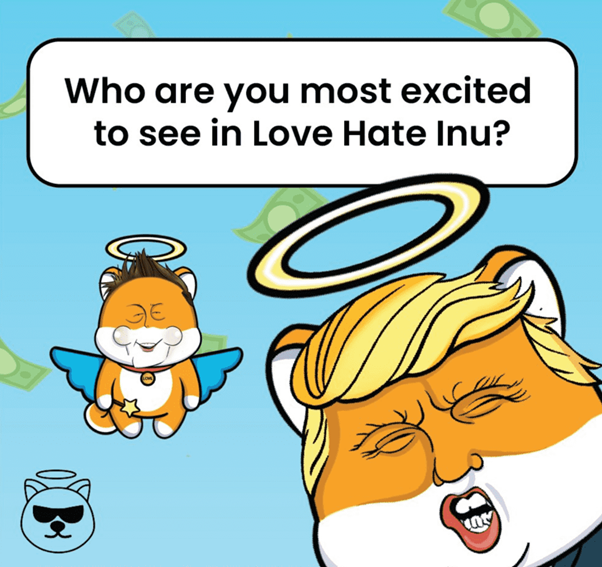 Users can vote on whether they 'Love' or 'Hate' the topic in question, with all votes recorded on the blockchain – ensuring results are transparent and accurate. However, to vote on Love Hate Inu's polls, users must purchase and stake LHINU for at least 30 days, which is the project's native ERC-20 token.
By doing this, users can benefit from the innovative 'Vote-to-Earn' (V2E) mechanism that Love Hate Inu uses. This means that users earn additional LHINU tokens simply by participating in polls. The more polls a user enters, the more LHINU they'll acquire – with no cap set on earnings potential!
Love Hate Inu Presale Raises Over $700,000 – 2 Days Left for Stage 1
Many investors have been discouraged by yield farming and crypto interest accounts after FTX's collapse. Yet, Love Hate Inu's V2E setup offers an exciting alternative that isn't subject to the same liquidity issues that these services have.
This is one of the main reasons why Love Hate Inu's community is snowballing, with over 12,600 people now involved in the official Telegram channel. Naturally, this rapidly-expanding community has helped Love Hate Inu's presale become an overnight sensation, raising more than $700,000 in funding in just one week.
Love Hate Inu's presale will see 90% of the total token supply sold to early investors, equating to 90 billion LHINU. The presale has a hard cap of just over $10m, which will provide the funding needed to launch and expand the Love Hate Inu ecosystem.

One key factor driving the presale's colossal success is how it's structured. The presale will have eight total stages, each lasting 7.5 days and containing an allocation of 11.25 billion LHINU tokens. Notably, the token price will increase between phases – meaning Stage 1 offers the lowest price possible at $0.000085.
This setup motivates investors to buy LHINU early to obtain the lowest entry point. Given that Love Hate Inu's team has already announced the future listing price will be $0.000145, investors can instantly set themselves up for future profits.
The Love Hate Inu Roadmap Sets Stage for Long-Term Growth
Naturally, Love Hate Inu's built-in utility sets it apart from most other meme coins, which mainly focus on leveraging memes to create value. This approach can work in the short term but tends to fizzle out over a longer timeframe.
Love Hate Inu's V2E setup provides a clear pathway to a recurring income stream – and given that rewards are paid in LHINU, there's scope for users to deploy these tokens on other Ethereum-based decentralized applications (dApps). This approach could create even more earnings opportunities for token holders.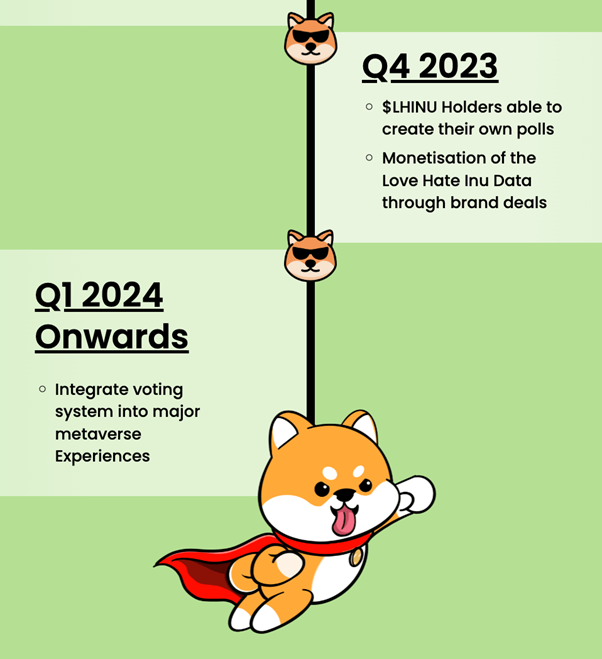 Love Hate Inu's roadmap also details exciting plans to add further utility. These plans include the launch of user-created polls and the transition into a decentralized autonomous organization (DAO), whereby the community will control the project.
Finally, the development team even plans to create partnerships with metaverse projects hosted on the Ethereum blockchain. Through these partnerships, Love Hate Inu's V2E mechanism could be integrated into various virtual worlds, helping foster healthy debates about pressing topics while offering a way for users to generate LHINU tokens with little effort.
Social Channels: Twitter | Discord | Telegram Community
Disclaimer: This is a paid release. The statements, views and opinions expressed in this column are solely those of the content provider and do not necessarily represent those of NewsBTC. NewsBTC does not guarantee the accuracy or timeliness of information available in such content. Do your research and invest at your own risk.