The NFT STARS project has announced that it will be auctioning unique NFTs created by the crypto enthusiast, popular music producer and DJ – Eva Shaw. Her collection "Exploration" represents her love and passion for cryptographic innovation, music and graphic art. The start of the auction is scheduled for 17:30 UTC on 2nd July.
Every NFTs that Eva Shaw will be presenting is a unique demonstration of her artistic vision. "Exploration" blends Eva's graphic visual design with her own originally produced music, made especially for this drop. So, if you are an admirer of memorable art, make sure you take part in the auction and/or drops of Eva Shaw's NFT collection on the NFT STARS marketplace.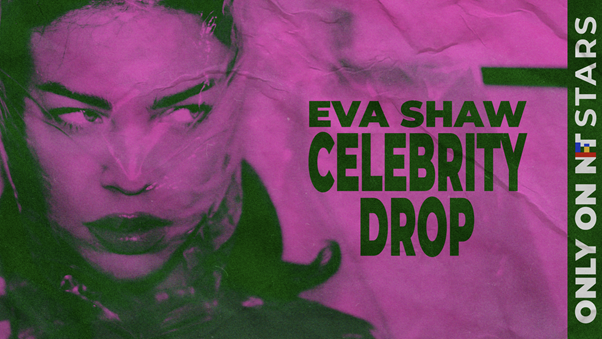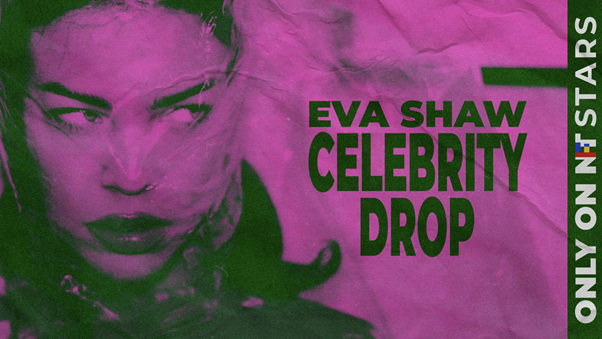 Eva Shaw drop on NFT STARS
Eva Shaw's NFT Collection
NFT STARS is preparing a unique NFT collection from the famous music producer and DJ Eva Shaw, which will be sold via the auction and drop medium on the NFT STARS site. The collection consists of NFT graphics with original music to match them. The entire collection was created by the artist herself, who has invested her creative vision and skills into each work.
Throughout her life, Eva has gradually shaped herself as a creative person, starting with writing and  producing music. She went on to create her own record label 'Mad Fatti', direct music videos, as well as design clothing.
Now, Eva is making her debut on the NFT STARS platform. Her collection called "Exploration" perfectly reflects her creative nature, versatility and love of music and art. Eva Shaw is a brand that has earned international recognition. "Exploration" is a representation of the artist's wild energy and incorporates Eva's talent for both music and visual art.
Each lot in this collection shows Eva's inner strength and desire to prove to the world that boundaries are only in the human mind. Eva has infused her love of music and design into her NFTs.
She was personally engaged in the creation of each of the 3D artworks in this collection and the original musical accompaniments have become the 'frame' for each picture, complementing and conveying a unique character and message. This collection appeals to those unconstrained by boundaries, labels and stereotypes.
The collection includes 4 NFTs created by Eva. These are "Carbon Dome", "Mars Water", "Mercury Bath" and "Tritium Lunch". The musical works in this collection sound defiant, as if they are speaking about someone's inner connection with something wild that's beyond reality. Perhaps this is why all the lots in the collection have chemical elements or cosmic bodies in their titles.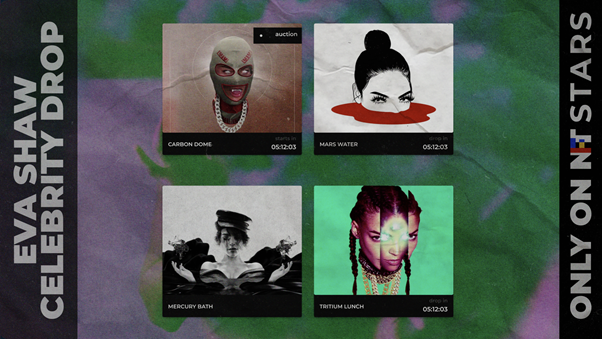 NFTs by Eva Shaw
"Carbon Dome" will be auctioned off with a starting price of $1,000. The auction will be held at 17:30 UTC on 2nd of July. The piece is a combination of a "selfie" photo of Eva, mixed with digital art. She wears her self-designed balaclava with a chain. The buyer will receive the art piece itself, which has its own original musical accompaniment, as well as the physical balaclava signed by Eva. The buyer will also have the opportunity to meet Eva via Zoom. The auction will last 24 hours. This is a unique opportunity to purchase the work of a real genius in music, design and graphics!
The three other NFTs "Mars Water", "Mercury Bath" and "Tritium Lunch" will be sold in a drop. Each of these 3 NFTs will have 20 copies for $150 a piece. The drop will end when all the copies are sold. To purchase any of these NFTs, participants will need a MetaMask wallet as bids will only be accepted in cryptocurrency.
The Eventful Path of Eva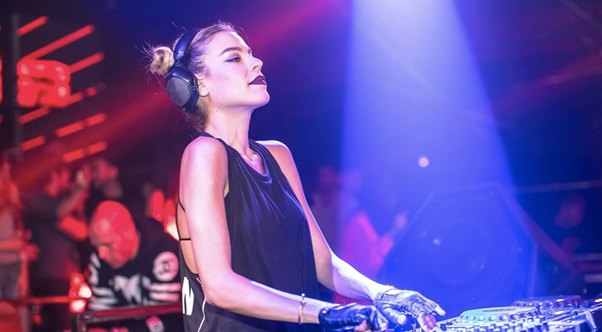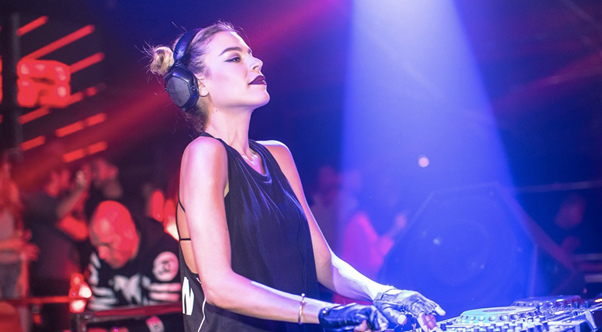 Source: weraveyou.com
Eva Shaw is a Canadian DJ, artist, producer, music writer and model. She is known for her original music, remixes and live DJ sets. She has performed all over the world at music festivals such as 'Ultra' and she has been a resident of popular nightclubs such as Marquee, Hakkasan and Omnia in Las Vegas.
Eva was born in Toronto and from childhood, she was incredibly artistic. She studied acting, music and even found time for art. At some point, the young artist decided to learn how to make beats and mix tracks, which was to become her full time career.
Eva's musical career began in New York where she went to begin her acting career but fate had prepared a different path. DJ Calvin Harris saw the DJ talent in Eva and invited her to record a track under his label 'Fly Eye Records'. Her first single was called "Charizma" and it helped make her popular after Tiesto played it in his podcast "Club life".
Over time, her popularity spread beyond North America and she eventually became known all over the world. She has been supported by famous DJs such as Avicii, Tiesto, Martin Garrix, David Guetta, Hardwell and many others.
Eva skillfully combines several styles of music in her sets, from various sub-genres of EDM to hip-hop. Her shows help the audience to hear their favorite tracks in a new way.
At this stage, her DJ career was gaining momentum. Eva recorded her next track, "Get Down", which reached the top 50 on the Billboard Hot Dance/Electronic Songs chart. Then came "Space Jungle", which quickly received over 40 million views and the single "Moxie", which was released on DJ Afrojack's music label in 2015.
A new breakthrough in her career was the release of the track "Rise n Shine" under the major label Sony Records, with participation from Grammy Award-winning writer Poo Bear (Justin Bieber "Where are U now").
Having entered the world market, she produced remixes of songs by other world-famous artists such as Rihanna, where she made first place in the Billboard dance chart.
Eva's uniqueness has always made an impression on people, so the fashion sphere did not pass her by. Eva began a collaboration with GStar Raw and her designs received endorsements from artists such as Red Hot Chili Peppers and Pharrell.
She is currently developing her own ski mask, which is already being worn by artists such as Steve Aoki and Trinidad James.
Eva also directs and produces her own music videos, which have been favorably reviewed by outlets such as Earmilk. She also directed and produced the "Down Easy" music video by Showtek & MOTi feat. Starley & Wyclef Jean, which premiered on Billboard.
About NFT STARS
NFT STARS is a platform that brings NFT art to the public, making it easier for artists and collectors to try their hand at the emerging NFT market. The platform offers cross-chain opportunities to all users, allowing investors to make bids in cryptocurrencies functioning on a vast multitude of blockchains. This also means that all participants of NFT STARS will have a unique opportunity to buy and sell NFTs originating from different blockchains. At the time of launch, NFTs will be minted on BSC and Ethereum.
The project also offers features such as White Label solutions, fractional trading, Augmented Reality, an NFT pricing scanner and NFT Quests. The full list of benefits that artists receive includes free legal consultations, a personal manager, social media promotion of their work and commissions that will be used to burn NFTS remaining in free circulation.
Artists will have their own branded pages on the site, where they will be able to create a gallery of their works, write their biography and add links to their social media accounts, as well as other information that's useful to users. The works for drops and auctions will be carefully analyzed and selected by the NFT STARS team.
The exhibition in Melbourne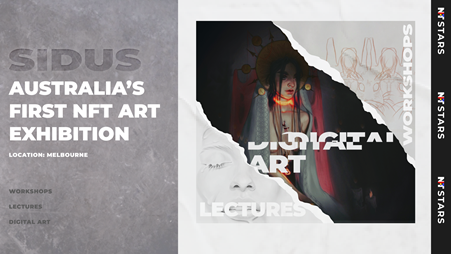 NFT STARS is going to hold an exhibition in Melbourne. The purpose of the exhibition is to promote NFTs as an asset class and minimize the gap between the digital and physical world.
All visitors will be able to learn more about NFTs and how to create them. During the weekend, a conference on NFTs will be held where the NFTS team will deliver talks and invite artists who have been involved in this market for a long time. An important goal of this conference is to shift the focus of the NFT market. Presently, NFTs are seen by many as a manipulative tool but NFT STARS is determined to show that non-fungible tokens can be a valuable artform.
If you are a true admirer of NFT art, by all means, you should feel free to make a bid in the upcoming NFT STARS auctions and drops.
Follow NFT STARS on our social media networks to ensure you don't miss any of our new auction and drop announcements:
Website: https://nftstars.app
Medium:  https://medium.com/nft-stars
Youtube: https://www.youtube.com/channel/UCMncFmQuwDJGIfepDx-hmfw
Twitter:  https://twitter.com/nftstars1
Instagram: https://www.instagram.com/nft_stars
Facebook: https://www.facebook.com/nftstars1
Telegram chat group: https://t.me/NFT_STARS
Weibo: http://weibo.com/nftstars