The term Metaverse originates from the science fiction "Snow Crash" by Neal Stephenson. It describes a world where people interact with each other in virtual identity in a three-dimensional space. Metaverse is a collection of virtual time and space, created by a combination of augmented reality (AR), virtual reality (VR), and the Internet (Internet). Generally speaking, Metaverse is a virtual world parallel to the real world but highly interoperable. In this virtual world, we can do anything just like in the real world, but with a higher degree of flexibility and freedom. With the continuous development of AR/VR, cloud computing, AI, 5G and other technologies, and the public listing of Roblox as its first stock, Metaverse is changing from a concept to reality.
PlanckX is the next generation decentralised game aggregation platform inspired by the metaverse concept and empowered by blockchain technology. With the belief that a free and open community can create unlimited value, we will work with game developers and players to:
break the monopoly of traditional game distribution platforms and sweep the commission agreement into waste paper bin;
use blockchain and NFT technology to guarantee the safety of gamers' assets, because we truly value the time and enthusiasm you put in;
create a healthy and powerful economic system to realize "create to earn" and "play to earn" for every PlanckX inhabitant and eventually build a world of boundless possibilities where game developers and players connect fully and freely.
Origin of PlanckX
PlanckX is a virtual metaverse discovered in the year of 2030, by which time humans have successfully allowed their consciousness to enter a high-dimensional space called "PlanckX" near the sun. There are numerous three-dimensional spaces formed by Hilbert's dimensionality reduction in "PlanckX." Each three-dimensional space exists in the form of a cube, referred to by scientists as "HyperCUBE" or "CUBE." Each CUBE can host an independent world. Humans can visit the CUBEs with their transmitted consciousness. In 2030, scientists launched the PlanckX Laboratory and plan to open the entrance to PlanckX. Successful applicants can enter the PlanckX space, become developers or participants of CUBEs, and jointly create the future of PlanckX.
Roles in PlanckX
PlanckX Developers: Game content producers in PlanckX, can link their games to PlanckX by purchasing the CUBE NFTs issued by the platform, and build a diverse ecosystem together with other developers. Developers can benefit from the aggregated traffic of the platform without having to share their game revenue. Meanwhile, they can also profit from staking token in the CUBEs or issuing Game NFTs.
PlanckX Gamers:Consumers of game content in PlanckX who will enjoy a one-stop gaming experience by registering into the platform. The PlanckX ecological reward mechanism allows players to earn while playing. Meanwhile, the Game NFT assets purchased by the players can be queried on chain and traded, so the players no longer have to worry about asset security.
PlanckX's Economic System
PlanckX aims to create a decentralised and open metaverse. The goal of economic system design is to keep the interests of all participants in line with the system, that is, to promote the interests of all participants on the one hand, and to maintain ecological balance on the other. In order to achieve such goals, the following aspects have been taken into consideration in the designing of the PlanckX economic system:
Guarantee the continuous growth of private currency value;
Build a complete and well-functioning economic cycle;
Build a highly decentralised autonomous organization to achieve a positive-sum game.
The core design of the PlanckX economic system is the dual-token model, with two types of tokens circulating at the same time. PlanckX Quantum Token (XQT), which adopts the deflationary model, mainly functions as store of value. PlanckX Photon Token (XPT), which adopts the inflationary model, mainly functions as medium of exchange. The dual-token model is aimed to avoid the drawbacks of a single token system, so as to promote the sustainable and healthy development of the whole economy.
XQT allocation: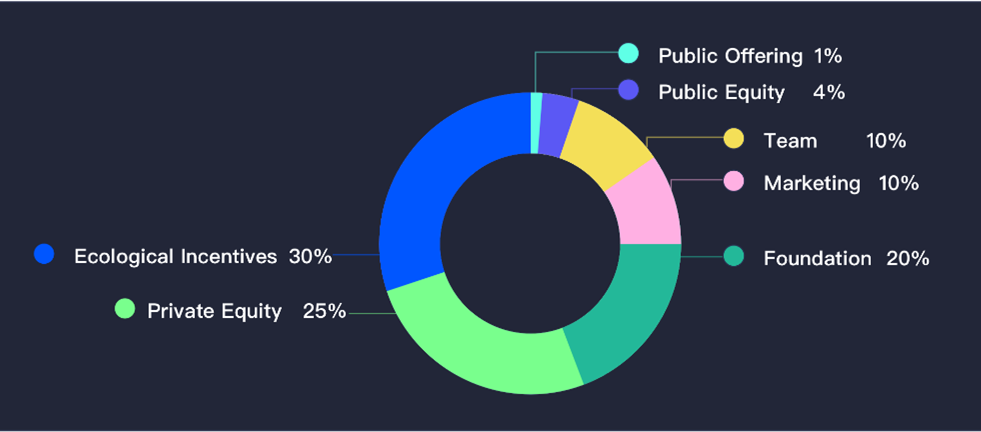 XPT allocation: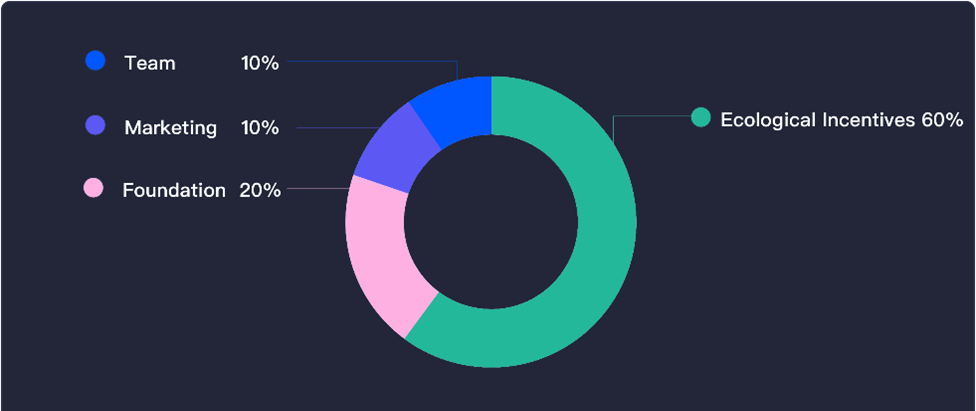 Economic Cycle
In the PlanckX economy, token circulation is driven by participants in the following ways:
Developers will have four main actions in the system:
Use quantum token XQT to buy CUBEs and link games,
Use Photon Token XPT to mint Game NFTs and obtain sales revenue,
Stake XQT to get mining rewards,
Increase user volume by optimising game content, and obtain XQT and XPT ecological rewards.
Gamers have two main actions on the platform:
Register an account to play games and get XPT ecological rewards,
Use XPT to purchase game NFT.
Platform tokens are the medium that connects the platform, developers, and gamers. It is our hope that by designing a well-functioning economic system that fulfills the ecological cycle, we can build PlanckX into a win-win virtual world that advocates freedom, openness, and fairness.
PlanckX provides solutions to the problems of high distribution costs and difficulty in confirming player assets in the game industry. Meanwhile, we are also committed to helping more game developers to lower the threshold of blockchain technology and issue Game NFT. We want to put the ownership of game assets in the hands of gamers and create more value for game developers and players.
For more information, please contact us:
Website: planckx.io
Twitter: https://twitter.com/Planck__X
Telegram: https://t.me/PlanckX
Discord: https://dsc.gg/planckx
Email: [email protected]