The overarching climate of the cryptocurrency market seems apprehensive. A slight 5.23% increase in the total crypto market volume over the past 24 hours conveys the story of traders and investors hesitate. Reinforcing this cautionary sentiment, the Fear and Greed Index stands steadfastly at 50, painting a picture of a market gripped by hesitation. Amidst this atmosphere, Polkadot (DOT) and Cosmos (ATOM) find themselves on the analysts' radar, scrutinised for potential moves and shifts. Meanwhile, the budding project, ScapesMania, is emerging as a beacon, signalling an opportunity to potentially reap lucrative post-listing returns exceeding 500%.
Polkadot (DOT): The Delicate Balance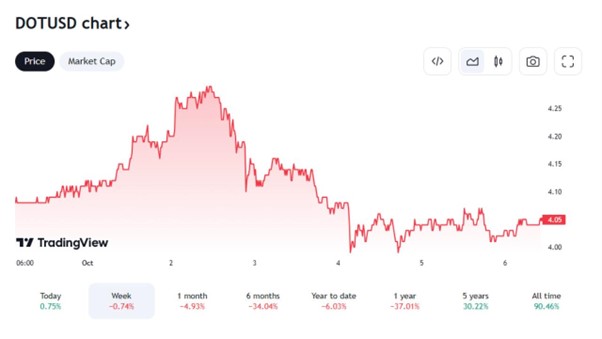 Polkadot (DOT), known for its unique approach to multi-chain interactivity, is encountering turbulence in its flight. Positioned to bridge various blockchains into a cohesive ecosystem, it has garnered significant attention in the crypto community. Despite its advancements, the prevailing market conditions put forth unprecedented challenges that Polkadot (DOT) may have to grapple with.
A glance at its price oscillations between $3.900 to $4.338 provides insights into its recent market trajectory. Certain key turning points like its relationship with the 40 Day Moving Average and the 9-18 Day Moving Average crossovers signify short-term market fluctuations. With its current valuation placed between a 1-month high of $4.318 and a 52-week low of $3.930, Polkadot (DOT) seems to be at a crossroad, balancing between its potential and market speculations.
Polkadot (DOT), with its groundbreaking tech propositions, holds a vision of revolutionising the blockchain space. Yet, the road ahead appears filled with both potential growth opportunities and formidable challenges. While some analysts are bullish on its potential to bounce back, others opine that Polkadot (DOT) could be in for further retracements before finding stable ground. In this dynamic landscape, ScapesMania emerges, offering a fresh perspective and introducing exciting prospects that could reshape the crypto domain.
Cosmos (ATOM): Treading Lightly or Losing Ground?
Cosmos (ATOM), having made headlines for its decentralised network of independent blockchains, hasn't been immune to the trials and tribulations of the crypto market. It rose to prominence with the promise of revolutionising the blockchain space with its unique approach to interoperability. However, recent market shifts have put a damper on its meteoric rise, leading to questions about its future prospects.
Cosmos (ATOM) current price range, oscillating between $6.474 and $7.826, speaks to its ongoing battle with market dynamics. Certain key indicators have emerged as particularly telling: its interactions with the 40 Day Moving Average and its frequent oscillation with the 9 and 18 Day Moving Averages. When one considers its present valuation in the light of a 1-month high of $7.581 and a 52-week low of $6.308, the need for a careful, measured approach to Cosmos (ATOM) becomes abundantly clear.
Cosmos (ATOM) technological advancements and innovations are indeed noteworthy. Yet, the coin's market trajectory is now an area of debate among experts. Current sentiments appear to lean more towards caution, suggesting that while Cosmos (ATOM) possesses the potential for growth, it might have to confront several challenges before witnessing a consistent upward trajectory. Parallelly, ScapesMania is carving its niche, presenting a compelling narrative that has the potential to pivot the focus of the crypto community in the days to come.
ScapesMania: The Next Big Thing?
Backed by an award-winning team, ScapesMania empowers Web3 enthusiasts and backers to benefit from the thriving gaming ecosystem with the booming industry. The casual gaming market is projected to reach $521.61 billion in revenue by 2027, fueling ScapesMania's growth further.
Key Highlights of ScapesMania
ScapesMania is a thriving gaming ecosystem with diverse revenue streams. The reward potential is starting at the expected ROI of 412% post-listing, and the sky's the limit for further possible earnings.
The team behind ScapesMania is all about transparency, with open social media profiles. The project has already passed audits by industry-leading security labs and is listed on major tracking websites. Negotiations are underway to get ScapesMania on top exchanges.
Why Join Presale Today?
With the listing price set at $0.01, buying the ScapesMania tokens at today's price of $0.002428 could potentially bring backers an impressive x4 return! Early adopters can also score an up to 150% bonus, plus exclusive perks like token buyback & burn and staking opportunities.
Time is ticking — secure your ScapesMania tokens now, at a whopping 80% discount! With each subsequent sales stage, the price is set to soar. Seize the opportunity for a potential astounding 412% ROI after listing!
The performance of reviewed Crypto's:
| | | | | | |
| --- | --- | --- | --- | --- | --- |
| Name | Price | 24h % | 7d% | 1m% | YTD% |
| Polkadot (DOT) | $4.06 | 0.53% | -1.16% | -4.28% | -7.24% |
| Cosmos (ATOM) | $6.90 | -0.53% | -3.37% | 1.58% | -26.97% |
Long-term price prediction Table:
| | | | | | | | |
| --- | --- | --- | --- | --- | --- | --- | --- |
| Name | 2024 | 2025 | 2026 | 2027 | 2028 | 2029 | 2030 |
| Polkadot (DOT) | $6.54 | $10.62 | $15.78 | $22.91 | $34.46 | $51.58 | $75.47 |
| Cosmos (ATOM) | $8.90 | $16.49 | $27.74 | $39.61 | $56.72 | $83.43 | $119.15 |
Conclusion: The Path Forward
As the crypto market evolves, adaptability, informed decision-making, and staying updated with market nuances remain key for both traders and enthusiasts. While established players like Polkadot (DOT) and Cosmos (ATOM) face their set of challenges and uncertainties, newcomers like ScapesMania present fresh opportunities.
By embracing ScapesMania today, you could be looking at a potential >500% ROI thanks to the post-listing price surge, a whopping +150% bonus, and other incentives for holders. Now is the right moment to act if you want to grab a 80% discount on purchase as well!
Find out more about ScapesMania:
Disclaimer: This is a paid release. The statements, views and opinions expressed in this column are solely those of the content provider and do not necessarily represent those of NewsBTC. NewsBTC does not guarantee the accuracy or timeliness of information available in such content. Do your research and invest at your own risk.