As the cryptocurrency market grapples with ongoing turbulence, Polygon (MATIC) has seen mixed signals in its price movement. Following Ethereum's successful network upgrade, MATIC surged greatly, but on-chain data leaves room for uncertainty regarding its long-term prospects. Can the Polygon bulls maintain momentum and stave off a significant price correction?
What is Polygon?
Polygon, also known as MATIC, is a Layer 2 scaling solution designed to improve the efficiency of the Ethereum blockchain. Polygon aims to facilitate faster transactions and lower fees by utilizing a sidechain approach, making it an attractive choice for decentralized applications (dApps) and users. Solutions like Polygon have garnered increased attention as Ethereum continues to experience network congestion and high transaction costs.
Post-Shapella MATIC Performance
In the wake of Ethereum's recent Shapella upgrade, MATIC experienced an impressive 7% growth, temporarily dispelling bearish concerns. However, the cautious behavior of large-scale investors, or "whales," along with an increase in exchange inflow, suggests that MATIC may be due for a retracement below the $1 mark.
Crypto whales, with holdings ranging from 100,000 to 100 million MATIC, accumulated approximately 50 million coins valued at $51 million between April 5th and April 12th, leading up to Ethereum's network upgrade. Since April 12th, these whales have maintained their holdings at around 523 million coins, as evidenced by on-chain data from Santiment.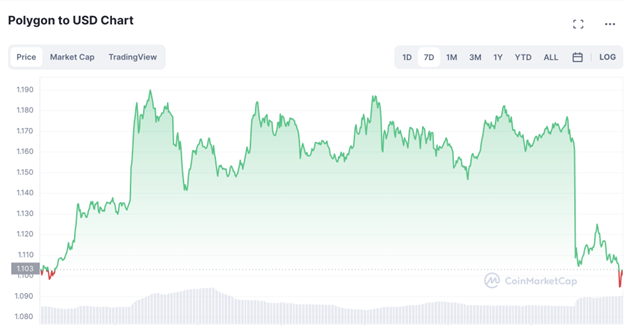 What Does The Future Of MATIC Hold?
As the market eagerly anticipates the next move from these influential investors, the influx of MATIC coins onto exchanges implies that some holders may soon engage in a mild sell-off. Analysts predict that a substantial buy-wall around $0.95 could temporarily halt further decline.
Despite the potential for a downturn, it is possible that bullish market sentiment could prevail if the MATIC price surpasses the $1.18 resistance zone. Should this occur, it would signify a renewed confidence in Polygon's prospects and potentially lead to further growth in the short-term future. At the time of writing, MATIC is traded at $1.10, but considering the latest sharp decline, the price might struggle to maintain its position above the $1 mark for a while.
DigiToads – A Credible Crypto With Guaranteed Profits
In the current volatile cryptocurrency market, many altcoins are affected by Bitcoin's price swings, leading to uncertain returns for investors. However, DigiToads (TOADS) stands out as a unique investment opportunity, offering guaranteed returns set in advance over the presale stages and independent of Bitcoin's fluctuations.
TOADS is an innovative ERC20 token with a unique presale model designed to increase the price tenfold. This translates to an overall price growth of 450% for the earliest joiners, making it an attractive investment opportunity for those who recognize its potential early on. Currently in stage four, DigiToads' token is priced at $0.02, with the next price upgrade scheduled within days.
This new ICO boasts a range of cutting-edge features, including NFT staking, web3 gaming, on-chain trading tournaments, and more, each feature opening a new door for passive income. These elements contribute to the project's goal of revolutionizing the digital asset landscape by providing investors with an exciting and secure environment for long-term growth.
The project also boasts a doxxed team, audited core, and a prestigious BitMart listing, which lend credibility and trustworthiness to the venture and raise its adoption globally.
Bottom Line
Overall, as the cryptocurrency market navigates through uncertainty, DigiToads remains the best cryptocurrency to invest in now, whether you're a seasoned investor or new to the crypto world. Its innovative features, strategic partnerships, and presale model reward early supporters with substantial price growth while ensuring returns that remain unaffected by the instability of the current cryptocurrency industry.
For more Information on DigiToads visit the website, join the presale or join the community for regular updates
Disclaimer: This is a paid release. The statements, views and opinions expressed in this column are solely those of the content provider and do not necessarily represent those of NewsBTC. NewsBTC does not guarantee the accuracy or timeliness of information available in such content. Do your research and invest at your own risk.