Pressco is an e-commerce platform that allows communities and companies to start their own clothing and merchandise brand by reducing their initial costs to absolute zero.
So what problem does Pressco solve?
Imagine you are a fitness trainer with more than one million active followers on social networks, and you have a bunch of active participants in your classes. You are striving to grow your fitness and healthy-lifestyle community by actively promoting it on a social media and through word of mouth. In order to boost the sense of community, you decide to create your own personal clothing line for your fitness community. Your members will love it.
However, creating a personalized clothing line is sort of a hassle.
You need to:
Find a reputable clothing supplier, which is even harder if you need custom clothing, such as athletic wear.
Create a design that represents the identity of your community.
Collect orders from your followers and clients.
Take care of shipping and support.
In addition to this, if all your merchandise is bought out by members, then you need to repeat the cycle in order to fulfill a new demand.
This process can take up to three weeks or even longer. It will also require a decent amount of know-how if you are doing this for the first time.
After all, your expertise is in sports — not clothing merchandise.
And that's why we created Pressco; to allow communities to establish their own clothing identity without all of the hassles.
How does Pressco work?
The Pressco account manager will contact the company to analyze their needs. Then, Pressco will:
Create a custom clothing design for the community.
Create an e-commerce store with their merchandise and branding. Members of the community can easily process orders without bothering the community owner, such as their fitness instructor.
Manufacture the clothing in their own facility (No, Pressco does not outsource to China).
Fulfils orders and handles shipping.
Takes care of additional services, such as customer support, order tracking, and marketing.
The best part? The entire process takes less than a week, and Pressco charges nothing to start it. Instead, Pressco takes a percentage from the orders to reduce the community's starting costs to absolute zero.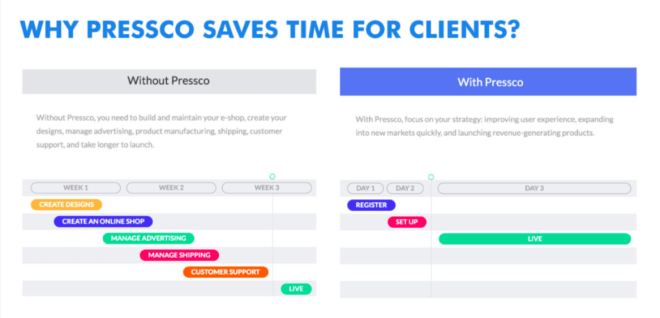 Traditional way vs. using Pressco
Communities are able to focus on what they are supposed to be focusing on (like sports in the example above), they aren't wasting time trying to learn how to create custom merchandise, and they are able to earn extra income.
This is a game changer for communities: sports classes/clubs/teams, NGOs, universities, influencers, artists, charities and much more.
Is Pressco already an operating start-up?
Yes. Pressco already has:
60+ already operating online shops.
Markets in Germany, France, Canada, Lithuania, Latvia, Estonia, and Belgium.
Its own clothing manufacturing facility, capable of delivering print-on-demand, custom sewed clothing, sublimation, and active wear.
Many more merchandise categories, such as cups, caps, phone and PC cases and almost everything that is available in various industries.
A full-time working staff and a decent amount of daily orders from our active communities.
Pressco and blockchain
Blockchain technology creates a completely new way to raise capital. In order to boost the scale of a business, Pressco wants to raise a Series A investment (hard cap: 7000 ETH) through the blockchain.
Find out more, visit Pressco webpage http://www.pressco.io
Facebook: https://www.facebook.com/PresscoICO/
Twitter: https://twitter.com/Pressco_io