You don't have to risk your money, buy Bitcoin, Ethereum, Ripple, nor Tether to profit from the development of blockchain technology and returning hype around cryptocurrencies. The same goes for stock or any other markets. It's enough you know other people interested in trading and recommend a platform to them.
How to do it? Join a lucrative affiliate network. You don't have to invest a penny. Just comment on the news and share referral links. It's crucial to choose the right product to promote. You can waste lots of time engaging in the affiliation with a product that nobody wants to use. Even if they offer you a sky-high commission, you will earn nothing, since nobody will pay for something that's no good.
That's why you should go for an affiliate program that:
Offers you a lifetime revenue share, not a one time commission. A lifetime rev share model gives you an opportunity to build a network that with time will become a steady source of a passive income for you. You also want it to be multilevel, so the affiliates you brought in can create their own network that works for you.
You need a really good product. It's very difficult to sell average products, while good products sell automatically.
SimpleFX has it all.
Great mobile trading is SimpleFX Webtrader's killer feature. Make money from every transaction your affiliates make!
First, it's a great product. SimpleFX WebTrader has won multiple prizes for great usability on mobile devices, remarkable speed, and a strong community of users. It's growing very fast – as it has 235,000 active traders worldwide. The growth is fuelled mostly by… affiliate program 🙂 No ads, just networking, and word-of-mouth marketing.
SimpleFX Webtrader is a trading platform, where you can buy or sell anything (crypto, stocks, gold, and more). You can run accounts in dollars, euro, or cryptocurrencies. What's important, they have no minimum deposits.
In 2019 SimpleFX went viral, and it managed to keep its momentum to 2020. At the beginning of 2020, they will introduce Tether payments and a new website. Make sure you don't miss the opportunity to profit riding on their success.
Finally, they offer up to 25% lifetime revenue share from every account registered with your link!
How to do it?
Just visit app.simplefx.com. Register an account with your e-mail. No need to make a deposit.
Once you register to SimpleFX, click on the ☰ icon in the top left corner of the app and then choose "Refer friends" from the menu. You'll get redirected to the affiliate dashboard. For better transparency, SimpleFX uses a third party affiliate tracking system Unilink.io.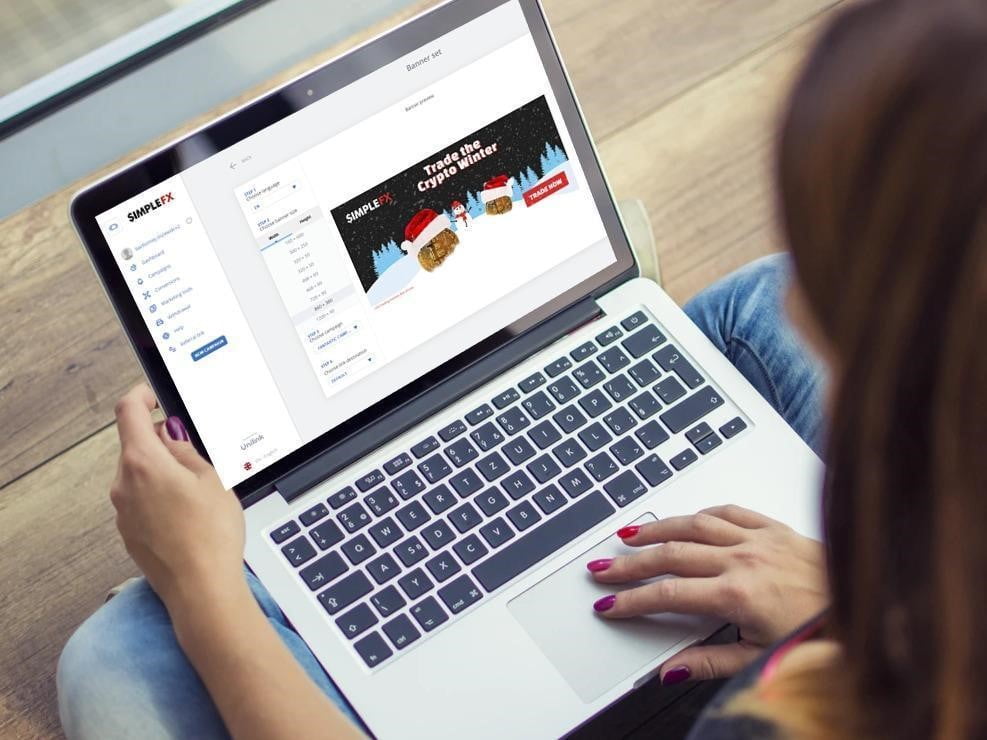 The affiliate marketing campaigns are already there for you to use them. We have just added a "Winter trading" banner set. You can use them or simply share just referral links.
In the affiliate dashboard, you'll see the results of your efforts – the views of your ads, clicks, conversions, and what's most important the direct and multilevel revenue in USD. The affiliate in the example has made $1392.52 of direct revenue in a month. That's quite impressive.

Give it a try today. The sooner you start sharing your referral links the sooner they will provide some passive income for you.
Image by Steve Buissinne from Pixabay