The real estate market has been an appealing investment option for a significant period, but its increasing difficulty to enter is attributed to soaring housing prices and stagnant income ratios. In the United States, the median house price-to-income ratio has reached 7.71, surpassing the figures recorded during the 2008 economic crisis and the 4.4 ratio recorded two decades ago.
Consequently, investors encounter challenges in finding adequate security for their future. To address this issue, several blockchain-based real estate platforms are striving to disrupt the market and create more equity, thereby making the market accessible to average investors.
With its current presale stage coming to an end in just 1 day, it's worth learning more about Metropoly and getting a sense of how it's going to change the real estate industry.
METRO Presale Entering Next Stage
https://twitter.com/metropoly_io/status/1641747493561024514
The utilization of blockchain technology by the Metropoly platform to provide fractional real estate investment options has resulted in significant progress in the industry. Currently, the Metropoly presale is ongoing, and it is about to enter its next stage. The project has already raised over $1 million during the presale. As part of the presale, investors can purchase the ERC-20 utility token called METRO, which has a maximum supply of 1 billion tokens. The price per token is $0.0714, and investors can acquire it using USDT, ETH, or BNB.
Investors can secure membership to the exclusive Platinum Member's Club on Metropoly by participating in the presale, which offers several advantages, such as early access to the Metropoly Beta and a Metropoly NFT. The benefits offered are proportional to the investment amount, with higher-tier investors obtaining real estate NFTs worth $10,000 and rental income cashback.
The popularity of the Metropoly platform is increasing on social media platforms, largely owing to its various benefits. The prototype platform can be tested by users, demonstrating its potential. Additionally, the contract code of the platform has been verified by SolidProof, and the identities of the team members have been authenticated by CertiK.
Metropoly exemplifies the potential of blockchain technology in revolutionizing the real estate industry by introducing innovative solutions. The platform provides a straightforward and convenient alternative that eliminates the requirement for complex bureaucracy, enabling individuals to participate in the real estate market, irrespective of their investment size. Whether a person has a modest sum of $100 or a substantial amount, Metropoly empowers everyone to reap the benefits of investing in real estate.
Check Out the Beta Version of the Platform Before May 1 Launch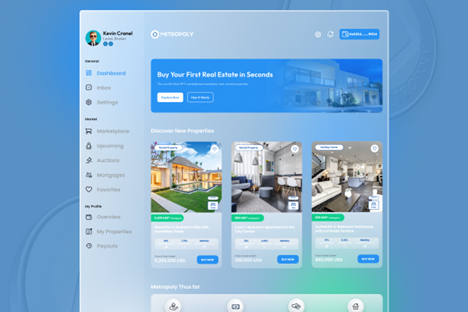 Right off the bat, it's important to note that the platform's public launch is imminent, with a scheduled launch date of May 1st.
Metropoly offers a user-friendly and intuitive platform that enables individuals to invest in fractional real estate. The investment process is straightforward, with users only required to link their wallet, peruse the marketplace for properties such as villas, apartments, or penthouses, and purchase a fraction, starting at $100.
Currently, users can access a beta version of the platform, which allows them to explore the available properties, participate in ongoing auctions, and scrutinize the payouts tab. The Metropoly marketplace will showcase properties from various parts of the world, featuring a leaderboard that presents users' real estate fraction ownership, performance, and dividend payouts. However, it is crucial to note that the properties exhibited in the prototype are solely for demonstration purposes.
Metropoly not only provides a user-friendly platform for investing in fractional real estate but also offers an extraordinary chance to win a $1 million apartment in Burj Khalifa through its $1 million giveaway. This property has the potential to generate rental income of up to $100,000 per year, making it a valuable prize. Users can participate in the contest by completing social and marketing tasks such as tweeting about Metropoly, subscribing to the Discord and Telegram channels, and signing up for the newsletter.
Making Real Estate Affordable for Everyone
Sharing real estate investment knowledge from one generation to the next has been a traditional approach. However, younger individuals encounter a considerable challenge in investing in real estate due to the market's intricate nature and its high costs. Consequently, younger generations are unable to enjoy numerous benefits linked to real estate investment, such as guarding against inflation, diversifying their investment portfolios, and investing in lucrative tangible assets.
It is essential to recognize the potential of real estate as a passive income source and a hedge against inflation. By investing in real estate, younger generations can establish a dependable income stream and secure their financial stability. A new blockchain-enabled real estate market is emerging to tackle these problems, providing a cost-effective and convenient means for individuals of different ages and financial circumstances to invest in real estate.
Metropoly is at the forefront of this movement, launching an NFT marketplace for real estate assets. The NFTs provided by Metropoly are fully supported by tangible properties, allowing everyone to enjoy the benefits of real estate investment.
Next Presale Stage Will Be Massively Popular Too
Despite the volatile nature of the market, real estate investment has consistently proved to be profitable. However, due to the complexity of the industry, the average person finds it challenging to invest in properties. To solve this problem, Metropoly, a blockchain-based platform, has emerged, offering an accessible and user-friendly platform for real estate investment. Users can purchase properties from different parts of the world within minutes, potentially disrupting the traditional exclusive investment market and making real estate investment accessible to everyone. As the presale stage is nearing its end, it is advisable to explore Metropoly.
Disclaimer: This is a paid release. The statements, views and opinions expressed in this column are solely those of the content provider and do not necessarily represent those of NewsBTC. NewsBTC does not guarantee the accuracy or timeliness of information available in such content. Do your research and invest at your own risk.