The past week has been a dark period in the history of crypto, with the total market capitalization of this industry dipping as low as $1.2 trillion for the first time since July 2021. Approximately on May 4th, Terra (LUNA) ranked among the 10 most valuable cryptocurrencies in the market, with a single token trading at a price point of $85 and all time high at the price of $119.5. By May 11, however, the price of the asset had dropped to $15. And, 48-hours on, the token has lost 99.98% of its value currently trading at a price point of $0.00003465.  The turmoil caused by the Luna, in large part, has been due to the real-time disintegration of Terra, a Cosmos-based protocol that powers a suite of algorithmic stablecoins. At the same time, the downfall of Terra calls into question the real-world utility as well as the long-term viability of algorithmic stablecoins.
The inherent characteristics of algorithmic stablecoins contributed to the decline
Unlike Tether's USDT or Circle's USDC which are backed by fiat money or equivalent asset, Terra is designed to maintain the peg via mathematical algorithm and active trading. Recently, the UST has "de-pegged" from its value of $1 for a high selling pressure due to the massive drain from Anchor.
Since they are bonded by on-chain mint-and-burn mechanics, that massive short led to sharp drops on both UST and its sister token LUNA. Then the "de-peg" happened. When the traders realized that $1 worth of LUNA was no longer for $1 of UST, they became insolvent. As a result, the LUNA crashed by 98% of its price and lost most of its market cap.
What Can We Learn from Luna?
In the face of such a slump in luna, many investors may have a worry in their hearts—How can I avoid such a slump from happening to me? In fact, the characteristics of altcoins determine Luna's volatility and high risk. In terms of risk resistance, undoubtedly mainstream currencies (Bitcoin, Ethereum, etc.) are stronger. However, the Bitcoin market has not been stable recently. The market is in a cold winter – shrouded in a bear market. But there are still traders who earn more than 1000% of  ROI in a bear market, in fact, with 100x leverage, every trader can multiply their ROI.
How Does 100x Leverage Works?
With 100x leverage applied, traders can use 1 BTC to open a position of 100 BTC by going long (predicting BTC price will be up) or going short (predicting BTC price will be down). It allows traders to trade $1 as $100, at the same time, traders can also get all profits brought by the $100. Let's use an example to illustrate how 100x leverage works. Assuming we use 1 BTC to open a long contract when Bitcoin is trading at $30,000. One day later, the price of Bitcoin increase to $35,000.The profit will be ($35,000 – $30,000) * 100 BTC/$35,000 *100% ≈ 14.2 BTC, making the ROI 1420%.

Recommended Platform with 100x Leverage
Bexplus, a reputable crypto futures trading platform accredited by U.S. FinCEN MSB (Money Services Business) , offers 100x leverage futures trading on a variety of trading pairs such as BTC, ETH, ADA, DOGE, XRP.  Meanwhile, It doesn't need KYC  and is popular among 1 million people worldwide. It is also known for the following features.
100% Deposit Bonus: Top Up 1 BTC = 2 BTC on Your Account
Bexplus' 100% Deposit Bonus campaign also helps every trader to maximize their profits as much as possible no matter in a bullish or a bearish market . If you top up 1 BTC, there will be 2 BTC on your account and you can trade with the 2 BTC to make a bigger profit. You can also withdraw the profits earned with the bonus. With this 100% bonus, in the example above, you can earn 14.2 BTC×2=28.4 BTC, making your ROI 2840%. Attention! Up to 10 BTC bonuses can be obtained.
Copy Trading: Let Superior Traders Make Profits for You
Copy trading gives every investor who has just entered the market the opportunity to become a veteran. It allows you to copy investment orders from experienced people to let excellent traders make money for you. Copy trading also allows you to customize the proportion of your order copy, set take profit and stop loss, or terminate the copied order at any time. For veterans, you can also get some benefits from your followers. It's a win-win strategy for both the veteran and the novice.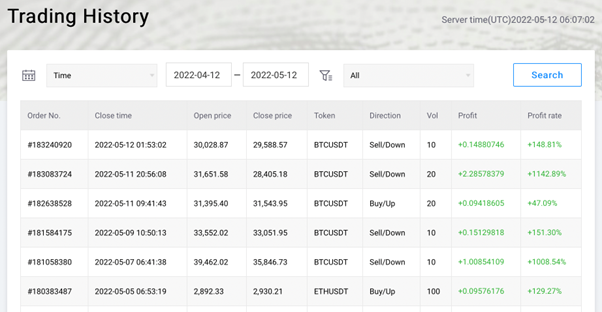 Demo account with 10 BTC for traders to get familiar with leverage trading.
A Bitcoin Wallet with an annualized interest rate of up to 21%.
No KYC requirement, registration with Email verification within a few minutes.
Intuitive and full-featured App on Apple App Store and Google Play.
7/24 hours one-to-one service to solve your problems at any time.
Fast withdrawal without any time limit, and no deposit fee.
The banner of mainstream currencies will never fall. No matter in terms of anti-risk ability or volatility, mainstream currencies have incomparable advantages. Bexplus provides tools with the highest profit margins so that every trader can get his own maximum profit. Click Here to Register now and get your 100% bonus!