According to an insider from BlackRock, the SEC is likely to approve all pending Bitcoin ETF applications, and this could give $17.7 trillion Wall Street funds the green light to enter the crypto market. Major cryptocurrencies like Bitcoin, Ethereum, Ripple (XRP), and Polygon (MATIC) could be in for big price changes if Wall Street gets involved.
Ripple (XRP) Price Analysis
The ripple effect (pun intended) of the Wall Street revelations could have a major impact on the price of XRP.
Ripple's XRP has been navigating through a series of oscillations over the past weeks, painting a dynamic and fluctuating picture. As the data suggests, XRP has been showcasing both periods of strength and moments of consolidation.
The coin reached its 52-week high at $0.922366, which is also its 13-week high, indicating a bullish momentum in recent weeks. However, XRP is currently experiencing a retracement phase from its recent highs.
Among its pivot points are: 
Three resistance levels can be found at 0.547269, 0.540684, and 0.531593 respectively.

The three support points are at 0.515917, 0.509332, and 0.500241.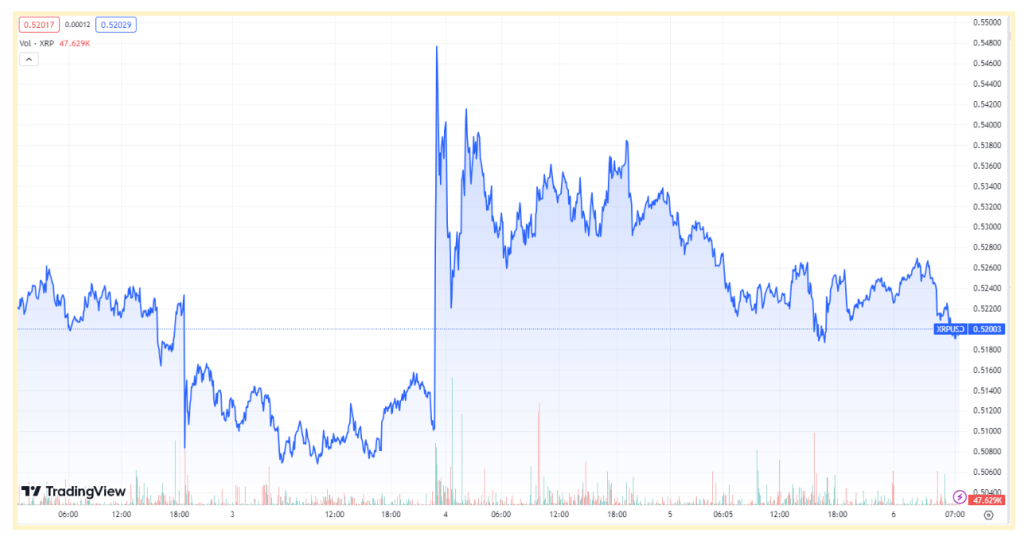 If XRP can maintain its position above the 18-40 Day MA and reclaim momentum above the recent pivot resistance points, it could attempt to retest its 13-week and 52-week high.
Given the stalls observed at various moving averages and MACD points, there is a possibility that XRP may enter a consolidation phase, fluctuating between the defined pivot support and resistance levels.
Ripple's journey ahead will largely depend on how it navigates these levels in light of external market forces, especially Wall Street's next moves. With so much potential for Ripple (XRP) to break out and reach higher price levels, it might be a good time to consider getting involved with it. Don't miss out on the chance to learn more and stay informed – read along for a more detailed prediction of Ripple's future.
Polygon (MATIC) Price Analysis
Polygon, another key player, has been on the radar for its scalability solutions in the Ethereum network. Its current market dynamics are indicative of a coin that's garnering attention and is at a pivotal juncture.
The following are pivot points to keep in mind:
Resistance Levels: The three resistance points stand at 0.58271, 0.57464, and 0.56145.
Support Levels: The support points are pegged at 0.54019, 0.53212, and 0.51893.
MATIC's price is currently close to its pivot point, indicating a potential decision zone for the coin.
MATIC crossed the significant 18-40 Day MA at a much higher price of 1.15562, which can be seen as a bullish sign. If the coin can maintain above the recent pivot supports, it could be gearing up for another upward rally.
While the RSI touched the overbought region, it is currently at a neutral 50%, indicating room for upside movement without being immediately overextended.
With multiple recent support levels and bullish crossovers above the moving averages, the setup can be appealing for long positions.
However, given the distance from its 52-week high, there might be some selling pressure as the price approaches this level.
Polygon (MATIC) has strong underpinnings given its past performance and its ability to cross key moving averages. However, as with any investment, monitoring key technical levels and ensuring proper risk management is crucial. If MATIC breaks through the resistance levels and maintains momentum, it could be an appealing buy. 
Conversely, if it starts to break below key support levels, waiting for a more favorable entry might be wise. Similarly to Ripple, Polygon's fate depends on larger market dynamics.
Final Words
There is a pivotal crossroads ahead for Ripple and Polygon, two stalwarts of the crypto world. As traders and investors brace themselves for Wall Street's next big shift, these coins' trajectories remain filled with anticipation. As you decode their market moves, remember, investing in crypto isn't just about following the trend. It's about envisioning the future, being strategic, and sometimes, taking that leap of faith. With the Wall Street winds beginning to blow, one might just wonder, is now the time to buy into the future?
Disclaimer: This is a paid release. The statements, views and opinions expressed in this column are solely those of the content provider and do not necessarily represent those of NewsBTC. NewsBTC does not guarantee the accuracy or timeliness of information available in such content. Do your research and invest at your own risk.