In the past, a distributed power station was just an alternative product that provided free electricity for enterprises or families based on the principle of photovoltaic power generation. Although the Renewable Energy Law of the People's Republic of China was implemented ten years ago, most distributed PV stations today still implement the model of "self-supply + grid connection for excess power".
Thanks to the expanding PV market and national subsidies for renewable energy, the distributed PV station has evolved from a power plant built for self-supply by the owner to a commercialized financial product of asset management and securitization. In other words, the power generation benefits of PV stations can be securitized for transactions.
During the transformation of the business model, the PV station's transparency and data consistency have to be guaranteed. This means that consumers that have bought equity in the PV station have the right to access its real-time power generation data and benefits to validate their own investment interests. Meanwhile, steps must be taken to make sure the PV station's core data and value data are not tampered with and are shared with all equity holders for data consistency. Ruff's IoT connection and ability to upload data to the blockchain can help the owner and consumers achieve asset management and securitization for distributed PV stations.
IoT connection realizes real-time monitoring and management of station data
To begin, Ruff installs an independently developed IoT smart gateway (collector) at the station. One end of the collector is connected to the inverter which is able to count the station's electricity production, albeit inaccurately, so the collector can monitor the station's operating status and determine the source and reason of failures. The other end of the collector is connected to the ammeter to directly read how much electricity is generated, thus avoiding discrepancies between the inverter and the ammeter. Data collected by the collector is then transmitted to the cloud. In this process, the Ruff collector conducts the first local edge computation and uploads power generation data required by the customers. Only useful generation data is uploaded to the cloud and blockchain to reduce storage waste.
After the power generation data is uploaded to the cloud and Ruff's public blockchain, customers can develop visual mobile apps based on Ruff OS. This way, both owners and consumers can view the PV station's power generation data in real-time on their cellphone, including efficiency, energy conservation, and estimated emissions reduction information. Thus, asset management and securitization of the PV station is realized.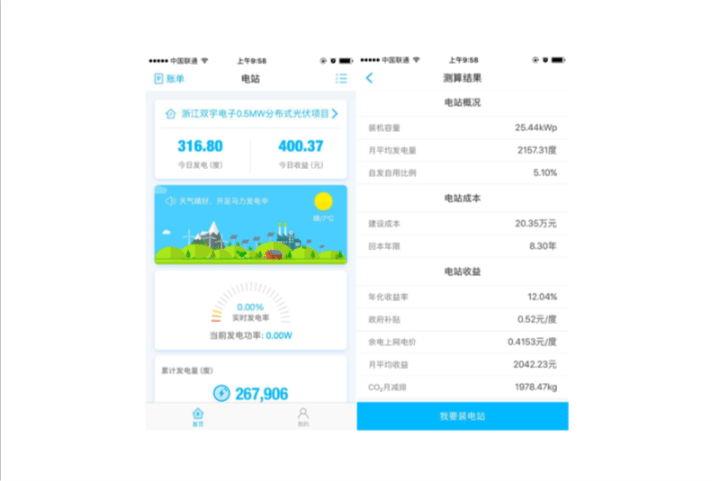 | | |
| --- | --- |
| 账单 | Bill |
| 电站 | PV station |
| 浙江双宇电子0.5MW分布式光伏项目 | 0.5MW distributed PV project by Zhejiang Twinsel Electronic Technology Co., Ltd. |
| 今日发电(度) | Power output today (kwh) |
| 今日收益(元) | Benefits today (yuan) |
| 天气晴好,开足马力发电中 | Sunny, power generation in process |
| 晴 | Sunny |
| 实时发电率 | Real-time generating rate |
| 当前发电功率 | Current generating power |
| 累计发电量(度) | Accumulative output (kwh) |
| 首页 | Homepage |
| 我的 | My page |
| 测算结果 | Calculations |
| 电站概况 | Station overview |
| 装机容量 | Installed capacity |
| 月平均发电量 2157.31度 | Average monthly output: 2157.31kwh |
| 自发自用比例 | Self-supply rate |
| 电站成本 | Station cost |
| 建设成本 20.35万元 | Construction cost: 203,500 yuan |
| 回本年限 8.30年 | Payoff period: 8.30 years |
| 电站收益 | Station benefits |
| 年华收益率 | Annualized rate of return |
| 政府补贴 0.52元/度 | Government subsidy: 0.52 yuan/kwh |
| 余电上网电价 0.4153/度 | Feed-in tariff of excess electricity: 0.4153 yuan/kwh |
| 月平均收益 2042.23元 | Average monthly benefits: 2042.23 yuan |
| CO2月减排 | Monthly CO2 reduction |
| 我要装电站 | I want to build power station |
Transmitting information to the blockchain provides consistency and transparency in station data
For consumers who have bought equity in the station, real-time monitoring of station data is just the first step. The core issue that Ruff wants to solve through blockchain technology is how to make sure the data you see is trustworthy and reliable. Presently, all distributed PV stations store their data in a centralized cloud, so it is easy for someone to tamper with the power generation data and siphon the benefits. Therefore, when station data is uploaded to the cloud, sensitive core and value data, which concerns the consumers' investment interests, will be transmitted to the blockchain. This means that all core data and value data of the station will be open to the consumers, who can consequently access more transparent and trustworthy product information.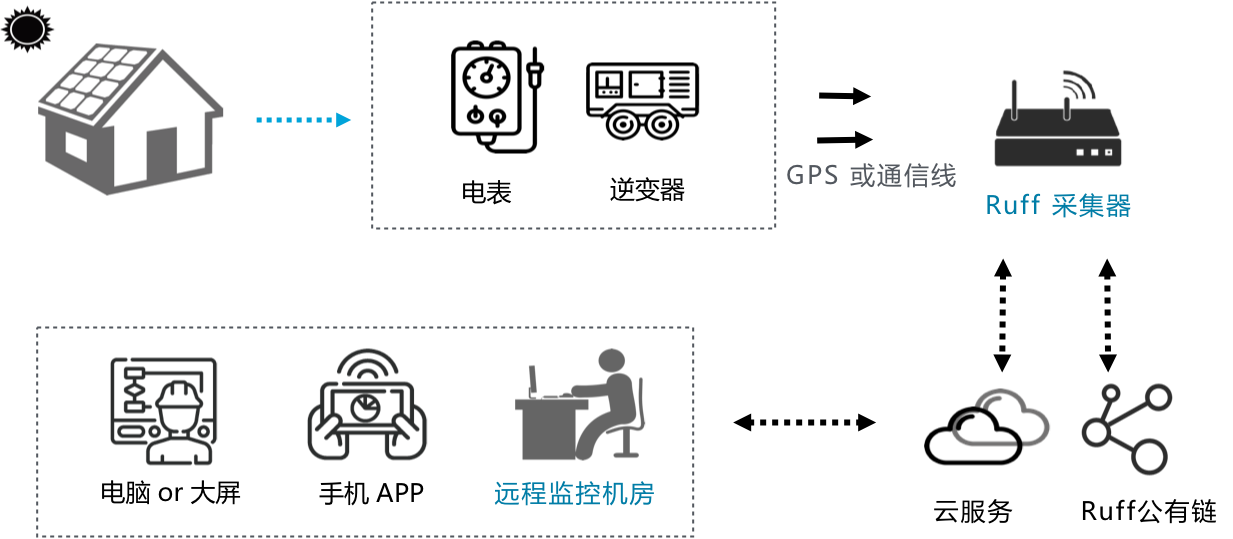 | | |
| --- | --- |
| 电表 | Ammeter |
| 逆变器 | Inverter |
| GPS或通信线 | GPS or communication line |
| Ruff采集器 | Ruff collector |
| 云服务 | Cloud service |
| Ruff公有链 | Ruff public blockchain |
| 远程监控机房 | Remote monitoring room |
| 手机APP | Cellphone APP |
| 电脑or大屏 | Computer or big screen |
At the same time, transparent and consistent data provides highly objective and authentic references for PV station investors. This reduces cost during the front-end inspection and evaluation of every distributed power station, thus more efficiently estimating key information such as the station's annualized return and return on investment.
For distributed PV stations, the combination of IoT and blockchain technology provides a new business model and realizes secure transaction of assets such as equipment and product. The value derived from the assets can be traded and enterprises can issue collective trust plans of financial lease based on the state of the IoT equipment and assets. In this way, the ownership and usufruct of the assets are separated, self-owned capital is occupied less, and relevant charges can be collected, giving birth to a new profitability model featuring shorter periods and quick returns.
Twitter: https://twitter.com/Ruff_Chain
Facebook: https://www.facebook.com/RuffChainProject/
Chinese Telegram: https://t.me/RuffChainChinese
Official Announcement Channel: https://t.me/RuffChain101
Medium: https://medium.com/ruffchain
Reddit: https://www.reddit.com/r/ruffchain/
Quora: https://ruffchain.quora.com/
Steemit: https://steemit.com/@ruffchain
Bitcointalk: https://bitcointalk.org/index.php?topic=4613705.0
Official Blog: https://ruffchain.com/blog/