The recent AI crypto trend has been compared to the meme coin reign. To that end, many investors are comparing Shiba Inu (SHIB), one the largest meme coins, and Avorak AI (AVRK), a promising AI crypto project. So, which one is more likely to reach the $1 mark first?
Shiba Inu Coin
The Shiba Inu Coin (SHIB) is the second largest meme coin in the world. The  ERC-20 token is sometimes referred to as the "Doge killer" due to its similarity and competition with the popular Dogecoin. As a meme coin, Shiba Inu lacks real-world utility. However, its developers are constantly trying to upgrade the Shiba Inu ecosystem to provide more use cases for the Shiba Inu Coin.
Shiba Inu News
Shiba Inu news has been garnering attention recently, with the Shiba Inu coin and the Shibarium beta testnet, Puppynet, recording strong numbers. Puppynet, in particular, has been experiencing rapid growth, having recorded over 100,000 wallet addresses within the first week of its relaunch. Furthermore, the increase in open interest in the futures market is evidence of traders' growing interest in SHIB. With the Shiba Inu price currently trading in an ascending triangle, the uptrend remains intact, and a final decision on whether the bulls or bears prevail could come by the end of April.
Can SHIB reach $1
It is highly unlikely that Shiba Inu (SHIB) will reach $1 with its current circulation levels. With a current supply of around 589 trillion, SHIB's market cap would need to reach $589 trillion to reach $1. This seems impossible, seeing as the figure surpasses even the total global wealth. While a rally in the crypto market could help boost SHIB's price, it is highly unlikely that it could lead SHIB to surge by 100,000%. Greater scarcity causes more significant price increases, and it is the only way for Shiba Inu to reach $1. This, however, could take years. Despite its tokenomics, SHIB remains a coin to watch out for as it has leveraged more usability and is far more accessible than many other meme tokens, paving the way for more adoption.
Avorak AI (AVRK)
Avorak AI is a BSC (Binance Smart Chain) based ecosystem of AI solutions. The AI crypto provides a fast and efficient way of accessing a wide range of AI products and services.
Avorak's products have unique features that make them easier to use, safer, and more efficient than other products of their kind. For example, while most text-generating AI use only internet scraping to create language, the Avorak text-generating AI combines internet scraping, a pre-written language bank, and plagiarism-detecting APIs. This ensures that Avorak's text-generating AI, Avorak Write, doesn't have the repetition and plagiarism common with most AI text generators.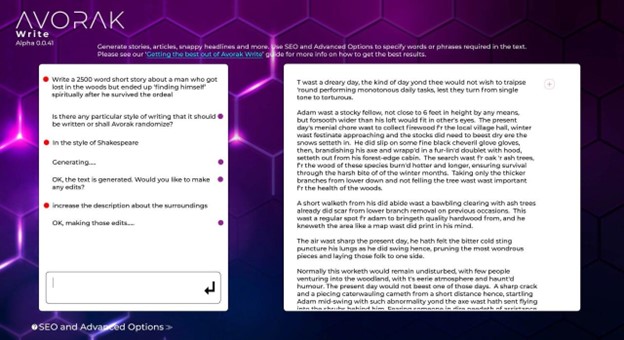 The AVRK token is Avorak AI's native utility coin and will be used to pay for Avorak's extensive list of AI solutions. AVRK can also be used for liquidity farming in crypto exchanges like Azbit. Avorak AI also offers a share of the profits from its AI services to AVRK token holders through its revenue feedback system. Long-term investors can increase their percentage hold of the project's market cap through its staking pools. AVRK has a max supply of 40 million, and Avorak AI has an effective burn program that causes its continuous deflation. This ensures that AVRK's price increases with its demand over time.
Conclusion
Avorak AI is still in the development phase, and the true use cases of its token are yet to take hold. Nonetheless, when compared to SHIB, it is already way ahead. AVRK is also higher in price while in ICO, currently trading at $0.180 in phase 4. Given Avorak's competitive advantages, real-world use cases, and strong tokenomics, AVRK will likely reach $1 before SHIB.
For more information on Avorak AI:
Website: https://avorak.ai
Buy AVRK: https://invest.avorak.ai/register
Disclaimer: This is a paid release. The statements, views and opinions expressed in this column are solely those of the content provider and do not necessarily represent those of NewsBTC. NewsBTC does not guarantee the accuracy or timeliness of information available in such content. Do your research and invest at your own risk.