The shift from traditional investments to cryptocurrencies has been nothing short of revolutionary. And following the trajectory from Shiba Inu (SHIB) to Bitcoin Spark (BTCS) sheds light on their transformative impact and what they can teach us about investing in the future.
Is Shiba Inu a good investment?
Several factors suggest Shiba Inu (SHIB) could be a good investment. SHIB has attained significant popularity, ranking among the top 20 cryptocurrencies by market cap. The coin also has a strong and supportive community that retains its social media presence and constantly drives its adoption. Shiba Inu (SHIB) has been listed on many exchanges, promoting accessibility and liquidity. The project's development team's consistent efforts to enhance SHIB's utility are evident, with the impending launch of Shibarium poised to bring about improvements in speed, security, and scalability. Shiba Inu's layer-2 blockchain will also introduce a burning mechanism to remedy a pivotal challenge that has hampered the coin's price progression.
Will Shiba Inu coin reach $1?
While Shiba Inu could be a potentially lucrative investment, the coin reaching $1 is a significant challenge. Achieving this target would necessitate a surge of over 12,400,000% from its current price, which is unlikely to occur given SHIB's large market capitalization and supply. Even in a scenario where the coin's circulating supply was drastically reduced through burning to 100 Trillion, DOGE would still require a market capitalization surpassing $100 Trillion to reach $1. And for comparison, Bitcoin (BTC), the largest crypto, has a market cap of around $571 Billion. Therefore, while SHIB holds potential for growth, those seeking crypto that can reach $1 should consider other alternatives.
Bitcoin Spark (BTCS): Spearheading the new era of cryptocurrency
Bitcoin Spark is a new crypto project on Ethereum with innovative features that have the potential to usher in a new age of digital currencies.
The network's infrastructure ensures fast transaction processing and low fees, making BTCS a suitable option for daily crypto transactions. This design includes multiple layers and will also allow for smart contract development on the network. Bitcoin Spark will support Rust, Solidity, Vyper, and all high-level programming languages compilable to EVM bytecode. This is bound to attract many developers, potentially creating a diverse and thriving ecosystem of decentralized applications (Dapps).
Bitcoin Spark also seeks to ensure that its network participants remain profitable regardless of the state of the market. It achieves this by overlaying several revenue-generating services within its network, with the primary service being decentralized CPU/GPU rental. Bitcoin Spark will use a proprietary consensus mechanism known as Proof-of-Process (PoP), which will require miners to stake and provide processing power to the network in order to confirm blocks and earn rewards. The PoP will be used with an algorithm that exponentially reduces rewards per additional power and per larger stake size to ensure a fair distribution of rewards.
The processing power provided by the miners is rented out to organizations or individuals requiring large computing power for high CPU/GPU load tasks like large-scale video rendering and operating servers. Those using the network for remote computational power will be required to pay with BTCS, with the revenue earned automatically being transferred to the mining pool. The miner's rewards are calculated as a blend between their individual stake and the work done using their processing power. The rewards are skewed to be higher for work done versus stake size in order to prioritize the revenue-generating product.
The Bitcoin Spark development team ensures anyone can mine BTCS through the network's native application. The Bitcoin Spark application will allow users to mine by permitting secure and isolated access to their device's processing unit. It will be lightweight, compatible with iOS, Android, Windows, Linux, and Mac Os devices, and will limit itself to resources it can use on the device. This allows unlimited devices to provide processing power to the network, infinitely increasing its revenue-generation potential.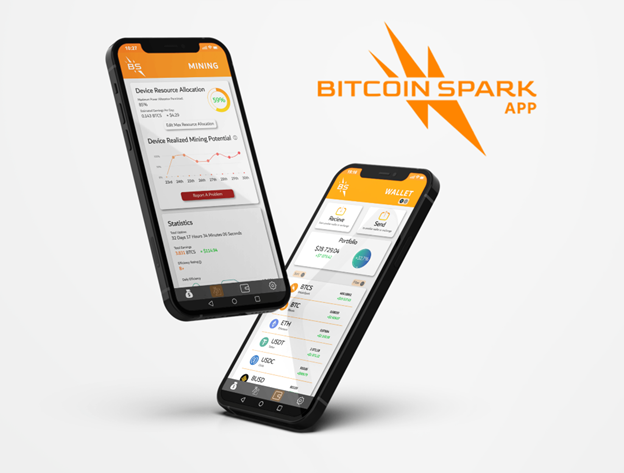 Crypto investors are looking for real-world use cases, and Bitcoin Spark is poised to capitalize on this demand effectively. Bitcoin Spark's innovative features have also captured the attention of crypto watchers, many of them comparing its ICO (Initial Coin Offering) to getting BTC in its nascent days. BTCS is selling at $1.75, accompanied by a 15% bonus in the current phase of the ICO.
For more information on Bitcoin Spark
Website: https://bitcoinspark.org/
Buy BTCS: https://network.bitcoinspark.org/register
Disclaimer: This is a paid release. The statements, views and opinions expressed in this column are solely those of the content provider and do not necessarily represent those of NewsBTC. NewsBTC does not guarantee the accuracy or timeliness of information available in such content. Do your research and invest at your own risk.