Using blockchain-enabled tools, SmarterWorx allows individuals to purchase, lease, and trade artworks from vetted galleries worldwide. The beauty of the platform is that you can invest in anything, ranging from paintings, and sculptures, to contemporary or classic art. As an investor, you get to not only protect your art investments from market volatility but also add diversity to your portfolio.
This relatively new concept is believed to make SmarterWorx even bigger than Dogecoin and Solana. Can it really outperform these market giants?
What's Smarterworx?
Art has always been the least accessible form of investment, reserved in the past for the world's most elite. But now, a new platform is opening the doors to art collecting and making it available to the masses. SmarterWorx has recently introduced its fractional art investment platform, proving that art should be a valuable asset to everyone.
The smarterWorx team will purchase carefully selected art pieces, digitize them with the help of Courtyard, and place them on the blockchain to make them visible to the world.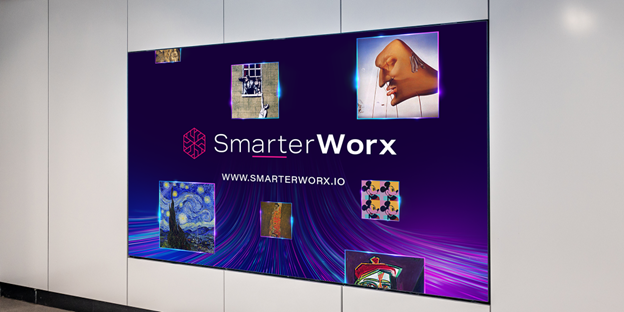 SmarterWorx is built on the concept of producing lucrative gains from the artwork. Thus, the pieces that are acquired will not be random works of art but rather those that are now trendy or have future potential.
>>BUY SMARTERWORX TOKENS HERE<<
Initially, 5% of all ARTX tokens will be deposited in a treasury fund to support the first art purchases. Then, a portion of buy and sell fees will continuously fund the treasury to make the portfolio much more diverse, exciting, and volatility-resistant.
Dogecoin (DOGE)
Everyone's beloved Dogecoin (DOGE) was founded in 2013 as a comical alternative to typical cryptocurrencies like Bitcoin. The name and logo of the Shiba Inu originate from a meme.
While Bitcoin was created to be scarce, Dogecoin's supply is unlimited, with a mining rate of 10,000 coins per minute and no predetermined cap on the total amount that may ever be created. This has become the primary reason DOGE has been unable to gain value despite all its hype on the market.
>>BUY SMARTERWORX TOKENS HERE<<
Solana (SOL)
Solana (SOL) is a next-generation cryptocurrency and blockchain protocol that allows developers to build highly-scalable decentralized applications (dApps). For example, the platform supports over 65,000 transactions per second (TPS), far faster than Ethereum's approximately 15-20 TPS. It also provides distributed storage, smart contract execution, and a secure consensus mechanism, which are key components for a successful blockchain platform.
Bottom Line
SmarterWorx's initiative to use blockchain technology to enrich the traditional way art is purchased and consumed will be welcomed by those who appreciate innovation, art, and crypto. Just recently, its highly anticipated presale went live, and it looks like the growth potential of this new altcoin truly is massive.
Learn More About SmarterWorx:
Use discount code ARTX5 for 5% off your next purchase!
Presale: http://smarterworx.io/buy
Website: https://smarterworx.io/
Linktree: https://linktr.ee/smarterworx
Disclaimer: This is a paid release. The statements, views and opinions expressed in this column are solely those of the content provider and do not necessarily represent those of NewsBTC. NewsBTC does not guarantee the accuracy or timeliness of information available in such content. Do your research and invest at your own risk.