Meme coin sensation SpongeBob Token will be available for purchase on leading centralized exchanges Bitget and Gate.io from 12th May 2023, according to the latest announcement.
Earlier, the project revealed that multiple tier-1 exchange listings were lined up for SPONGE, which broke records this week by climbing from a $2M to $90M market cap within four days. As one of the major drivers of the ongoing meme coin craze, the demand for SpongeBob Token is growing after a short pull-back.
The new listings, which could potentially include Binance, will take SPONGE to new investors. It's also predicted to pump the second wave of bull run for the token, bringing anywhere up to 25X returns for early investors.
📣Hold onto your sponges, $SPONGE community! We've got more exciting news to share!🎉

Prepare yourselves for the launch of $SPONGE on @bitgetglobal and @gate_io! 🔥🚀

Stay tuned for additional updates and keep those eyes wide open! 👀🧽 pic.twitter.com/V7syu9nLfX

— $SPONGE (@spongeoneth) May 11, 2023
SPONGE is positioned to dethrone Pepe
The ongoing meme coin craze is led by shitcoins like PEPE and SpongeBob Token. While Pepe has come to its saturation point already, SpongeBob Token has more steam left.
After hitting a whopping market cap of $1.6B within days of going live, Pepe has been consistently losing value. Its market cap stands at $661M with no signs of progress. It will be at least a few weeks before Pepe gets back on track.
SPONGE, on the other hand, has a comparatively lower total market cap of $18.53M. Or, it has more room for growth. While new investors of Pepe can best expect less than 50% return if the token crosses the $1B market cap again, SPONGE investors can earn 10X returns on the token crossing the $200M milestone. And in the event it crosses $1B, more than 50X returns are awaiting them.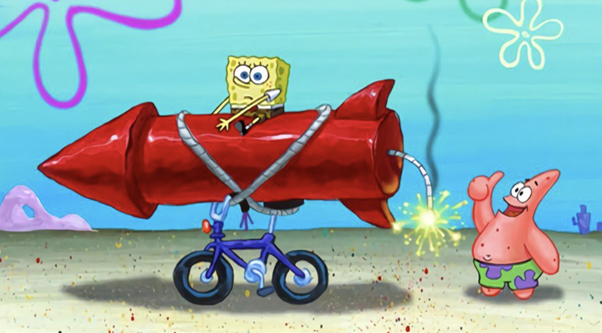 SpongeBob Token is positioned for a better reception than Pepe in the shitcoin market. That said, not all shitcoins are worth buying. Some can wipe out your wallet overnight. Some, like Pepe, are prone to liquidity challenges. And some have a history of tarnishing the market with rug pulls and scams.
What makes SpongeBob Token an excellent shitcoin investment?
For starters, SPONGE's locked liquidity with Team Finance speaks for its credibility. The judicious measure rules out all concerns of rug pull and scams the shitcoin market is known for. Learning from Pepe's liquidity challenge, SPONGE has entered the market well-armored. That also helped the token win the approval of a large community of investors within hours of going live.
The next thing to look for is the robustness and security of the project. Dextools.io gives SPONGE a 98/99 reliability score based on a wide range of parameters. A closer look at the SpongeBob Token website and social media communities reveals that it is a credible project with a strong foothold. Despite the team remaining anonymous, it has built a large community of supporters.
But the key factor that will catalyze the hype around SPONGE in the coming days will be its theme and memes. As the name gives it away, SpongeBob Token is strategically designed to tap into the popularity of SpongeBob SquarePants. The Nickelodeon cartoon series launched in 1999 continues to be the most-watched TV show in history. The viewers of the show spread across generations.
Most people who grew up watching SpongeBob SquarePants are now in their early 30s or late 20s, however. Why does it matter? They belong to the same demographic as most shitcoin or meme coin investors. The 90s generation is more open to investing in creative and adventurous projects like SpongeBob Token which explicitly state that it has no use case. SPONGE is straightforward about its lack of focus on utility.
The perfect recipe for a meme coin explosion
SpongeBob token has all the right ingredients for a meme coin explosion – whether it is the theme, credibility, or marketing campaigns. It's paying off, as the numbers show.
SPONGE jumped over 4000% as its market cap soared in the first few days of the token launch. The out-of-the-blue release of the token which was not preceded by any marketing events or presales worked out well. In the hours that followed, investors were rushing to Uniswap to hoard the token in anticipation of a Pepe-like explosion.
Soon after, it became the hottest token #1 on DEXTools, and the top-performing token on CoinMarketCap. And at one point, SPONGE was the third hottest trending topic on Twitter in India.
"SPONGE is a meme coin with no intrinsic value or expectation of financial returns. There is no formal team or roadmap. The coin is completely useless and for entertainment purposes only," according to the website. But that hasn't stopped investors from betting big on it. They have been pouring large amounts of money into the meme coin throughout the week.
One of the key factors that have worked in favor of SpongeBob token is its locked liquidity and focus on security. These steps instill faith in the project and explain SPONGE's meteoric rise.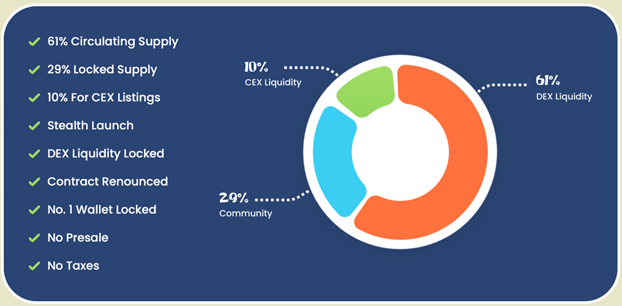 SPONGE tokenomics
Binance listing next for SPONGE?
SPONGE is listed on leading CEX and DEXs including Uniswap, MEXC Global, LBANK, CoinW, BTCEX, and Poloniex. If rumors are to be believed, a Binance listing is lined up for the token along with multiple other tier-1 exchange listings.
On crossing the $100M milestone, SPONGE is likely to make its way to Binance. That will further fuel FOMO, leading to the dethroning of PEPE from its third position on the meme coin chart. Don't wait till then to buy SPONGE. Shitcoins are always best bought early.
Despite being a coin without any utility, SPONGE is a credible cash grab this month. The possibility of SPONGE payment integrations can't be ruled out either, following in the footsteps of Dogecoin and Shiba Inu. But that is likely to not happen until the token accumulates a $1B market cap.
Disclaimer: This is a paid release. The statements, views and opinions expressed in this column are solely those of the content provider and do not necessarily represent those of NewsBTC. NewsBTC does not guarantee the accuracy or timeliness of information available in such content. Do your research and invest at your own risk.