Hello, we are the BORA team.
We proudly announce that the official testnet 'BORA Lagoon' is open to the public.
BORA Island is a decentralized digital content platform that connects content providers to the blockchain. We want to give providers and developers more control over their content and resources.
The main goal of BORA Island is to make it simpler for content providers to enter the blockchain ecosystem. There are currently a lot of barriers to entry such as lack of technical understanding and high development costs. This has led to many content providers missing out on using the blockchain ecosystem which could help improve their experience for the people consuming their content. Through BORA Island, our team will build an efficient environment with toolkits for content providers and developers such as the interconnection of blockchains and content services, possession and transfer of digital assets, and storage and sharing of data which requires trust.
The BORA Island development team has now completed the alpha demonstration of the project after months of research and development. We will release "BORA Lagoon" a testnet where developers can verify and test their content before sharing with the world. BORA Lagoon will continue to be updated in the future so that improvements can be implemented. We hope that through BORA Lagoon, we will be able to cooperate with developers on the development of BORA Island.
BORA Island Features
BORA Island is a Scalable High-Performance platform with a Side Chain applied over the Ethereum network, some of its features include:
Scalability: A modular structure that can add side chains to accommodate the diverse needs of content providers.
High Performance: Secures 2,200 TPS per Side Chain by the adoption of PoA (Proof of Authority) consensus algorithm, and linear performance by adding Side Chain node (2,200 TPS x ∂ = ß).
Isolation: Ensures an independent service environment by minimizing inter-content interference by the modular architecture.
Accessibility: Provides a development environment that refers to the context and meets the needs of content providers, from simple connectivity to the platform at minimal cost, to implementation of smart contract-based Dapp.
Variety: Two-layered chain and token structure solves commission and performance problems and can be combined with a variety of digital content (e.g. data-driven services such as games, entertainment, and health information).
BORA Lagoon
As we mentioned earlier in the article our development team has launched the BORA Lagoon, it is a testnet of the BORA Island. It is a space where you can check the development process and work together with the BORA team to improve BORA project. BORA Lagoon will operate as a communication space for developers as we continue to develop our platform and ecosystem.
We will showcase three prototypes, the products and features will continue to be updated after release. Please refer to our prepared guides and documents to participate in the development of the BORA ecosystem.

BORA Test Ground: You can test the functions of wallet management, token transactions and exchange of tokens to be used in the BORA Island. In addition, we provide sample content that is actually implemented in BORA Chain for reference in development and testing.
BORA Toolkit: Provides platform interoperability-related REST APIs for content providers to perform test development.
BORA Explorer: You can view transaction information recorded in BORA chain during development and testing.
Conclusion
The BORA team has started developing the beta version of BORA Island. As mentioned in the roadmap, BORA Island plans to launch the full version in the first half of 2019, and all team members are working their hardest to ensure we meet our target date.
However, we do not think the BORA Island can be completed through the efforts of our development team alone. We also rely on developer and content providers from all over the planet to help us achieve our goals. The BORA Island team dreams of a platform that works, grows and evolves. We hope that after the launch of BORA Lagoon you will be able to see our vision. Please contact our team to report any bugs, make any suggestions, or ask inquiries without distinction.
Thank you for your interest in our project.
Regards, BORA team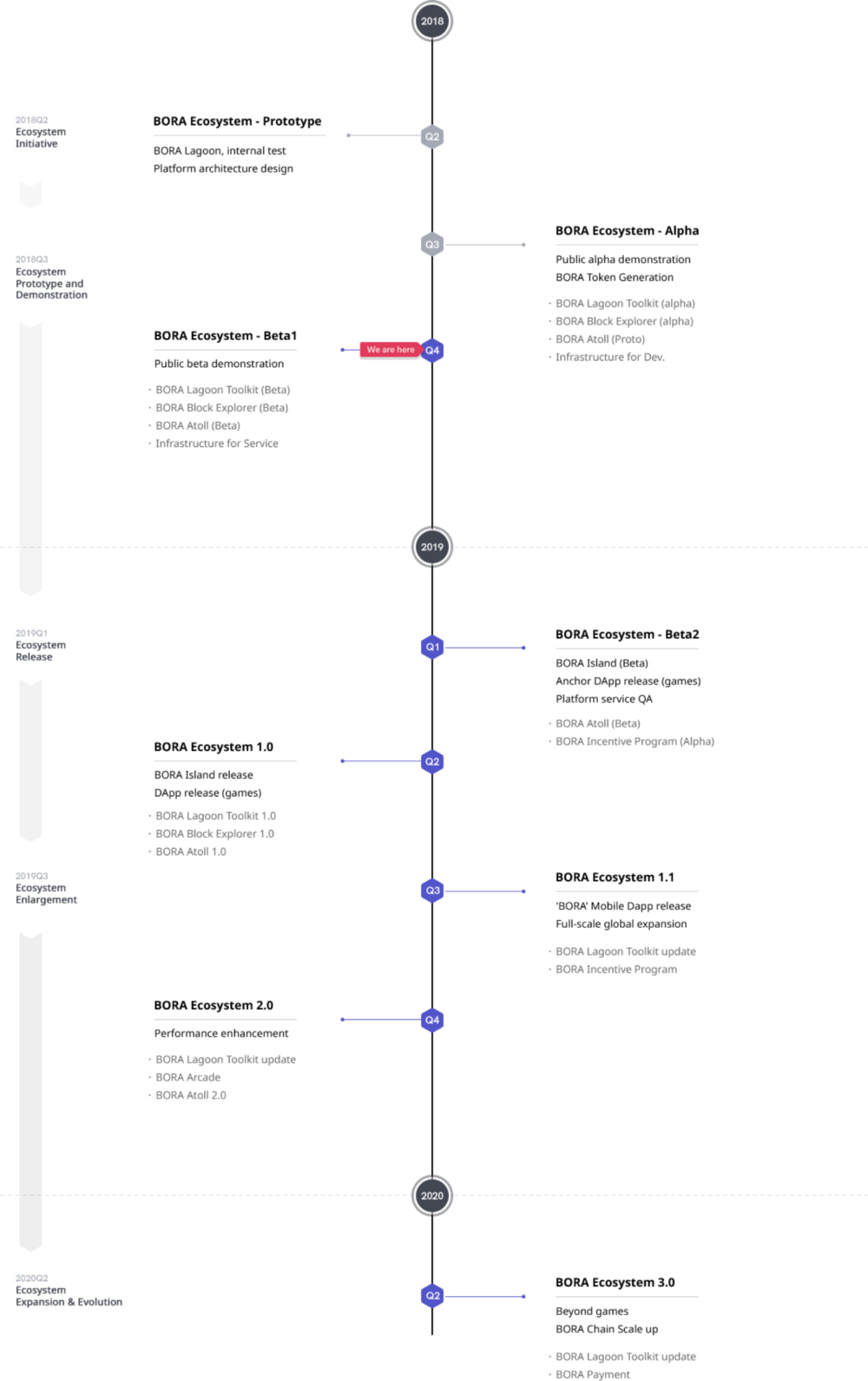 Website: https://www.boraecosystem.com/
Bora Lagoon test net: https://bora-lagoon.com
Telegram: https://t.me/boraofficial
Twitter: https://twitter.com/bora_ecosystem
Medium: https://medium.com/@BORA_Ecosystem
Reddit: https://new.reddit.com/r/Bora_Ecosystem/
Email: [email protected]