Cryptocurrencies have come a long way since the inception of Bitcoin in 2009. The crypto market has grown, expanded, and matured, opening up exciting opportunities for investors. As we look ahead, three cryptocurrencies that shine brightly on the horizon are Solana, Cardano, and Scorpion Casino Token (SCORP). In this article, we explore the potential of these cryptocurrencies and why the future of crypto looks promising with them at the forefront.
Solana (SOL) – The Future of Scalability
Solana has been making waves in the crypto world with its impressive performance and innovative approach. It has gained a reputation as a high-performance blockchain platform, offering fast transaction speeds and low fees.
Solana's unique consensus mechanism, known as Proof of History (PoH), enhances its scalability, making it an ideal choice for decentralized applications (DApps) and DeFi projects. As more DApps and projects adopt Solana, its ecosystem continues to flourish.
Solana's focus on scalability and user-friendly development has proved especially prevalent in the last 7 days; SOL is up a staggering 30%.
Cardano (ADA) – The Future of DeFi
Cardano, often referred to as the "Ethereum of the future," is a blockchain platform that prioritizes sustainability, scalability, and interoperability. Cardano's research-driven approach ensures that every protocol and update is meticulously designed and peer-reviewed, leading to a robust and secure network.
With the introduction of smart contracts through the Alonzo upgrade, Cardano is poised to become a hub for DeFi projects and DApps. Its commitment to creating a more inclusive and secure financial system makes Cardano a frontrunner for the future of crypto. With a market cap of over $9 billion, ADA is a giant in the space.
Scorpion Casino Token (SCORP) – The Future of Online Gaming
As a core component of the Scorpion Casino ecosystem, SCORP empowers users to engage in  200 casino games, access 160 live events, bet on 35 sports, and explore more than 30,000 monthly betting opportunities. SCORP's versatility is highlighted by its acceptance of over 20 different currencies, including BNB, BTC, ETH, SOL, USDT, and USDC, with automatic currency conversion for seamless accessibility.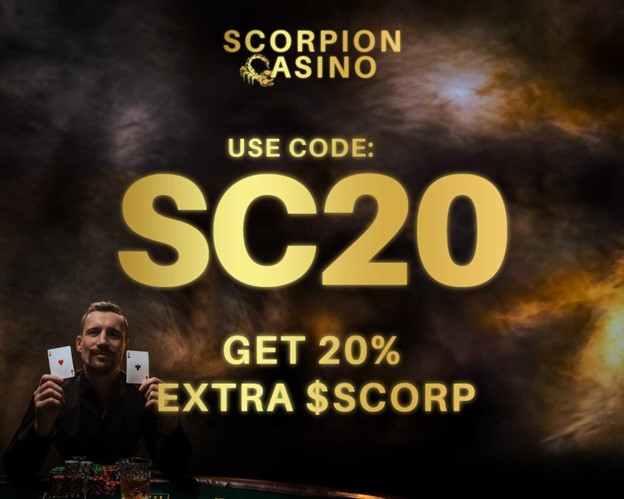 The vision of Scorpion Casino is to build a revolutionary way to receive passive income and make holders so much money that they could live off their $SCORP staking rewards. It aims to become the hotspot for sports events and gambling enthusiasts. In addition to this, the Scorpion Casino Token (SCORP) recently introduced a 40% casino bonus code for presale buyers, enhancing its attractiveness.
Buy SCORP NOW with the code SC20 to receive an extra 20% bonus in tokens.
Look to the Future
The future of crypto appears bright, with innovative projects like Solana, Cardano, and Scorpion Casino Token paving the way for new possibilities. Solana's speed and scalability, Cardano's commitment to a sustainable and secure blockchain, and SCORP's unique approach to sports and gambling create a diverse and promising landscape for the crypto market.
As these cryptocurrencies continue to evolve and adapt to the ever-changing crypto ecosystem, they are likely to play a significant role in shaping the future of digital assets. Investors should keep a keen eye on these projects as they navigate the exciting path ahead.
More information on SCORP:
Presale: https://presale.scorpion.casino/
Twitter: https://twitter.com/ScorpionCasino
Telegram: https://t.me/scorpioncasino_official
Disclaimer: This is a paid release. The statements, views and opinions expressed in this column are solely those of the content provider and do not necessarily represent those of NewsBTC. NewsBTC does not guarantee the accuracy or timeliness of information available in such content. Do your research and invest at your own risk.