In a world rapidly spinning on the axis of uncertainty, the crypto market is no exception. Geopolitical events, such as the escalating Israel-Palestine conflict, coupled with unpredictable central bank actions and economic data announcements, have traders looking to take advantage of market volatility. The timing of the Middle Eastern tensions couldn't be less opportune. As several nations grapple with stagflation, risk assets, including cryptocurrencies, are caught in the crossfire. But what do these market dynamics mean for everyday investors? Do these data points spell doom, or could they be the precursor to the next significant rally? Delve deeper to decipher the cues.
Bitcoin (BTC): The Relentless Pioneer in a Shaky Landscape
Recent Bitcoin and Ethereum price movements have shown admirable resilience amidst the tumult. Particularly, Bitcoin has gained 3.9% in September, bringing it to current levels. Meanwhile, the bitcoin hash rate impressively stands at about 2.4 times its strength during the infamous China ban. Despite the drop in its price, this demonstrates real optimism about Bitcoin's future, suggesting an ever-growing industry and increasing faith in its long-term potential.
Bitcoin Hash Rate 7DMA
Source: LookIntoBitcoin
The industry is still investing heavily in infrastructure, demonstrating real confidence in Bitcoin's future. Historically, Bitcoin has rebounded strongly after every significant drop. Could this be another of those times? Maybe it's time to jump on the Bitcoin bandwagon?
Bitcoin Calendar Year ROI
The Lightning Network is also growing – it has seen a whopping 1,212% increase in the past two years, as well as an increase in volume and capacity, according to River's Lightning Network report. In August 2023, it is estimated that $78.2 million was publicly routed using 5,000 BTC in capacity – that's a 546% increase on the previous year.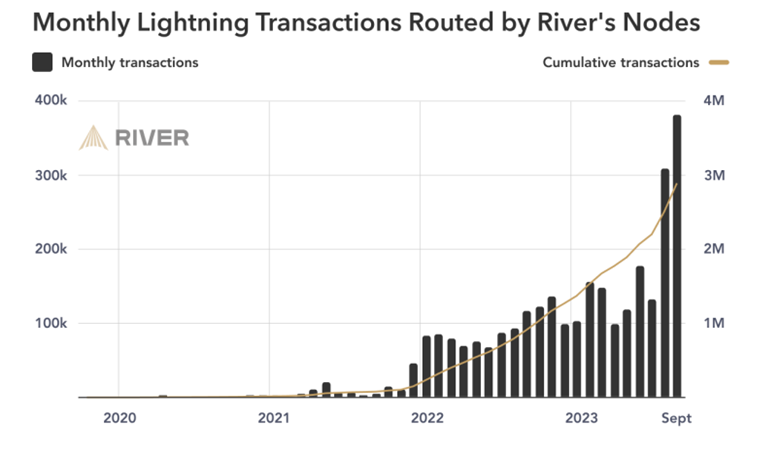 Source: River's Lightning Network Report
The major talking point remains Bitcoin's commendable steadiness despite external pressures. The fact that miners are fervently searching for, and competing over, cheap energy prices indicates a deep-rooted faith in Bitcoin's longevity. The strength and resilience of the network are further emphasized by the difficulty of launching successful attacks on it, propelling its potential adoption.
BTC Price Analysis
Currently, the BTC price range is between $25,428 and $27,999. Supporting the current price, Bitcoin's support levels are set at $23,888 and $21,318 respectively. 
On the flip side, resistance is identified at $29,029 and $31,600. The 200-day moving average is close to the upper end of the range at $28,025, while the 10-day moving average is a bit snugger at $27,509. Given this, cautious optimism is advisable, but don't expect a smooth ride with any crypto investment.
Ethereum (ETH): A Storm Brewing Beneath the Surface?
The third quarter didn't shower Ether (ETH) with much glory. Mainnet activities have been surprisingly muted. However, it's not all been calm waters. Ethereum's Layer-2s, or L2s, have seen a surge, claiming 61% of all Ethereum transactions in Q3. While Ethereum's mainnet activities might have dimmed, its Layer-2 surge could be the iceberg tip of an imminent technological breakthrough. How does this alter the investment equation? Get the insights.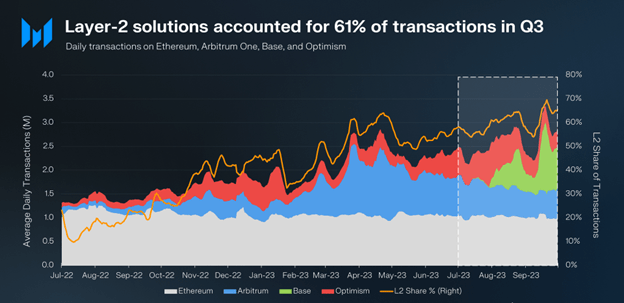 Source: Messari. Based on data as of 30th September
Ethereum (ETH) Price Analysis
While Q3 watched Ethereum's price and market cap decline by 10%, it surprisingly outperformed Bitcoin by 2%. With its price range of $1,570-$1,732, Ethereum's support levels stand at $1,470 and $1,308. Meanwhile, resistance lingers at $1,794, with both the 10-day and 200-day moving averages suggesting a cautiously optimistic outlook at $1,609 and $1,797, respectively.
Ethereum (ETH) Calendar Year ROI

Litecoin (LTC): Breaking Records while Playing it Cool
Litecoin, a veteran in the crypto space, just clocked its 12th anniversary, breaking records left, right, and center. Having processed its monumental 180 millionth transaction and seeing an uptick in adoption with platforms like Bitpay, LTC's stability, and growth are remarkable. Adding to its value proposition is its scarcity with an 84-million supply cap and its network hash rate hitting at all-time highs.
Litecoin Hashrate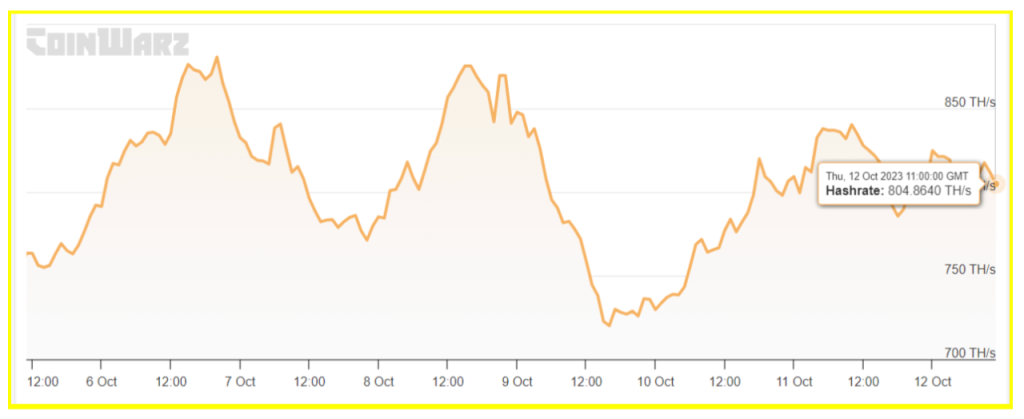 Source: Coinwarz
Litecoin (LTC) Price Analysis
Amid the celebrations, Litecoin's price seems to have taken a chill pill. Hovering between $59.66 and $70.33, LTC appears to be consolidating post the halving event in August.
Litecoin (LTC) Calendar Year ROI
Price expectations seem conservative. With support levels at $53.35 and $42.69, and resistance levels pegged at $74.68 and $85.35, only time will tell if the coin will blaze past expectations or remain in its current cozy range. Given Litecoin's consistent stability, now might be the ideal time to make a move. Take advantage of this perfect window and add Litecoin (LTC) to your portfolio now.
Cardano (ADA): Onward and Upward with the Spirit of Innovation
With Charles Hoskinson, its founder, ardently updating the crypto community on its ecosystem developments and governance modifications, Cardano remains in the limelight. The Project Catalyst stands out, reflecting the coin's continuous strides in decentralized application development.
Additionally, Cardano flipped Polkadot to the top spot in notable development activity among crypto assets over the last month: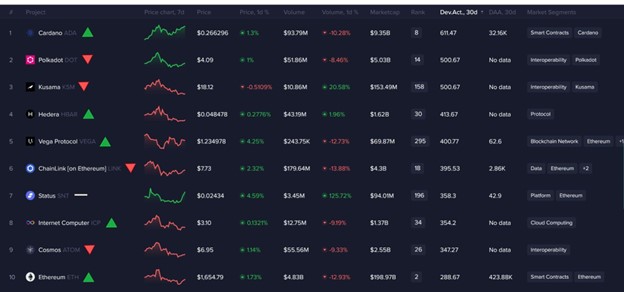 Source: Santiment Pro
Cardano (ADA) Price Analysis
This impressive feat is a testament to the Cardano team's relentless commitment to innovation and platform enhancements. Cardano's rapid ecosystem modifications have made it a hot favorite among investors. Don't get left behind; grab your Cardano coins now.
Cardano (ADA) Calendar Year ROI
At present, Cardano's price stands in a band of $0.2409 to $0.2630, reflecting a consolidation phase. With two support levels identified at $0.2279 and $0.2058, there seems to be a solid foundation preventing a more significant price dip. 
On the upside, ADA confronts resistance at the $0.2721 and $0.2942 marks, which, if broken, could steer the coin towards a bullish surge. 
The 10-day moving average at $0.2552 slightly underpins the current price, hinting at recent stability. In contrast, the 200-day moving average, which sits at $0.3159, signifies a potential long-term upward trajectory that ADA might aim to achieve.
In light of Cardano's reclaimed developmental leadership and the current price analysis, a cautiously optimistic stance might be apt for investors, with eyes peeled for a potential breakout beyond the present resistance zones.
Ripple's Legal and Market Dynamics: A Dual-Front Struggle
The legal strife between Ripple Labs and the SEC is reaching fever pitch. As Ripple recently notched its second win, the April 23, 2024, trial is looming large. With the SEC historically demonstrating a tenacious stance in legal battles, many believe that despite mounting pressure, the SEC may not back down. Experts suggest that while a victory for Ripple might bolster industry confidence, a contrary outcome could introduce instability. Complicating the picture, Ripple's Chief Financial Officer, Kristina Campbell, chose this tumultuous moment to tender her resignation. However, the silver lining for the cryptocurrency is its increasing traction in the derivatives sphere, underscored by Deribit's upcoming XRP options trading.
Ripple (XRP) Price Analysis
Recent price action paints a volatile picture for Ripple (XRP). The cryptocurrency experienced its most significant one-day decline in the past month, plummeting 5.8% and breaching the pivotal $0.50 support.
Ripple (XRP) Calendar Year ROI
The price of Ripple (XRP) oscillates between $0.46680 and $0.55610, a range that offers a hint at the coin's upcoming bullish and bearish potentials. The two identified support levels at $0.41867 and $0.32937 represent critical price floors, serving as potential bounce-back zones should the price undergo a bearish downturn. 
Conversely, the resistance levels set at $0.59727 and $0.68657 act as ceilings that, if breached, could catapult XRP into a bullish realm.
Taking a closer look at the moving averages, the 10-day moving average is sitting at $0.51286, slightly below the upper limit of the current price range, which suggests a neutral to bullish short-term sentiment. 
On the other hand, the 200-day moving average stands at $0.52880, indicating long-term stability and aligning closely with the current price action. 
In a bullish scenario, should XRP successfully break past its immediate resistance of $0.59727, it sets the stage for a potential rally towards the higher resistance at $0.68657, confirming a positive trend reversal. 
Conversely, a bearish perspective would see XRP testing its primary support at $0.41867, and if this floor doesn't hold, a more significant downturn could lead the price towards the deeper support at $0.32937. 
The legal landscape around Ripple is as intriguing as its market dynamics. Could the upcoming trial be the turning point for XRP's future? Check out this price analysis for a more comprehensive look.
Final Thoughts
In the ever-evolving and unpredictable world of cryptocurrencies, the constancy of change remains a given. From geopolitical influences to sector-specific dynamics, the factors impacting the crypto landscape are manifold. Amidst the chaos, Bitcoin continues to manifest resilience, Ethereum's Layer-2s gain momentum, Litecoin celebrates milestones, Cardano forges ahead with innovations, and Ripple battles both on the legal and market fronts.
The underlying theme across these cryptos is one of dogged persistence and an unwavering belief in the revolutionary potential of decentralized assets. As we navigate the labyrinth of uncertainties, it's evident that the cryptocurrency industry will stand the test of time, continuing to shape the future of finance and redefine traditional norms. For those with vision and patience, the horizons might seem misty, but they hold a wealth of opportunities and innovations. Don't miss out on the next wave of crypto evolution. Secure your coins and be part of the future now.
Disclaimer: This is a paid release. The statements, views and opinions expressed in this column are solely those of the content provider and do not necessarily represent those of NewsBTC. NewsBTC does not guarantee the accuracy or timeliness of information available in such content. Do your research and invest at your own risk.