Cryptocurrency adoption is accelerating in the current Bitcoin Bull Market. Introduced in 2009, Bitcoin has gained worldwide recognition as a digital currency. Although the future of Bitcoin is hard to predict, it is certain that its popularity will continue to grow, and its economic impact will increase. Several businesses in the United States have already begun accepting Bitcoin as payment, such as Overstock.com, which started accepting Bitcoin in 2014, demonstrating a major company's willingness to adopt a new and relatively unknown currency. As more businesses start accepting Bitcoin, its usefulness will increase, and more people will be motivated to use it.
Considerations of Using Bitcoin as an Alternative Payment Method: Benefits and Drawbacks
Bitcoin offers lower transaction fees compared to traditional payment methods like credit cards and PayPal. Bitcoin does not require personal information during transactions, which is a plus for users who prioritize privacy. Lastly, the decentralized nature of the Bitcoin network could appeal to those who do not trust centralized financial institutions. Coinbase, BitPay, and GoCoin are some of the most popular Bitcoin payment processors. Bitcoin eliminates the need for costly credit card fees for businesses and provides buyers with a more efficient and cost-effective way to buy goods and services from anywhere in the world.
If more businesses and consumers begin to use Bitcoin for everyday transactions, there could be a significant economic impact. The potential economic impacts of Bitcoin adoption include an increase in competition for traditional financial institutions, a shift in the way goods and services are priced due to Bitcoin's value fluctuations, an increase in cybercrime, a decrease in the demand for cash, and an increase in economic activity.
Ethereum's Shanghai Upgrade is Promising
While Bitcoin is gaining popularity, Ethereum is also showing promise with its upcoming Shanghai upgrade, Shapella. In March 2023, Ethereum and other cryptocurrencies experienced a correction as Silvergate, the crypto bank, lost 50% of its market share, causing concerns among investors. However, corrections are common in the volatile world of cryptocurrencies. Shapella, scheduled for April 2023, is expected to introduce full or partial staking withdrawals for long-term Ethereum stakers. Ethereum currently has a market cap of $217.85 billion with a current price of $1808. The ability to withdraw from Ethereum 2.0 staking contracts is one of the major upgrades that Shapella will introduce, attracting more long-term Ethereum stakers, potentially increasing the demand for Ethereum and ultimately, its price.
Dogetti: Meme coin That Creates Generational Wealth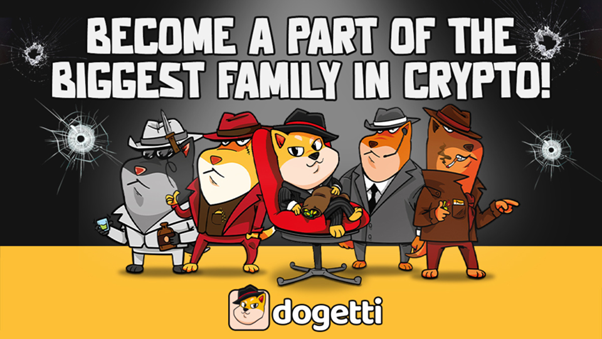 Dogetti (DETI) is a new meme coin that aims to create generational wealth for every member of the community. It is still in stage 2 of ICO and raised $669,604. The current price of a $DETI is $0.00029166, and predictions say it will witness a 900% spike at launch. Dogetti's ultimate goal is to be the top dog coin in the meme coin space, owned and controlled by the community who share a sense of belonging and common purpose among its holders. Loyalty is highly valued in the community, and loyal investors are rewarded consistently. 2% of every transaction is redistributed to token holders, and 2% is added to the charity wallet. Dogetti has been audited by Solidproof, Soken, Coinsult, and Solidity Finance and is 100% secure to invest in. At this pace, it will be one of the biggest families in the meme coin crypto arena.
In conclusion, while Bitcoin's popularity has made it the first choice for economies to adopt it as an alternate mode of payment, Ethereum's Shapella upgrade looks promising for the altcoin. Additionally, the new meme coin Dogetti promises both popularity and rewards for being part of its fun-filled journey. Investing earlier will result in greater gains.
For more information about Dogetti (DETI):
Presale: https://dogetti.io/how-to-buy
Website: https://dogetti.io/
Telegram: https://t.me/Dogetti
Twitter: https://twitter.com/_Dogetti_
Disclaimer: This is a paid release. The statements, views and opinions expressed in this column are solely those of the content provider and do not necessarily represent those of NewsBTC. NewsBTC does not guarantee the accuracy or timeliness of information available in such content. Do your research and invest at your own risk.