Pinkinu, a revolutionary cryptocurrency designed for women, has made waves in the crypto market with its recent Presale program. In just a few hours after the launch of Stage 1, Pinkinu generated an impressive $200,000 investment, showcasing its rapid emergence as a prominent player in the blockchain space.
Pinkinu is a highly secure investment option, with 90% of its total token supply allocated for public sale to the community and only 10% set aside for liquidity, marketing, and community rewards, Pinkinu is truly a coin that is run by the community for the community. This unique approach ensures that the interests of its users are prioritized and promotes inclusivity and diversity within the blockchain ecosystem. Furthermore, Pinkinu's developers do not own any tokens, eliminating the potential for a single entity to hold a large amount of tokens and potentially manipulate the market, providing investors with a high level of confidence in the safety and fairness of their investment.
The Presale program of Pinkinu is designed in 6 stages, each lasting for seven days, with the price increasing by 12.5% with each stage. The first stage of Presale started at $0.00222, and the launch price was set at $0.00801 (up 360%), offering early participants an opportunity to secure Pinkinu tokens at a discounted rate. This unique pricing mechanism, combined with the high demand and interest in the project, contributed to the impressive $200,000 investment milestone reached on the first day of the trending Presale.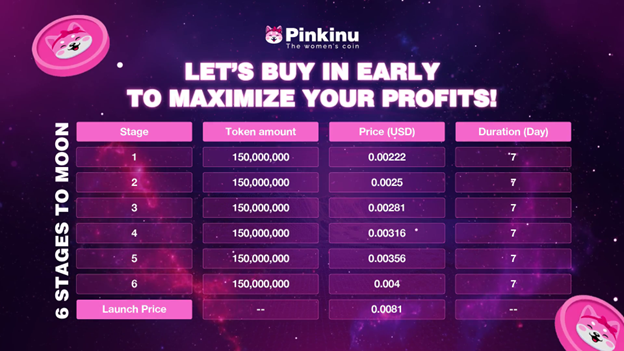 Pinkinu has gained significant attention from key opinion leaders (KOLs), renowned media channels, and popular news sharing groups, further amplifying its presence in the crypto community. The project's unique approach to supporting women in the crypto space and its impressive Presale performance have generated considerable buzz and interest among investors and enthusiasts alike.
Furthermore, Pinkinu's referral program offers an attractive incentive of 5% direct commission to users who successfully refer others to participate in the Presale program through their referral link. This incentivized referral program has contributed to the project's appeal for potential investors, as it promotes community engagement and encourages the growth of the Pinkinu community.
With its rapid success in raising $200,000 in just hours after the Stage 1 Presale launch, Pinkinu has positioned itself as a rising star in the blockchain market. The remarkable progress in its initial Presale campaigns instills confidence that the ambitious target of raising a total of 2.7 million across all Pinkinu sales events is not only achievable but also indicative of the immense potential for growth. The raised funds from Pinkinu's Presale program will be utilized to develop strategic partnerships with brands, labels, and human rights organizations, with the aim of protecting women's rights and promoting gender equality on a global scale. This initiative represents a significant step towards creating a more transparent and equitable world for women. Its innovative approach, commitment to empowering women, and strong community support make it a project to watch in the ever-evolving cryptocurrency landscape.
In conclusion, Pinkinu's impressive performance in its Presale program, reaching $200,000 in just hours after the Stage 1 launch, has positioned the project as a new rising star in the blockchain market. With its unique approach, community-driven approach, and strong support from KOLs and the community all over the world, Pinkinu is poised for further success in the cryptocurrency world. To learn more about Pinkinu and its groundbreaking initiatives, visit their official website at pinkinu.fun.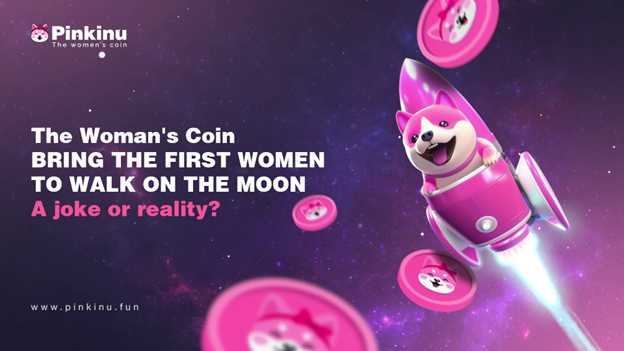 Evaluated by experts as the best meme coin to buy with low risk in 2023, Pinkinu has already demonstrated the strength of its community from its early stages. As the blockchain landscape continues to evolve, Pinkinu's commitment to empowering women and its innovative approach make it a project worth watching in the coming months.
HOW TO BUY THE BEST MEME COIN IN 2023 – PINKINU TOKENS
To participate, please visit Pinkinu's official website at www.pinkinu.fun.
Acquiring PINKINU tokens is easy. Simply click the "BUY PINKINU" button on the header banner, and you will be directed to the Purchase box. From there, click "BUY NOW" and connect your wallet. You will have three options to purchase PINKINU tokens:
Buy PINKINU with ETH/BNB: Enter the amount of PINKINU you want to buy or the amount of ETH/BNB you want to swap, then confirm the gas cost and the transaction in your wallet.
Buy PINKINU with USDT: Enter the amount of PINKINU you want to buy or the amount of USDT you want to swap, approve the use of USDT in your wallet, then confirm the gas cost (in ETH) and the final transaction.
Once the transaction is successfully processed, you will see a SUCCESS screen. After the Presale program ends, please visit pinkinu.fun, connect your wallet that has PINKINU tokens, and proceed to claim the tokens to your personal wallet.
Whether or not you are passionate about women's rights, the impressive results of Pinkinu in its initial fundraising rounds have captured the attention of the community, making it a meme coin that deserves your consideration for the future.
Join now to explore and thoroughly research the Pinkinu project. The decision is in your hands, so be sure to do your due diligence!
Disclaimer: This is a paid release. The statements, views and opinions expressed in this column are solely those of the content provider and do not necessarily represent those of NewsBTC. NewsBTC does not guarantee the accuracy or timeliness of information available in such content. Do your research and invest at your own risk.