The crypto market remains in a rapid growth phase, providing investors with numerous exceptional projects to consider. However, evaluating the worthiness of these projects and determining which ones are worth investing time and money into remains a challenging process.
To address this issue, Launchpad XYZ is being introduced. This platform serves as a Web3 dashboard, offering a wide array of valuable features and tools for individuals interested in the crypto market. With its immense potential, Launchpad XYZ is poised to grow alongside the expanding Web3 space.
In the following discussion, we will delve into the details of Launchpad XYZ, explaining its purpose and highlighting key information about its presale.
Launchpad XYZ is a Comprehensive Web3 Dashboard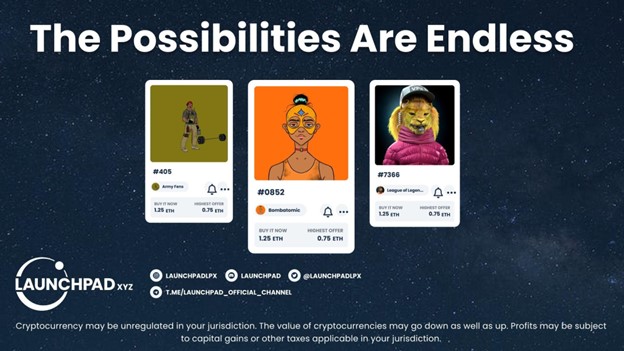 Launchpad XYZ is a holistic Web 3 dashboard created to equip both novice and experienced traders with essential tools for making well-informed trading choices. With a plethora of features, ranging from reliable data and market sentiment to valuable insights, Launchpad XYZ offers a comprehensive set of resources to navigate the intricate realm of Web3.
Furthermore, Launchpad XYZ provides extensive data on numerous utility tokens, presenting crucial metrics on liquidity, analyst insights, customized indicators, and opportunities for arbitrage.
By providing a user-friendly experience akin to Web2, Launchpad XYZ streamlines the process for users, eliminating the need to juggle multiple applications. Simultaneously, it harnesses the advantages of Web3, such as a revenue-sharing model, fractionalization of real-world assets, and self-custody. In essence, Launchpad XYZ equips traders with all the necessary tools to confidently enter the crypto space.
One of the standout features of Launchpad XYZ is its ability to deliver real-time updates on upcoming Web3 investments. This enables investors to stay ahead of the curve, discovering new projects and ideas before they reach the wider market. This includes exclusive alerts for crypto presales that are accessible only to a limited number of private investors. Moreover, Launchpad XYZ secures a portion of presale tokens for its users to purchase. However, in order to be eligible for a share of the presale allocation, users are required to stake a minimum of 10,000 LPX tokens for a 90-day period.
Given the topic of staking, let's now delve into the features offered by Launchpad XYZ.
The Features Underpinning Launchpad XYZ
One of the primary features offered by Launchpad XYZ is staking. Users who stake a minimum monthly average of 10,000 LPX tokens will benefit from various advantages, including fee discounts, beta access to play-to-earn (P2E) games, and prestigious community badges.
Moreover, LPX stakers will have the opportunity to access upcoming NFT mints that Launchpad XYZ identifies as potential successors to the Bored Ape Yacht Club (BAYC). It's worth noting that initial investors in BAYC NFTs obtained them for under $200, while some have since sold for millions of dollars. Given this lucrative potential, access to NFT mint whitelists will undoubtedly appeal to many Launchpad XYZ users.
Another core feature available to LPX stakers is the early access to P2E game releases. This market has experienced significant growth, with games like Axie Infinity and Decentraland reaching multi-billion-dollar market capitalizations at their peak.
Furthermore, Launchpad XYZ is actively developing a decentralized exchange that will enable users to trade hundreds of asset pairs, including select perpetual contracts. These contracts allow traders to speculate on cryptocurrencies with leverage and short-selling capabilities. LPX token stakers will enjoy reduced trading fees on the Launchpad XYZ exchange, further solidifying the real-world utility of LPX tokens.
Who is Building Launchpad XYZ?
Composed of accomplished professionals and industry experts with diverse backgrounds, the Launchpad XYZ team places significant emphasis on fostering creativity and maximizing efficiency. With the aim of developing a robust and specialized large language model specific to Web3, the team plans to leverage a range of artificial intelligence solutions.
Leading the team is Terence Ribaudo, who serves as the CEO and brings over a decade of experience in Web3. With a proven track record in developing consumer products and launching successful projects for renowned clients such as Nike, Rolls Royce, and the NBA, Ribaudo's expertise contributes to the strategic vision of Launchpad XYZ. Assisting Ribaudo is Alexis Garcia, the COO, whose extensive professional background spans three continents and encompasses work with 23 agencies and consultancies, including prominent names like Apple and Accenture. Additionally, Stephen Baker assumes the role of Chief Technical Officer, leveraging his vast experience in developing products for some of the world's most renowned brands.
Together, this accomplished team of leaders drives the development and growth of Launchpad XYZ, leveraging their expertise to shape the future of Web3.
Check Out the Launchpad XYZ Presale
Leave the scam worries behind and join Launchpad XYZ! 🛡️

With in-house #Presales and secured #Web3Wallet, you can trade without fear of scams, hacks, or dangerous websites 🚀💪

Join our #Presale now and trade with peace of mind ⬇️https://t.co/yYq4jnPZiL pic.twitter.com/zN9Jpm2ojI

— Launchpad.xyz (@launchpadlpx) May 30, 2023
Launchpad XYZ is currently in the midst of its presale phase for the LPX token, providing interested participants with the opportunity to acquire the token using ETH, BNB, USDT, or cards. A total of 250 million tokens have been allocated specifically for the presale, while the overall token supply amounts to 1.025 billion.
The LPX token is currently being sold at $0.0445 per LPX. Subsequently, in the following stage, the token price will rise to $0.046. This presale will encompass a total of 10 stages, culminating in the listing of the token at a price of $0.0565.
The funds garnered from the presale will be utilized for various purposes, including platform development, marketing efforts, user acquisition initiatives, market making activities, as well as a portion allocated to the team involved in the project.
Ecoterra Fights for a Good Cause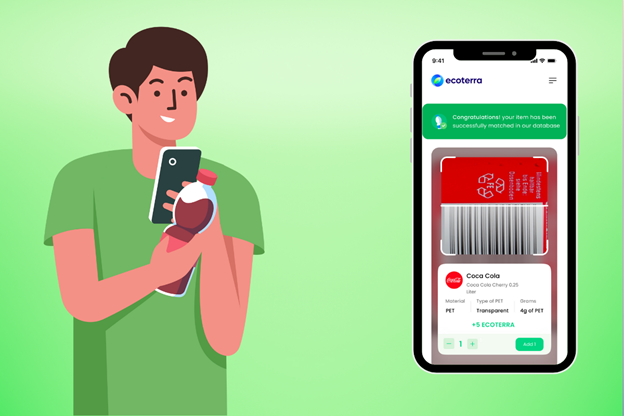 Ecoterra presents a blockchain-based platform that tackles the pressing issue of climate change by incentivizing individuals and companies to actively participate in recycling efforts. Its primary aim is to promote green education initiatives and motivate recycling through the Recycle2Earn program, which rewards users with Ecoterra tokens. These tokens have the potential to appreciate in value and can be staked to generate passive dividends from Ecoterra's revenue streams.
Not only does Ecoterra benefit individuals by providing incentives for recycling, but it also offers advantages to companies involved in producing recyclable materials and recycling companies themselves. When environmentally conscious consumers correctly dispose of recyclable packaging, recycling companies collect it and transport it to nearby centers for recycling processes, ultimately transforming it into raw materials.
Ecoterra's overarching objective is to foster collaboration between recycling companies and product companies, thereby promoting a circular product life cycle. To achieve this, the platform envisions establishing a shared marketplace where recycling companies can sell their raw materials, while product companies can purchase them to create new, sustainable products.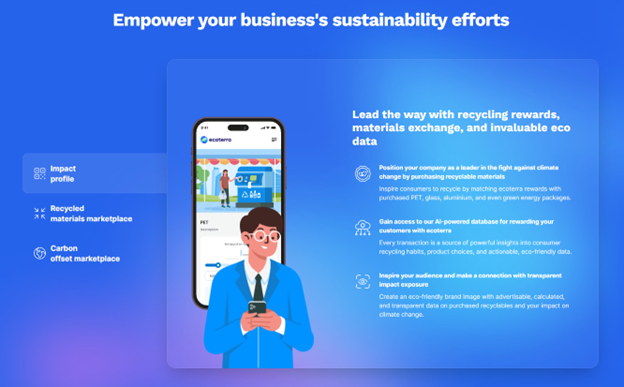 The Recycle2Earn app plays a pivotal role in the Ecoterra ecosystem by capturing and storing user actions related to environmental conservation, which are then integrated into their profiles. Similarly, companies have access to "impact trackable profiles" that enable them to purchase impact packages comprising different material types from users. This innovative approach allows companies to offset the negative environmental impacts of their production processes, showcasing their dedication to sustainability.
Ecoterra offers two additional noteworthy features: the carbon offset marketplace and the recycled materials marketplace. Through the carbon offset marketplace, users and companies can utilize Ecoterra tokens to offset their carbon emissions. This support enables them to contribute to verified projects of high standards worldwide, and they can convert their carbon offset amount into tangible achievements, which can be transformed into non-fungible tokens (NFTs). On the other hand, the recycled materials marketplace serves as a platform for companies to connect with recyclers, explore recycled materials, and engage in relevant transactions.
To facilitate seamless transactions within the marketplace, Ecoterra provides companies with multiple payment options. They can choose to use fiat currencies, stable coins like USDT or Bitcoin, or Ecoterra tokens. Opting for Ecoterra tokens offers potential advantages such as lower transaction fees and opportunities for staking, presenting additional incentives for companies to embrace the use of Ecoterra tokens.
Check Out the Ecoterra Presale
The Ecoterra Presale is Also Very Successful
🌿 Big News! 🚀

Ecoterra has raised $4.4 million and counting! 🙌

Join us in our mission to create a sustainable future and be a part of the eco-friendly revolution 🌍💚https://t.co/1fYkPOsPYG#Presale #Crypto #Sustainability #GreenRevolution pic.twitter.com/xWprOJsuw7

— ecoterra (@ecoterraio) May 30, 2023
Ecoterra has garnered significant attention due to its commendable purpose, as evidenced by its progress towards the impressive $4.5 million fundraising milestone.
The current price of each token stands at $0.0085, with options to purchase using ETH, USDT, or a card. The total supply of ECOTERRA tokens amounts to 2 billion, and in the upcoming stage, the token price will rise to $0.00925.
It is important to highlight that the project is still in its early stages, with numerous exciting developments on the horizon. Following the conclusion of the presale, the team will concentrate on crucial areas such as marketing, advertising, Recycle2Earn registration, and the establishment of the carbon offset marketplace. Additionally, partnerships will be forged, and efforts to develop the recycled materials marketplace will be undertaken during the subsequent growth phase.
Once the presale stages are finalized or the fundraising objective is met, the Ecoterra team will shift their focus towards securing exchange listings and further advancing the platform's development. To ensure complete security and verification, the smart contracts underpinning the platform have undergone thorough security and KYC checks by CertiK.
Conclusion
If either of these Web3 projects catches your fancy, you should check out their presales. They look like they could very well be the new trends in the crypto space. As such, it may be worth entering these presales as early as possible. In any case, stay tuned for some exciting prospects in 2023!
Disclaimer: This is a paid release. The statements, views and opinions expressed in this column are solely those of the content provider and do not necessarily represent those of NewsBTC. NewsBTC does not guarantee the accuracy or timeliness of information available in such content. Do your research and invest at your own risk.