The Mixer.Money team has analyzed recent research and identified the three most common reasons users are losing their crypto assets.
Crypto Holder
With the rise in popularity of cryptocurrency, an increasing number of people are acquiring digital assets. However, accustomed to the traditional banking system, the beginners are often too negligent. Wallet holders tend to forget that there is no magic hotline you can call to regain access to your accounts.
According to a Chainalysis report, as of the end of 2021, access to about 20% of bitcoins stored in e-wallets had been lost. In 2022, it was reported that 3,709,302 BTC had been inactive for 11 years and 26,624 BTC were stored in wallet.dat files with lost or forgotten passwords.
Risks: accidentally transferring your assets to a wrong address, losing access to your wallet.
Protective measures:
using a cold wallet;
keeping your wallet access data in a safe or bank deposit box;
carefully checking the address when conducting any crypto transactions.
Scammers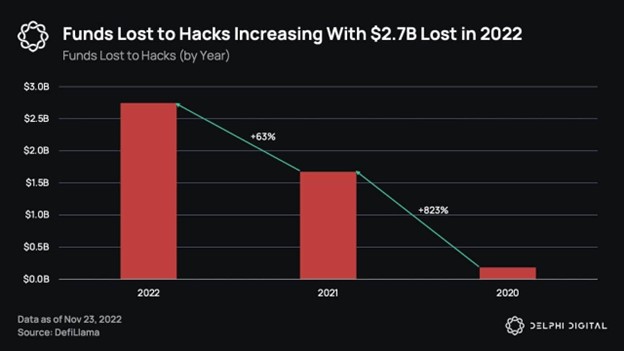 There have always been plenty of scammers willing to lay their hands on other people's money. Careless crypto holders make themselves easy targets for hackers. According to Chainalysis researchers, hackers stole over $3.8 billion worth of digital assets in 2022.
In the first half of 2022, they managed to steal about $1.6 billion through social engineering tactics and scam projects.
Risk: your wallet getting hacked.
Protective measures:
keeping your wallet access data secret and safe;
not having a copy of the seed phrase and passwords on a PC, flash drive, or any other electronic media;
checking the URLs you visit in order to avoid phishing domains;
using only a cold wallet.
Crypto Exchange
Lately, crypto exchanges have worked so fervently to comply with regulatory and supervisory requirements that they sometimes block users simply for conducting a large transaction or for having coins that have once passed through an illegal platform such as Bitzlato. Protecting your assets on centralized exchanges is becoming increasingly difficult.
Risks: account and wallet getting blocked due to tainted bitcoins, the use of or association with sanctioned wallets.
Protective measures:
thoroughly checking the addresses from which you receive coins;
using a mixer to clean coins.
Mixer.Money Protects Customers from Scrutiny
Mixer.money's enhanced algorithm effectively prevents transactions from being tracked by specialized software. Users receive bitcoins directly from an exchange, where they have already been checked and recognized as untainted.
The 'Complete anonymity' mode allows users to get bitcoins from an exchange, which means they have already been accepted by a specialized organization. Our partners include customers of various exchanges. They provide their coins which are untainted and can be accepted by any crypto exchange. Unlike other mixers, in this mode, we do not mix our customers coins', but instead provide them with completely different coins.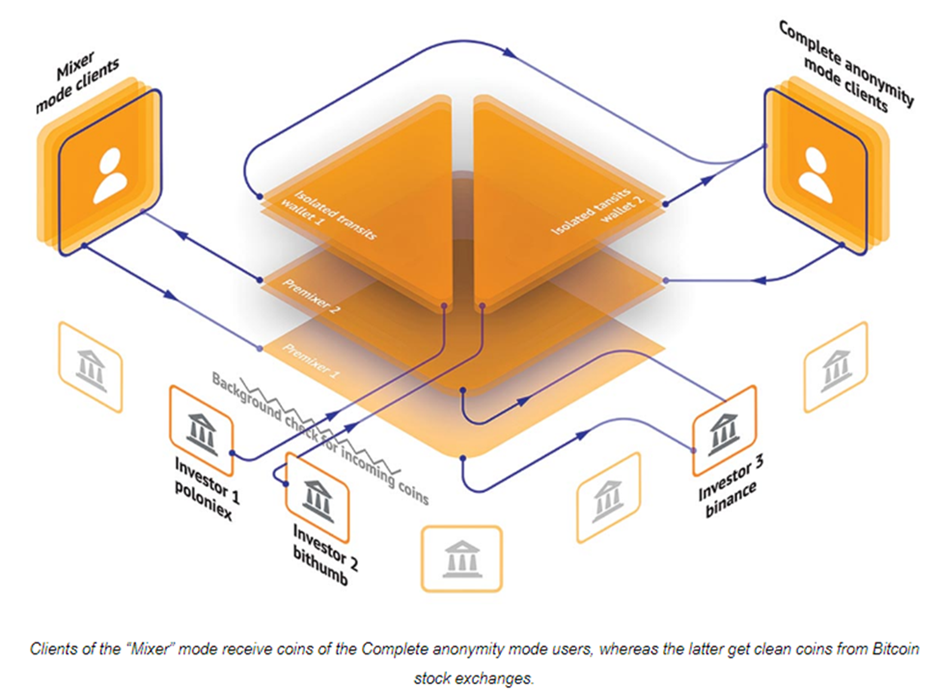 The 'Complete anonymity' mode uses the following algorithm:
Coins are deposited into the pre-mixer.
They are anonymized and split randomly.
We transfer the obtained coins to our investors at exchanges.
The customer receives coins from other investors at other exchanges, to two addresses they have specified.
This means that Mixer.money does not circulate the same coins within its system. Instead, the algorithms are continuously receiving, sending, checking, and mixing coins. There is no way to trace any connection to the owner of the coins and other customers of the mixer.
Thanks to this system, the bitcoins received from the mixer cannot be traced, there is no indication in their track record that they have passed through any mixer. They are also resistant to advanced transaction analysis algorithms.  You can learn more about how mixers work here.
This is the best way to protect your privacy as a crypto owner.
Here is a link to the TOR mirror.
Disclaimer: This is a paid release. The statements, views and opinions expressed in this column are solely those of the content provider and do not necessarily represent those of NewsBTC. NewsBTC does not guarantee the accuracy or timeliness of information available in such content. Do your research and invest at your own risk.