Binary24, a crypto-friendly binary options trading platform has recently introduced a new affiliate panel. We decided to take a closer look at it and share with you our experience.
The affiliate panel is accessible directly from the menu. When you click the link, the first thing you see is an interactive dashboard, which provides a visualization of your campaign data. You can easily filter a time range to see how many views and clicks happened in that period, and what's the conversion and revenue out of them. You can also see how much of it was generated by desktops, mobiles, tablets or other types of devices. What's more, you're able to track on a world map the country where the customers referred by you generate traffic. The robust analytics available in the dashboard allow you to easily track how successful each campaign is and adjust your activities to maximize conversion and hence your profit. The platform provides real-time updates of all statistics and runs really smoothly.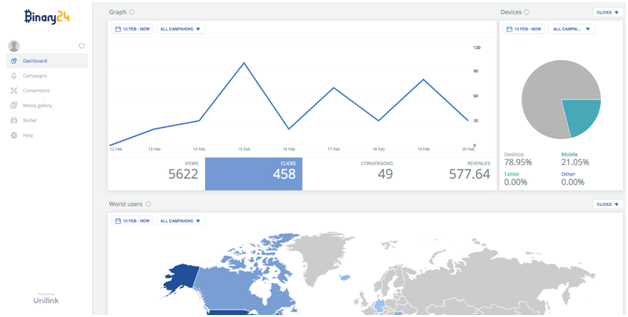 When it comes to the content of the campaigns, Binary24 provides you with variety of different banners considering content and sizes to use for generating traffic. When you get your campaigns rolling, their results are monitored by an independent external partner, FinoTech. After your referred customers have generated some revenue, your share, which may go up to 50% will be visible in the wallet section. As Binary24 is crypto-friendly, the withdrawals can be processed instantly using Bitcoin, Dash, Ethereum and Litecoin. Interestingly, you can make profit on others' trading activities even without making any initial investments on your part.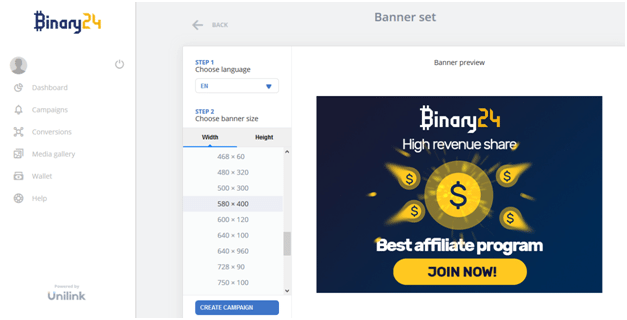 The affiliate panel is really intuitive and easy to use. However, if you have some questions, there is a FAQ in the help section, which will most likely contain the answers to them. If you can't find it there, the Binary24 Team will be happy to help with that: just email them at [email protected] They are also looking for feedback on the whole affiliate program as well as suggestions what other features should be added to make your experience better and campaigns more successful.
Now that you know how robust and easy-to-use the Binary24 affiliate panel is, it's time to take action. Click hereto open an account, create a campaign and start making money.