In the rapidly evolving landscape of the blockchain industry, Umi's Friends has emerged as a frontrunner in the GameFi field, captivating the attention of enthusiasts and investors alike. With its recent public beta launch, Umi's Friends is poised to revolutionize the gaming experience and pioneer new avenues for value discovery within the decentralized finance (DeFi) ecosystem.
The Rise of GameFi and the Changing Encryption Industry
Following the DeFi Summer, we witnessed a paradigm shift in the encryption industry. On-chain sectors such as DeFi, non-fungible tokens (NFTs), GameFi, and SocialFi have gained tremendous traction, transforming the landscape and prompting industry-wide adaptations. In this context, on-chain behavior and decentralized applications have emerged as the key drivers of value discovery.
Umi's Friends represents a remarkable trendsetter in the GameFi arena, combining traditional match-3 games with innovative GameFi features. What sets Umi's Friends apart is its low participation threshold and user-friendly interface, allowing both seasoned players and newcomers to dive into the gaming experience effortlessly. By employing effective incentive mechanisms and robust economic models, Umi's Friends aims to entice users to participate and unlock the true potential of the GameFi track.
Immersive Gameplay and Lucrative Rewards
Within Umi's Friends, players can leverage Umi-NFTs to engage in various gameplay modes, complete daily tasks, and unlock a treasure trove of rewards. From IMG (Imagine) and UNT (Unity) tokens to in-game items, upgrade materials, loot, and more, the possibilities for reaping massive benefits are seemingly endless. Ranked modes, challenge modes, time-limited games, and tournaments further enhance the excitement and create a dynamic gaming ecosystem.
The Closed Beta Success and Public Beta Launch
Umi's Friends made waves during its closed beta phase, which ran from April 18th to May 1st. This limited internal test introduced updated gameplay modes such as casual and daily challenges. Additionally, the development team unveiled crucial features including inboxes, inventory, daily tasks, mystery boxes, NFT deposits, partial upgrades, wallet functions, friend systems, and team rankings. The closed beta garnered immense attention within the encryption industry, attracting a substantial number of player applications. The feedback and suggestions received during this phase were invaluable in shaping the game's future.
Building on the triumph of the closed beta, Umi's Friends officially launched its public beta on May 9th (PST time). This momentous occasion opened the floodgates for all players, who eagerly dived into the gaming experience. The public beta represents a significant milestone, as it signifies Umi's Friends' dedication to delivering a refined and engaging product.
Continuous Innovation and User-Centric Approach
During the public beta phase, Umi's Friends remains committed to constant innovation and introducing new features to provide players with an unparalleled gaming experience. By actively soliciting feedback from a wider player base, the development team ensures that the future evolution of Umi's Friends aligns with user expectations. This user-centric approach solidifies the foundation for the game's official version launch.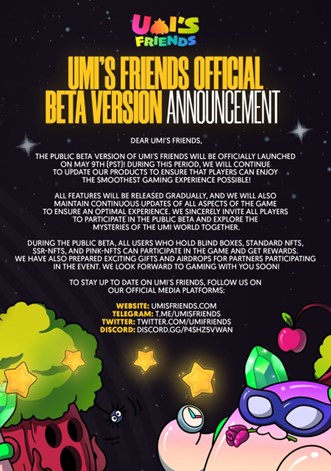 To incentivize participation and reward early adopters, Umi's Friends has implemented a comprehensive reward system. Users holding blind boxes, standard NFTs, SSR-NFTs, and Pink-NFTs can actively engage in the public beta to unlock exclusive benefits. Even non-registered visitors can create wallets and immerse themselves in the captivating gameplay. Umi's Friends has also prepared gifts, rewards, and airdrops for public beta participants, attracting a thriving ecosystem of users and laying the foundation for its community-driven game.
Umi's Friends Links
Website: https://umisfriends.com/
Twitter: https://twitter.com/UmiFriends
Telegram: https://t.me/UmisFriends
Discord: http://discord.gg/umisfriends
Reddit: https://www.reddit.com/r/UmisFriends/
Disclaimer: This is a paid release. The statements, views and opinions expressed in this column are solely those of the content provider and do not necessarily represent those of NewsBTC. NewsBTC does not guarantee the accuracy or timeliness of information available in such content. Do your research and invest at your own risk.