Bitcoin price drops to $7,200 as the cryptocurrency enters a new period of volatility. The technical indicators show that BTCUSD could jump to $7,800. So do indicate the futures traded on PrimeBit crypto-contracts trading platform suggest.
At the moment Bitcoin hit local low at below $7,200 as you can see on the PrimeBit 1-hour chart below. The first two days of December have been disappointing for cryptocurrency bulls so far.
Traders with long positions were counting on Bitcoin bouncing back and going at least back to the $7,400 lever. It didn't happen so far, and the 1-day chart may suggest that the currency breaks through the support level of $7,000 if the bearish scenario happens.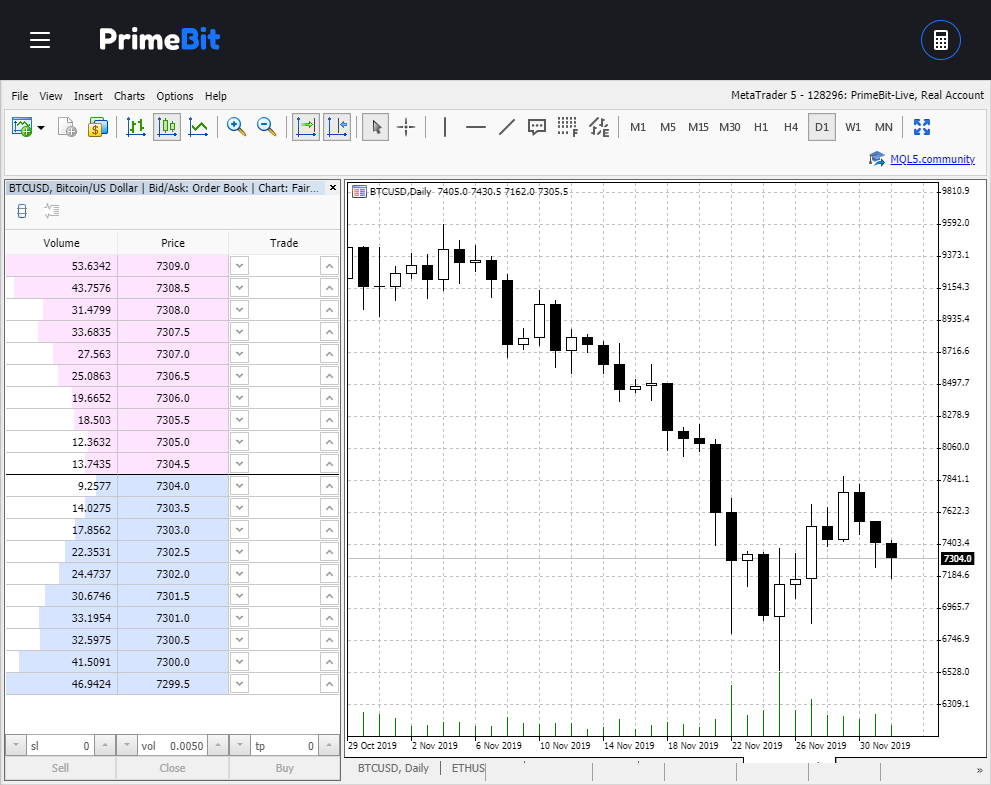 On the other side, the historic data and the situation on the crypto-futures markets show that the bullish scenario is still possible. There's no hard technical sign preventing the possibility of Bitcoin jumping back to $7,800 in the next couple of trading days.
Follow the derivatives
Cryptocurrency contracts are getting more and more popular among the blockchain community. The P2P trading platforms offer a great alternative to popular CFD brokers. No spreads attract traders, boost liquidity, and provide great information on the future of cryptocurrency prices.
If the futures trade above the standard markets, this may open a "gap", which may be a strong sign for the price to go up. If BTCUSD drops, the gap widens or a new gap is opened, which creates new gains opportunities.
At the moment the futures may suggest that the Bitcoin should go somewhere between $6,900 and $8,000 in the nearest future. The main challenge for the bulls is to break the $7,400 resistance level in the short term.
Of course, the altcoin will follow BTC. Ethereum (ETH) and Litecoin (LTC) have lost from 4-6% over the weekend. The two currencies are also traded on PrimeBit, and you can adjust your strategy for these coins analyzing their futures, too.
When planning your trading strategy for cryptocurrencies for the next few months, just remember that the Bitcoin "halving" is scheduled for mid-May 2020. This is the bottom line for the whole cryptocurrency markets in the midterm, as when the block no. 630,001 is reached, the mining reward for extracting Bitcoin will drop from 12.5 BTC to 6.25 BTC per block.
The supply restriction may not pump the prices as much as last time it happened on July 9, 2016, but still, the pressure for appreciation will be strong.