No market is entirely bullish or bearish at any given point in time. Even during the most trying winters, market-relevant assets go on to generate multifold returns for investors. The key lies in unearthing them, rather than confining a portfolio to high-cap coins like Bitcoin and Ethereum.
Rational Judgement Matters the Most
Top crypto coins like BTC, ETH, XRP, ADA, and SOL, among others have largely saturated. This is also true about the leading cryptocurrencies in most niches. For example, top play-to-earn assets like SAND, MANA, and AXS have been undergoing price corrections for a while now. DeFi assets like Chainlink, Uniswap, Aave, and Pancakeswap have similar stories to tell.
The growth of a market, especially one that is decentralized with low entry barriers, is in the hands of multiple players. Most crypto traders and investors fail to see this, however. Shrewd traders, on the other hand, dare to venture beyond top cryptos and invest in emerging and promising cryptos that have space for expansion.
A balloon, when blown past its capacity, is bound to burst. Traders need to keep this fact in mind when investing in the market.
"It's important to understand that the space has really grown. It's not just about the price of Bitcoin or the price of Ethereum. We have five or six companies that actually made more money last year than in the previous year. So, even during the time of a massive drop in the price of Bitcoin and Ethereum, we've had companies do better," reminds Veteran trader Dan Tapiero. He is the founder of growth equity funds 10T Holdings and 1RoundTable Partners.
DeFi, NFTs, and blockchain gaming were largely unheard of three to four years back. But that's not the case now. They are worth billions. Even more shocking is the growth of meme coins. They are one of the most volatile and equally sought-after cryptocurrencies now. A broad perspective will help investors navigate the crypto market with profits this year.
Promising New Cryptocurrencies on the 2023 Watch List
These three emerging cryptocurrencies have significant growth potential this year. They are picked based on their market relevance, utility, and volatility.
1. Wall Street Memes – The Next Big Meme Coin?
Wall Street Memes ($WSM) token is the latest crypto sensation. The overwhelming traffic to the presale has strengthened the predictions that the meme coin is gearing up for a large explosion this year.
$WSM's key highlight is its large community spread across 1-million+ from around the world. Wall Street Memes is one of the most popular online communities where people interested in investments and trading come together. The quirky memes of the platform have a large audience, including tech mogul Elon Musk.
Literally

— Elon Musk (@elonmusk) March 18, 2023
Wall Street Memes is now hosting the presale of $WSM tokens. It is an extension of the community, which is known for selling out its first NFT collection titled Wall St Bulls within 32 minutes in 2021. Judging by the meteoric progress of the presale, $WSM is likely to repeat history.
To give a better perspective, the event collected $1M within three days of going live. In less than a week of the launch, it is on its way to the $3M milestone. It won't be long before the presale hits its hard cap of $30,577,000. Although the initial DEX Launch is scheduled for Q4, the presale is likely to sell out much earlier.
The project puts forward a no-nonsense mission to empower ordinary people to become rich, tapping into the meme coin hype. It doesn't promise to deliver everything under the sky, which is a popular trend in the market ahead of token launches. Instead, Wall Street Memes is straightforward about the fact the token doesn't have any underlying purpose, product, or utility.
If you're new to the crypto market, you might find this bizarre. But at the heart of the meme coin movement is fun. And the market has a history of receiving them with 100X climbs. Dogecoin is a striking example. So is Pepe this year. They have accumulated hundreds of millions in market cap. Wall Street Memes can do better than Pepe, according to industry analysts.
Check out the Wall Street Memes giveaway to join the community and stand a chance to win $10,000.
2. yPredict ($YPRED) – Utility Token Backed by an All-in-One AI Ecosystem
yPredict is a utility token that brings back the statistical edge to the crypto market. It is backed by an AI-based marketplace for crypto price predictive models designed by top AI experts, quants, and analysts.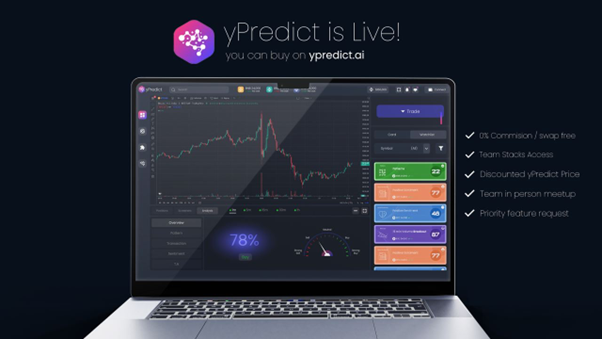 The project has high market relevance in the crypto market, currently flooded with bots and algorithms. While they were useful in the initial stages, they have grown to influence its pricing structure. Moreover, they can be manipulative. Traders are on the hunt for credible tools to win the market. And this is where yPredict steps in.
Although less volatile than meme coins like $WSM, yPredict has the potential to bring consistently growing returns as it acquires new subscribers and users.
3. Launchpad XYZ (LPX) – Everything Web 3.0 in One Place
More investors are trying their hands on crypto this year. The poor returns from the traditional stock and commodity markets, combined with rising inflation and global economic instability, have urged them to look for alternatives. That's optimistic.
However, the complex jargon and concepts that lace the market drive them away. This has to change if cryptocurrencies and NFTs are to go mainstream. Launchpad XYZ aims to tackle the problem using a Web 3.0 hub that lowers the entry barrier to the industry.
Here, users can discover the best opportunities across Non-Fungible Tokens (NFTs), fractionalized assets, utility tokens, and Web3 presales. Different components of the ecosystem include:
An NFT marketplace
A play-to-earn gaming hub
A metaverse experience library
A Web3 wallet
An NFT DEX
A trading terminal.
Attention, all #Gamers 🎮💰

Prepare to dive into Launchpad XYZ's epic #P2E game library, where the games with the biggest earning potential and most thrilling engagement await you! 🚀💥

Join our #Presale now ⬇️https://t.co/yYq4jnPZiL#Web3Gaming #PlayToEarn #Blockchain pic.twitter.com/XAvd8uXkB2

— Launchpad.xyz (@launchpadlpx) June 1, 2023
Disclaimer: This is a paid release. The statements, views and opinions expressed in this column are solely those of the content provider and do not necessarily represent those of NewsBTC. NewsBTC does not guarantee the accuracy or timeliness of information available in such content. Do your research and invest at your own risk.