Willingly or otherwise, we are now part of a world where global transactions are the norm, from a customer buying a shirt online to multinational corporations transferring money across continents. In this environment, it's no surprise that wire transfers, online banking and mobile payments are showing a year on year increase. This worldwide marketplace allows people to obtain goods from far flung markets they wouldn't have been able to access years ago, easily and speedily. However, with every advancement that is thrust upon us, there are concerns that have accompanied these new opportunities.
In the modern world there are hackers utilising a whole load of methods to access peoples' documents from the other side of the globe. When we make payments, we trust that our banks and digital wallets will safely store our information, but this is not always the case. Furthermore, sometimes we are the agents of our own misfortune. Private keys can not only be stolen by hackers, but simply lost by the user. Did you know that lost or stolen private keys accounted for about 4 million lost Bitcoin alone last year?
The Most Advanced Multicurrency Exchange Wallet
Enter VivusPay, powered by Optherium. This multicurrency wallet service holds, exchanges and allows instant payment in fiat or cryptocurrencies, using Optherium's OPEX token as a facilitator. VivusPay operates on the patented MultiDecentralized Private Blockchains Network which allows speeds of 100,000 transactions per second. This is more than 66 times faster than Ripple, its nearest blockchain competitor. Most importantly, VivusPay also includes a Key Recovery Service (KRS). Now you will know that no matter what happens, your assets are within reach. So, what makes the VivusPay digital wallet so much better than the others that are on the market? Well, it is much more than just a wallet, as you will see below.
MultiDecentralized Security
Most people know that personal information from banks is stored on a centralised database, but aren't necessarily aware of the fact that digital blockchain wallets are as well. Although encrypted and difficult to hack, even a remote chance of theft isn't good enough when we know there is a better way. VivusPay is connected to the Optherium Ecosystem, a safe and sound infrastructure that runs on a MultiDecentralized Private Blockchains Network. Not only is all information encrypted and decentralized, but your information is actually split onto different blockchains, making it virtually impossible to compromise.
Know Your Customer and Key Recovery Service by Optherium
Most other digital wallets are quite secure, but can only be accessed with a private key, which is often a very long string of digits that should only be known to the holder of the asset wallet. In the past, if a key got lost or fell into the wrong hands, there was no recourse. Now, things are different. Built into the Optherium Ecosystem is Know Your Customer (KYC) verification. Using Optherium's patented Dynamic Biometrics software, your unique fingerprint or voice can be used to verify your identity and retrieve your private key. With all these elements of Optherium's global finance blockchain infrastructure operating in harmony, it is easy to see why VivusPay, already operating on iOS and Android, is streets ahead of the competition.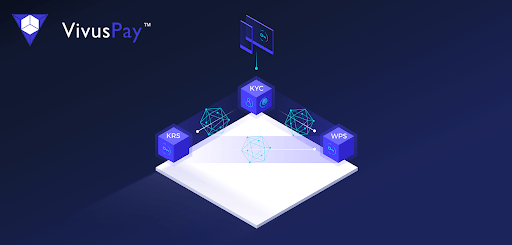 Putting Confidence into Blockchain Services
VivusPay is putting confidence back into blockchain-based services, which in their infancy were not always able to convince the general public of their usefulness. Not only is VivusPay secure and easy to use, it also brings cryptocurrency up alongside fiat currencies. With the Optherium debit card, you can instantly convert crypto to fiat and withdraw money from any ATM in the world. Through the app, you can also pay at any point of sale. Businesses can transfer in Ether and have it received on the opposite side of the world in Euro. The sky is the limit, especially with 100,000 transactions per second, the fastest transaction speed to date. What's more, Optherium also offers white labeled, customised B2B solutions for businesses, making this technology your very own.
If you want to stay in the know about what is happening here, the Optherium Labs Telegram channel is the best place to do it. Moreover, if you want to be part of this blockchain revolution from the start, Optherium start their whitelist sale soon. Here you can get your hands on some heavily discounted OPEX tokens, but only for a limited time!