Wall Street Memes is in no mood to slow down, no matter what the broader market sentiments are. The presale is collecting thousands of dollars every day, thanks to speculative traders who are on a mission to make it the next 100X meme coin.
As the presale rapidly advances through new stages, FOMO grips the meme coin market.
$8M raised and counting
As of the time of writing, the $WSM presale has raised an impressive $8,468,634. Each $WSM is currently priced at $0.0295. It will gradually increase in the next stages.
With a total of thirty stages and a hard cap set at $30,577,000, it is highly likely that the presale will sell out well before its scheduled end in the fourth quarter of 2023. The influx of whales in the coming days could hasten this process, bringing the presale to a speedy conclusion.
Introducing $WSM – yep, we've gone and done it.
The community token that's flipping the Wall Street Memes game upside down! 🐂

We have 50% of the #Token supply up for grabs in the #Presale and 30% set aside for rewarding our community.🔥

Let's make some serious waves together,… pic.twitter.com/fH2TMGmglZ

— Wall Street Memes (@wallstmemes) May 27, 2023
The most talked-about crypto of 2023
Wall Street Memes has made its name as one of the most talked-about cryptocurrencies of the season. Top crypto publications have dubbed it the next Pepe, which went on a staggering 7000% climb shortly after its launch.
But Wall Street Memes is likely to surpass Pepe's record by a significant margin, if the buzz surrounding the presale is any indication. It is well-positioned for a 100X explosion once it gets listed on exchanges later this year.
A deep dive into the Wall Street Memes website and community substantiates these predictions. The primary factor luring investors to Wall Street Memes is its large community of meme enthusiasts. The Wall Street Memes token ($WSM) was created by the global Wall Street Memes community, which has been active since 2019.
The robust community support sets Wall Street Memes apart from other meme coins that often arise overnight based on fads or random tweets from figures like Elon Musk.
With over 1 million followers, the Wall Street Memes community lays a solid ground for the meme coin to grow and expand. As meme coins thrive on hype and community strength, Wall Street Memes has got the recipe for success right.
Additionally, it's worth noting that the Wall Street Memes community is mostly composed of investors and traders. The memes that are cleverly designed to capture their attention have a global fan base.
Elon Musk's next meme coin target?
Elon Musk is popular for his substantial influence on the meme coin market, where his tweets have a profound impact. He is accused of manipulating meme coin prices.
But is it a bad thing?
Seems not, with Dogecoin being one of the major beneficiaries of his acknowledgments. It wouldn't be an exaggeration to say that Musk has played a pivotal role in shaping the meme coin landscape as it exists today. It wouldn't be also wrong to say the immense hype surrounding the Wall Street Memes presale has something to do with Elon Musk.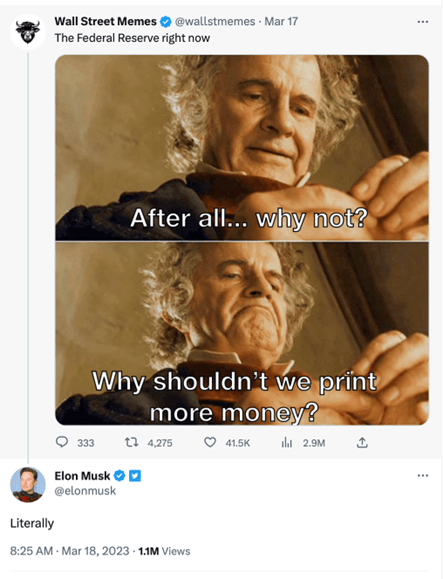 The tech mogul has engaged with the community multiple times in the past. We can't blame him, since the memes are not only humorous but also critical of the double standards exhibited by financial institutions, markets, and participants. Many investors are flocking to the $WSM presale in the hope that Musk continues to engage with these memes and influences the price of the token.
If that happens, Wall Street Memes could ascend to the top position on the meme coin chart, potentially surpassing Shiba Inu at some point. The saturation of these high-cap meme coins like Dogecoin and Shiba Inu has catalyzed the flow of investors to the presale.
A robust tokenomics underpins $WSM
$WSM's biggest strength is its robust tokenomics. It is built to tackle one of the most difficult challenges for meme coins – a short lifespan. Most meme coins are just assets for quick returns, making them prone to pump-and-dump schemes. It is true in the case of even the latest meme coin sensation, Pepe, which has plummeted 80% from its all-time high at the time of writing and appears to be nearing its end.
To buck the trend, Wall Street Memes introduces a robust tokenomics model where 30% of the total token supply goes to community rewards. It hosts regular community giveaways and airdrops to incentivize investors to hold onto their tokens despite market fluctuations.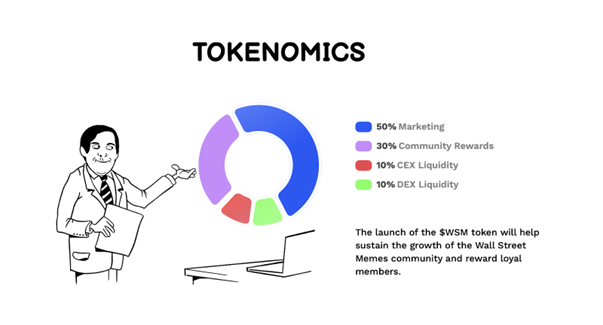 You can check out the first airdrop on the website, which features a substantial prize pool of $50,000. It will be divided among five lucky participants who complete the simple community-building tasks.
How to buy $WSM?
It's best to buy a meme coin before it breaks out to take full advantage of its explosion. The ongoing presale of $WSM is one of the best meme coin investment gateways this year. It supports purchases in ETH, BNB, USDT, and bank cards.
Here is how you can buy the token in easy steps.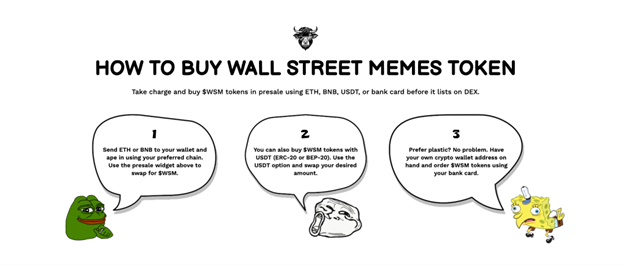 Make sure you join the presale early to make the best of the early-stage discounts and avoid paying a hefty sum for the meme coin on its launch.
Disclaimer: This is a paid release. The statements, views and opinions expressed in this column are solely those of the content provider and do not necessarily represent those of NewsBTC. NewsBTC does not guarantee the accuracy or timeliness of information available in such content. Do your research and invest at your own risk.