It has been such a long way we have overcome and thanks to all of your support. After months of working hard, our team is excited to welcome DotMarketCap 2.0 – Index Hub On Polkadot.
Kusama Parachain Auction Batch 2 is coming very close and the atmosphere is hotter than ever. Have you figured out any potential and outstanding projects to support? If not yet, DotMarketCap 2.0 is about to solve all your problems.
Originally, DotMarketCap is a website where you can find data of prices, charts, capitalization as well as the latest information and analysis of entire projects on the Polkadot ecosystem. Our initial features include the data of trading projects, projects in progress, the major events, and blogs – where news and in-depth analysis are available.
And with our great efforts, until now, we have completed a new website to bring the best experience to our users in the Polkadot ecosystem.
DotMarketCap 2.0 has finally shown up with brand-new features: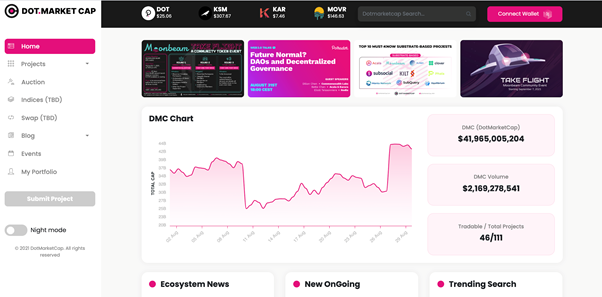 Auction & Crowdloan Tracking
Kusama parachain auction is the most important event this year, and of course we won't stay out of the game. With Auction & Crowdloan tracking, you can update the latest situation of the fierce competition between projects, as well as support your favorite ones to win a parachain slot.
For sure DotMarketCap 2.0 couldn't be completed without the support of our partners: SubQuery and Subvis.io. All the data we used for our auction & crowdloan page was taken from Subvis.io. Thanks to this cooperation, things are much easier for us to get access to decentralised data. We would like to express our gratitude to Sam Zou, James Bayly and the entire SubQuery team.
Check this feature at: https://dotmarketcap.com/auction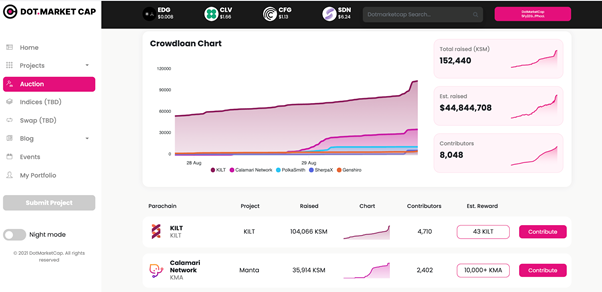 Asset Management
With our asset management feature, users can consolidate their diverse holdings while simultaneously tracking portfolio management. With just one simple click, you can connect your wallet and easily manage your assets.
We would like to thank Subsocial and SubID, without their API – the one stop shop for Substrate addresses and balances, we will not be able to add this wonderful feature into DotMarketCap 2.0.
Try now at: https://dotmarketcap.com/myportfolio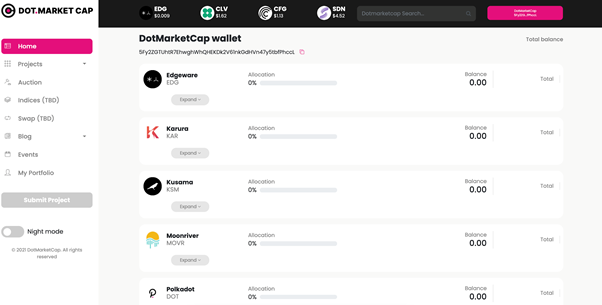 Ecosystem News
Currently, DotMarketCap 2.0 has added more than 70 projects in Polkadot ecosystem, and all their latest news will be instantly updated on our website. With a large number of users every day, we believe that we can be the bridge connecting projects with the community.
Update the latest news of projects at: https://dotmarketcap.com/blog/news
 And other features:
With a team of experienced and enthusiastic members, DotMarketCap always aims to provide you with the most accurate information of projects on Polkadot as well as to help people to enhance their knowledge about the entire Polkadot ecosystem. We have been making the effort everyday to bring you the best experience, and in the future, more interesting features will be soon updated so that our website will be more comprehensive.
If you have any feedback or enquiries, please kindly send us an email at [email protected]
What are you waiting for? Connecting the Dots is LIVE now.
Visit https://dotmarketcap.com.
About DotMarketCap
DotMarketCap is a non-profit project funded by Illusionist Group, it is a website where you can find data of prices, charts, capitalization as well as the latest information and analysis of entire projects on the Polkadot ecosystem. After months of improving, DotMarketCap has finally shown up with brand-new and interesting features. Visit dotmarketcap.com for more information.
Learn more about DotMarketCap:
About SubQuery
SubQuery is a data aggregation layer that will operate between the layer-1 blockchains (Kusama) and DApps. This service allows DApp developers to focus on their core use case and front-end, without needing to waste time on building a custom backend for data processing.
Learn more about SubQuery
Website | Discord | Telegram | Twitter | LinkedIn
About Subvis.io
Subvis.io is the primary source of data for Polkadot that investors go to in order to explore, analyse, and learn about Polkadot ecosystem. Investors use SubVis to monitor important events (especially auctions and crowdloans), analyse on-chain data to get insights for better investment decisions, and learn how the Polkadot ecosystem works.