Terra Classic (LUNC) and Avorak AI (AVRK) have been a topic of interest in the crypto community in 2023. Many investors wonder what the future holds for these cryptocurrencies and whether they can provide substantial returns on investments.
Can Avorak AI (AVRK) 100x its value?
Avorak AI combines two of what are billed as the most disruptive technologies of this century; Artificial Intelligence(AI) and blockchain. The platform's synergy and first-to-market strategy have given rise to a comprehensive solution that stands out from other AI providers in the market.
Avorak's interactive AI will include solutions like chatbots, image creators, text generators, virtual assistants, security monitors, and more. The AI's user input system will work on a text or voice-to-text basis to increase accessibility and usability. Some of Avorak's products have already made a positive impression on investors. For example, the Avorak Trade bot has made several predictions and managed to get a hit of more than 70% on Bitcoin (BTC) trades while still in development. Once fully operational, the trading bot can be used to automate trades on multiple exchanges and asset classes, using AI algorithms to find the best possible trades. Avorak Trade will also provide indicators and alerts of any changes in patterns or trends.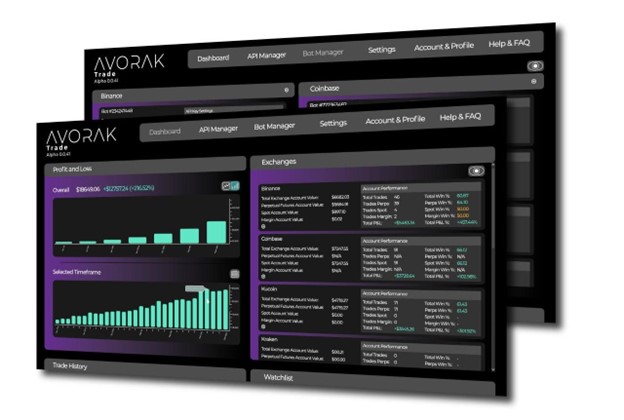 The AVRK token provides access to Avorak's services. AVRK can be used for incentivized liquidity provision through crypto exchanges or staked in Avorak's pools to increase the percentage hold of the project before its true use cases take hold. Several exchanges have already announced their AVRK listing plans. AVRK is deflationary, with a capped supply of 40,000,000. The token is currently selling at $0.235 in phase 6 of Avorak's initial coin offering (ICO), with its launch price set at $1. The Avorak ICO event has witnessed a rapidly increasing number of investors since its start on 1st March, blazing through its ICO phases. The increased interest in AI cryptocurrencies, coupled with Avorak's competitive advantages and limited supply, could see its value 100x.
Is Terra Classic dead?
Terra ecosystem's UST stablecoin lost its peg and collapsed in May 2022, causing a shock in the crypto space that has effects till today. The governance token LUNA, now LUNA Classic (LUNC), fell by 99.9% due to the de-pegging and subsequent collapse. However, there was a proposed plan to revive the Terra ecosystem, which included a new Terra blockchain, renaming the "old" LUNA to LUNA Classic, a 1.2% tax burn to curb the high inflation rate in the ecosystem, and more. Despite its downtrend, Terra Classic is not dead. The platform is slowly reconnecting with other blockchains, and its token, LUNC, has been listed on several top exchanges, including Binance and OKX. The platform also implements proposals and discusses ideas that will allow Terra Clasic to recover and become a self-propelling ecosystem.
Will Terra Classic reach $1?
The supply of LUNC become hyperinflated due to the UST stablecoin drifting below its $1 peg. Based on the current supply of LUNC, a price of $1 would require the Terra Classic market to be valued at around $5.9 trillion, which is more than double the entire crypto market. This suggests that it's unlikely for LUNC to reach $1 unless its supply is drastically reduced. The Terra Classic community is hopeful that the new burn tax will reduce the supply of LUNC and lead to a significant increase in its price.
Conclusion
Terra Classic and Avorak AI are well-positioned to capitalize on the growing demand for blockchain-related solutions. It remains to be seen how these projects will evolve, but their progress so far suggests that they are headed toward success in the long run. However, you should do your due diligence before making any commitments.
For more information on Avorak AI:
Website: https://avorak.ai
Buy AVRK: https://invest.avorak.ai/register
Disclaimer: This is a paid release. The statements, views and opinions expressed in this column are solely those of the content provider and do not necessarily represent those of NewsBTC. NewsBTC does not guarantee the accuracy or timeliness of information available in such content. Do your research and invest at your own risk.