Since the start of 2023, Avorak AI and other AI crypto projects have emerged on the blockchain, bringing with them new and innovative features that have captured the attention of investors and the wider crypto community. This has caused many to wonder why AI crypto projects are surging, and what happened to older cryptocurrencies such as Bitcoin Cash (BCH).
What is Bitcoin Cash (BCH)?
Bitcoin Cash (BCH) is a cryptocurrency that was established when the Bitcoin network witnessed a hard fork in 2017. By expanding the block size, Bitcoin Cash (BCH) aimed to offer a faster and cheaper alternative to Bitcoin (BTC).
What happened to Bitcoin Cash (BCH)?
Bitcoin Cash (BCH) created waves in the crypto market when it was launched. However, Bitcoin Cash news declined since the platform lost its momentum. This was mainly because it failed to deliver on its promises. Many investors abandoned the project in its journey, as the "improved Bitcoin" narrative turned out to be just another form of hype in the crypto market. Additionally, Bitcoin Cash's adoption rate remained low compared to other cryptocurrencies, which made it less attractive to investors and users alike.
What is Avorak AI (AVRK)?
Avorak AI has been a hot topic in the crypto market in 2023. Avorak is the latest AI crypto on the blockchain. It uses these technologies to offer first-to-market solutions that help its users streamline tasks and get ahead of competition.
The most notable of these solutions are Avorak Trade and Avorak Write, which streamline content creation and trading respectively. Avorak Trade can work on several exchanges and asset classes, and includes APIs that generate indicators and alert users in case of changes.
Avorak Write provides autocorrected and edited texts that are in line with the querying user's specifications. Avorak's APIs and a combination of a prewritten language bank and internet scraping ensure unique and non-plagiarised texts.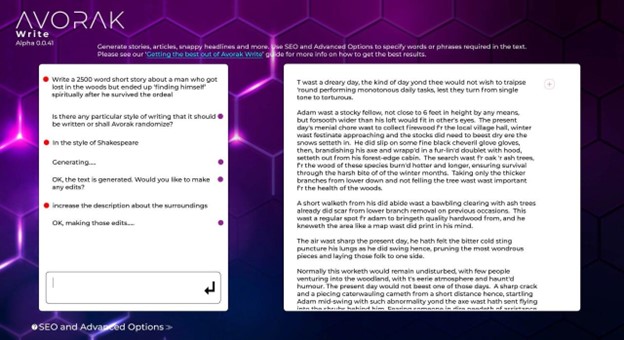 Crypto Labs listed Avorak AI among the top AI cryptocurrencies of 2023. And more crypto analysts such as Crypto Carlos are featuring Avorak AI in their video analyses, indicating the growing interest in the platform.
Investors are looking to get AVRK at the discounted price of $0.145 and the 8% on-top bonus in the current phase 3 of Avorak's ICO event.
The rise of AI crypto
AI crypto is a recently growing space in the crypto world. The projects in this space leverage the power of AI and crypto to provide AI-driven solutions on the blockchain. Since 2023 started, AI cryptocurrencies have been making headlines, with many crypto analysts believing AI crypto might overtake many traditional cryptocurrencies in the near future.
Conclusion
The rise of AI crypto has been attributed to many factors but mainly, the utility and potential of these tokens. Bitcoin Cash (BCH) was once seen as a promising alternative to Bitcoin (BTC), but it failed to live up to its potential due to scalability issues and low adoption rates. However, Avorak's ICO has surpassed many analysts' expectations, indicating the project's potential for growth and the increased interest in AI crypto.
For more information on Avorak AI:
Website: https://avorak.ai
Whitepaper: https://avorak-labs-and-technology.gitbook.io/avorak-a.i-technical-whitepaper/
Disclaimer: This is a paid release. The statements, views and opinions expressed in this column are solely those of the content provider and do not necessarily represent those of NewsBTC. NewsBTC does not guarantee the accuracy or timeliness of information available in such content. Do your research and invest at your own risk.