With the recent rise of AI crypto, many investors are looking to invest in this growing space. Avorak AI, SingularityNet, and Fetch.ai have been listed among the top AI crypto platforms by many crypto analysts. So what is AI crypto and why are projects like Avorak AI pumping more investors by the day?
AI crypto: The next trend in crypto?
AI crypto is a recently growing space on the blockchain. AI cryptocurrencies leverage the powers of artificial intelligence (AI) and blockchain to offer solutions to both businesses and individuals. Many investors have been moving to AI crypto because of the solutions they offer and their potential for growth. Recent moves by crypto influencers such as Elon Musk further indicate the rise of AI.
Avorak AI: Streamlining human-led tasks
Avorak AI is a new AI crypto built on Binance Smart Chain (BSC). The platform aims to offer an extensive list of solutions that are all under one single interactive AI. These solutions can streamline many sectors such as data analysis, trading, image generation and editing, and device management and security.
Avorak AI was listed among the 2023 AI crypto gems. And many crypto enthusiasts on YouTube have also been talking about Avorak AI and its ICO. Recent news suggests that Avorak AI is blazing through phase 2 of its ICO as it heads for phase 3. This will have the AVRK token at $0.145, which is more than a 140% increase from its initial price.
Why is Avorak AI pumping?
Avorak offers users a simple-to-use ecosystem that includes guides in all areas of usage, intuitive features, and two of the most commonly preferred user input systems; text and voice-to-text.
Avorak AI is also pumping because of the first-to-market solutions it offers. Avorak Trade, for example, can work on multiple exchanges and its APIs are protected by the abilities of AI and blockchain technologies. Avorak has also integrated its Natural Language Processing (NLP) capabilities in Avorak Trade to provide a non code-based trading bot.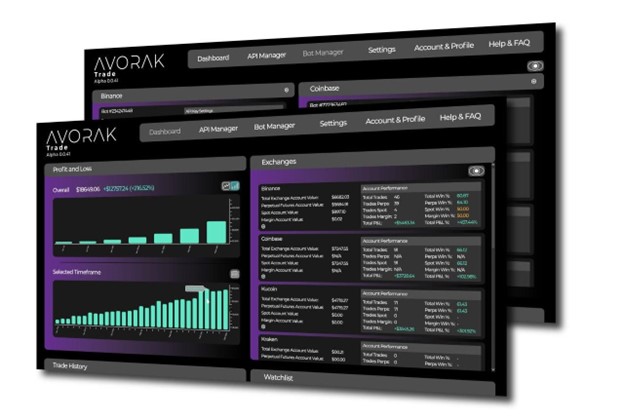 Avorak Write has also caught the attention of many investors. The text-generating tool includes APIs that detect plagiarism. The AI also autocorrects and edits texts in line with the querying user's specifications. Avorak Write also uses a combination of a prewritten language bank and internet scraping to create its unique texts.
Moreover, Avorak AI offers AVRK holders a chance to earn a portion of the profits from its AI services and get incentivized liquidity through decentralized exchanges. Additionally, through Avorak's staking and revenue feedback system, investors get a share of the last non-LP tokens.
Interested parties should hurry up, as with the end of Phase Two, the price will increase, offering instant profits going into the next phase.
SingularityNET: Next generation of decentralized AI
SingularityNET (AGIX) is a decentralized platform for artificial intelligence (AI). Through SingularityNET's AI marketplace and AI publisher, its users can create, buy, or sell in an ever-growing library of AI algorithms. AGIX has several use cases, such as purchasing any services on the marketplace, participating in the network, and staking.
Fetch.ai: Building autonomous agents
Fetch.ai (FET) is an AI crypto platform that leverages the power of AI and blockchain technologies to enable the creation of autonomous agents and smart contracts. The platform is intended to create a self-learning autonomous economy in which these agents can collaborate and interact with one another with no need for human intervention. This provides faster and more efficient transactions while maintaining a high level of security. FET is used to deploy these autonomous agents, for staking, and for paying transaction costs.
For more information on Avorak AI:
Website: https://avorak.ai
Whitepaper: https://avorak-labs-and-technology.gitbook.io/avorak-a.i-technical-whitepaper/
Disclaimer: This is a paid release. The statements, views and opinions expressed in this column are solely those of the content provider and do not necessarily represent those of NewsBTC. NewsBTC does not guarantee the accuracy or timeliness of information available in such content. Do your research and invest at your own risk.