When you look at how long they have actually been around, NFTs have only recently broken into the crypto market. The past few years have seen an explosion of interest and even top brands are entering the space and finding new ways to engage with their audiences.
However, the novelty is sort of wearing off. NFTs are largely still collectible assets, with little utility besides that. Some projects see that they need to add more value to the space and are doing precisely that.
How IMPT is Changing the Game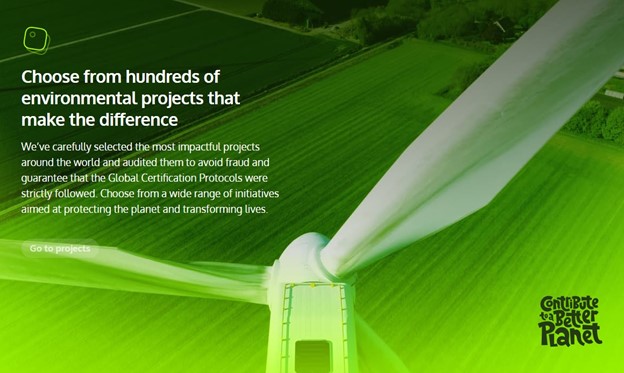 IMPT lets you choose from hundreds of environmental projects to support.
The problem of utility in NFTs has been creeping up this year, as many projects begin offering essentially the same product. The number of P2E game card games in existence is the perfect example of this. But on the plus idea, there are some projects that are using bringing novel use cases to NFTs.
One project at the forefront of this revolution in how NFTs are utilized is IMPT. This is a carbon credits platform that allows stakeholders  – brands, businesses, and individuals – to reduce their carbon footprint.
They do this by purchasing IMPT tokens which can then be used to buy carbon credits that can be burnt. Burning these credits results in an NFT that can be held or sold. Each carbon credit is equal to 1 ton of carbon output.
The team has made it explicitly clear that they want to bring the world together to help the environment. The idea is to build a Web3 platform that acts as a role model for how projects should be developing their platforms, and it sees helping the environment as its highest priority.
IMPT does well to show that NFTs can be much more than just a collectible item. It can be actively used to encourage good behavior, with benefits for all of those involved. Instead of being a collectible that may or may not depreciate over time, the project actually results in tangible positive change happening in the world.
Users earn IMPT tokens for participating in various activities in the ecosystem, which include such features as a shopping platform, a social platform, and a green NFT marketplace. They can also support hundreds of vetted environmental projects.
Carbon credits are a great way for businesses to offset their carbon footprint. ♻️

It's a great first step for businesses to reduce their greenhouse gas emissions and reduce their impact on the environment!!

GET INVOLVED TODAY! ?
? https://t.co/HJvidrW0it#BeTheSolution

— IMPT.io (@IMPT_token) October 19, 2022
As mentioned, they can purchase carbon credits with their IMPT tokens. The effectiveness of IMPT's novel use of NFTs is that every activity results in the IMPT token being used somehow, which in turn means carbon credits are being purchased and NFTs are being created.
This new use of NFTs could potentially attract many brands and this will help expand the platform and ecosystem. It will mean more opportunities for individuals to shop on the shopping platform and a further reduction in carbon footprint.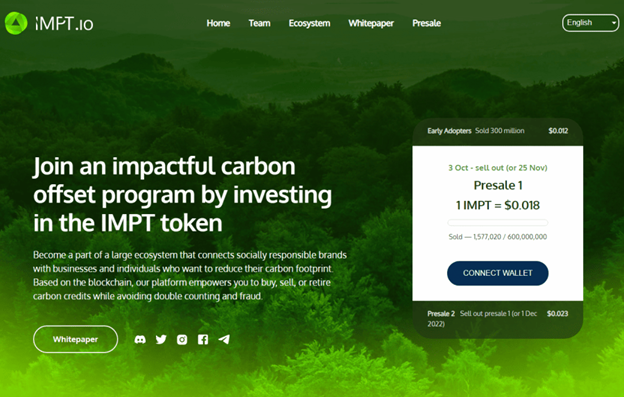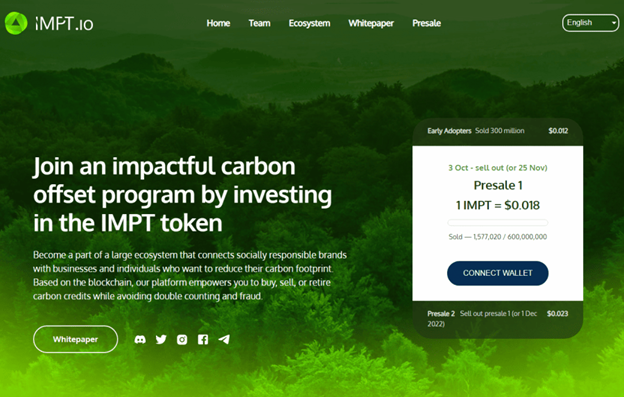 IMPT is currently hosting its first presale.
IMPT is also conducting its presale at the moment, with 1 IMPT token priced at $0.018. There will be a total of 600 million IMPT tokens available in the first presale. The second presale will see 660 million tokens sold at $0.023, while the final presale will have 540 million tokens sold at $0.028.
Other Projects Also Making a Difference
Besides IMPT, which has a noble social cause, there are other projects that are also making a considerable difference in how NFTs are being utilized. One prominent project here is Tamadoge, which is changing the meme coin landscape with its use of NFTs and the metaverse.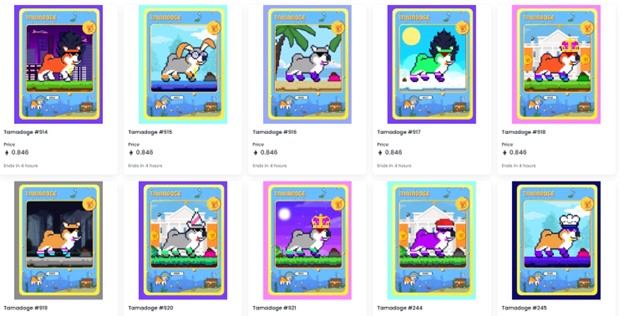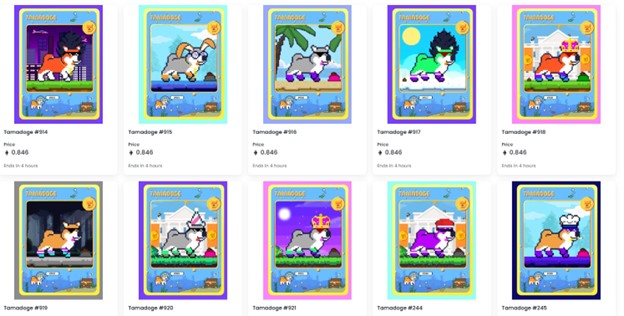 Tamadoge NFTs are available on OpenSea.
The project has become very popular in only a few weeks since its launch and this is primarily because of the way in which it marries NFTs with the meme coin concept. The team has noted that both the meme coin and NFT niches were stagnating somewhat, and have released features that bring them together and revitalized both niches.
Among those utilities are a P2E game, a metaverse, and multiple ways to earn rewards in the ecosystem. For example, the Tamadoge Arcade, which will be released soon, offers a retro gaming experience where players can earn rewards in TAMA.
Players hold their Tamadoges in the form of NFTs, which can be leveled up and used in battles with other players. There are of course different rarities, with the rarest kind offering the best stats.
Tamadoge is bringing new ideas to the meme coin niche and really makes strong use of NFTs. Such ideas will also shape the market going forward.
NFTs Will See More Novel Utilities in the Future
The likes of IMPT and Tamadoge are changing how we use NFTs. While once a collectible-only asset, the new trend is implementing the technology in such a way that it actively benefits stakeholders – and even the environment. As this trend takes hold, we will see many new projects on the market that focus on more altruistic goals, like IMPT.
Disclaimer: This is a paid release. The statements, views and opinions expressed in this column are solely those of the content provider and do not necessarily represent those of NewsBTC. NewsBTC does not guarantee the accuracy or timeliness of information available in such content. Do your research and invest at your own risk.