Many crypto enthusiasts have gained massive profits for buying into cryptocurrencies like Shiba Inu (SHIB) and 1inch Network (1INCH) at an early stage. This was before they exploded. However, it takes good research to find such gems at their early stages, for instance, the new crypto Runfy (RUNF) token.
Runfy (RUNF) is already attracting massive attention with its ongoing pre-sale. It also builds up optimism as more people anticipate the potential next big thing in the crypto space. But how many rewards can it offer?
This article will explore the developing Runfy (RUNF) ecosystem. It will also briefly discuss Shiba Inu (SHIB) and 1inch Network (1INCH) to see what chances Runfy (RUNF) has to provide more rewards.
Second-Largest Meme Coin: Shiba Inu
Shiba Inu (SHIB) is a popular meme coin developed on the Ethereum Blockchain. The Shiba Inu ecosystem created the coin as a decentralized cryptocurrency that fosters community.
Shiba Inu (SHIB) was introduced as Dogecoin's (DOGE) competitor. It is touted as the "doge-killer" and is interestingly replacing the original meme coin in various areas. Shiba Inu (SHIB) is also becoming a preferred option for some cryptocurrency investors.
The project is venturing into decentralized finance (DeFi) and introducing additional utilities, such as a crypto exchange and a Metaverse. These utilities will allow token holders to do more with their tokens and help push the token's value.
Early investors cashed out massively from the coin. However, with Shiba Inu's (SHIB) new utilities, there's still room for growth.
1inch Network's DeFi Protocol
1Inch Network (1INCH) is a decentralized exchange (DEX) aggregator created to sift through a number of DEXs to find the most lucrative platforms for liquidity providers. The network grants users access to 116 sources on the Polygon Network, Binance Smart Chain (BSC), and Ethereum blockchain.
1inch Network (1INCH) uses various algorithms to carry out its task. The liquidity offered across several marketplaces on three blockchain networks is unquestionably one of its greatest advantages. Investors who participate in its liquidity mining programs also can gain rewards.
Early 1INCH investors profited greatly. However, its price has presently fallen along with that of the rest of the cryptocurrency market.
There have recently been indications of a market recovery. Technical indications suggest that if the rest of the market bounces off of its lower resistance levels, 1INCH could likely return to its all-time high price of about $7 and possibly even break the $10 threshold.
Developing Fitness Project: Runfy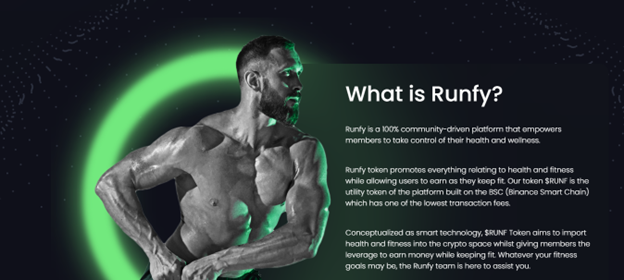 Runfy (RUNF) is a new blockchain project that aims to help people stay fit while earning cryptocurrency. The project intends to revolutionize the health and fitness industry by developing an app that allows users to track their fitness goals and determine how best to reach them.
Runfy (RUNF) will have two universes, the RunfTR Metaverse and RunfShop, for fitness products. The RunfTR Metaverse is where users and trainers will interact to access diet and exercise routines.
Users can earn tokens by completing daily, weekly, and monthly challenges. It will employ its native RUNF token for rewards and transactions with the ecosystem.
Other platform utilities for the RUNF token will include staking and yield farming. It will begin immediately after the project's launch.
Shiba Inu (SHIB) and 1inch Network (1INCH) have rewarded investors who believed in their potential with massive gains, despite market volatility. While it's hard to tell if Runfy (RUNF) can outperform them, the project has an excellent chance to dominate and increase blockchain adoption with its fitness app.
Runfy's (RUNF) pre-sale is live now and could be your best bet at bagging the next big cryptocurrency. Check out the links below to get started.
Presale: https://presale.runfytoken.io/
Website: http://runfytoken.io/
Telegram: https://t.me/RunfyTokenOfficial
Disclaimer: This is a paid release. The statements, views and opinions expressed in this column are solely those of the content provider and do not necessarily represent those of NewsBTC. NewsBTC does not guarantee the accuracy or timeliness of information available in such content. Do your research and invest at your own risk.