The price of the shiba inu cryptocurrency rose on Tuesday after Coinbase revealed that the meme cryptocurrency would begin trading on Coinbase Pro this week.
Coinbase To Trade Shiba Inu
Coinbase announced Tuesday that shiba inu (SHIB) crypto would begin trading on Coinbase Pro this week, after the listing of the meme cryptocurrency Dogecoin (DOGE) earlier this month. Some consider the ERC20 crypto shiba inu to be a viable alternative to Dogecoin.
Coinbase Pro users can now transfer shiba inu tokens into their accounts, according to the Nasdaq-listed business. Residents of New York, however, will not be able to use SHIB. The firm clarified:
Trading will begin on or after 9AM Pacific Time (PT) Thursday June 17, if liquidity conditions are met.
Coinbase added SHIB little more than a month after that coin's creation, in marked contrast to its addition of dogecoin, which seemed to take doge years. This reflects a sea change in the approach of the exchange, a change announced at the time of its addition of dogecoin on June 1.
The announcement also covers chiliz (CHZ) and the keep network (KEEP). Besides dogecoin, the company recently added trading support for a number of tokens on Coinbase Pro, including polkadot (DOT), gitcoin (GTC), enzyme token (MLN), amp (AMP), and internet computer (ICP).
Shiba Inu is a meme coin similar to Dogecoin, which was inspired by a Shiba Inu meme from the 2010s. It is, however, an ERC20 token, which means it functions on the Ethereum network, unlike DOGE.
SHIB is the 17th-largest coin by market capitalization, according to Nomics, with over $9 billion—more than Stellar, Ethereum Classic, or Dai.
Shiba Inu's anonymous founder Ryoshi (a psuedonym) made the unwise decision to send half of the token's supply to the founder of Ethereum, Vitalik Buterin. Why? Ryoshi's claims that he wanted to minimize Shiba Inu's supply and increase its value.
Two days after Shiba Inu got listed on Binance, Buterin donated $1 billion worth of Shiba Inu to an India-based COVID-19 fund. Unfortunately, the token suffered as a result and tanked to painful lows.
Related article | Vitalik Buterin Dumps His SHIB, Price Tanks 30% In 1 Hour
Now that Coinbase added Shiba Inu to its list of supported cryptocurrencies, "Dogecoin killer" token holders now have renewed hope that Shiba Inu can surpass its Elon Musk-led rival to the moon.
Price Soars After Announcement
The price of the shiba inu cryptocurrency jumped over 30% around the time of the Coinbase announcement. At the time of writing, the price of SHIB is $0.0000092 and its market cap is $3.6 billion, based on data from Coinbase.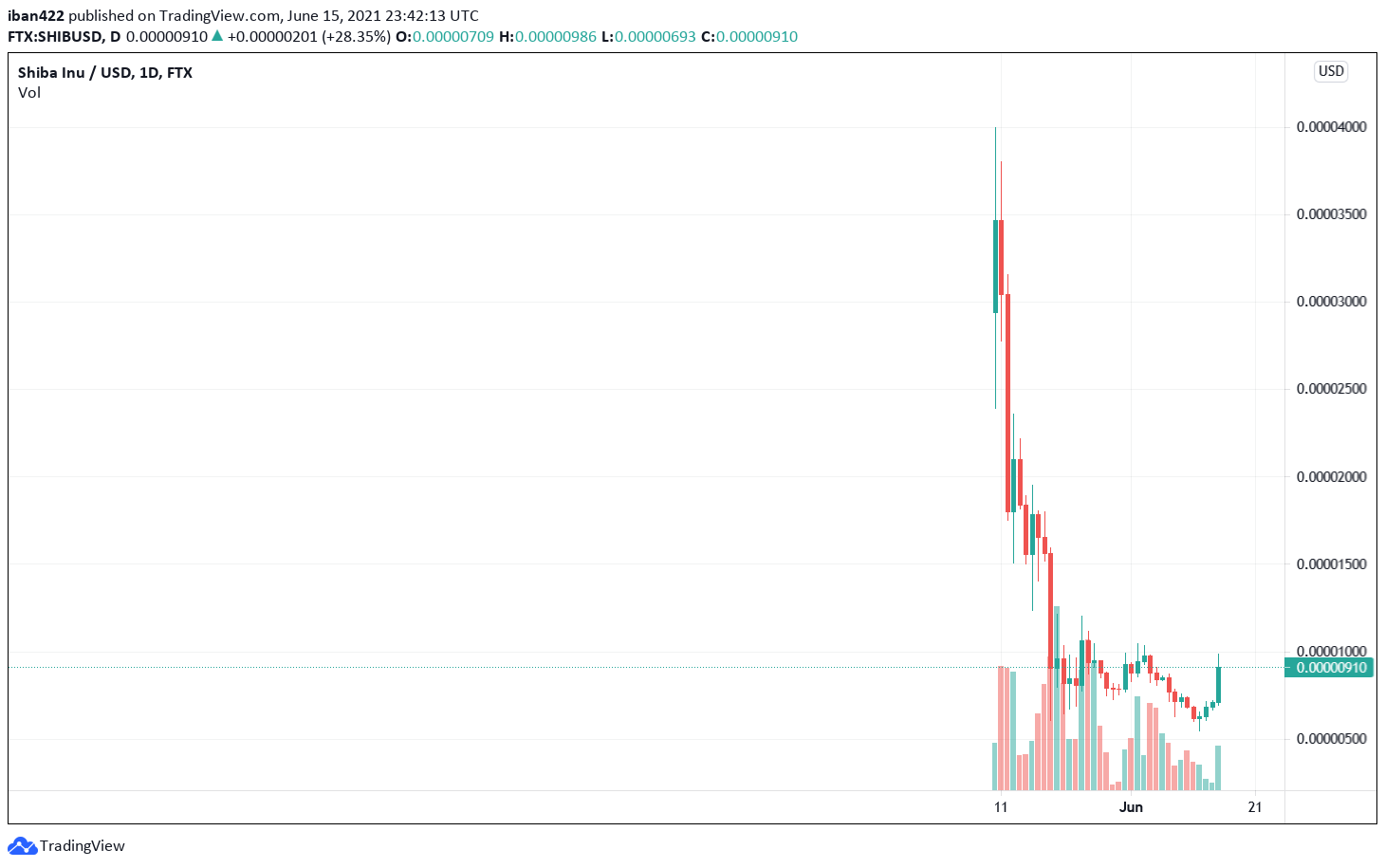 Trading of SHIB-USD and SHIB-USDT order books will begin in three phases, post-only, limit-only, and full trading, once adequate supply of the shiba inu cryptocurrency is established on the Coinbase Pro platform, according to the firm.
Related article | Binance Lists SHIB, Will It Become The Next DOGE?
Featured image from Pixabay, Charts from TradingView.