The Shiba Inu (SHIB) price continues to consolidate, showing little momentum to initiate another furious rally. With the Bitcoin price trading below the key resistance zone at $28,600, an altcoin season has so far failed to materialize – and with it an important catalyst for previous SHIB rallies.
However, SHIB has quietly formed a bullish chart pattern that could point to a price breakout before the end of April. After the sharp pullback from $0.00001591 in early February, SHIB reached a local low at $0.00000967 on March 10.
However, since then SHIB has been writing higher lows and has formed an ascending triangle pattern on the 1-day chart. As is characteristic of an ascending triangle formation, Shiba Inu price is showing a flat resistance level at the upper end. This is at $0.00001151 for SHIB and could not be broken in seven attempts so far.
The lower side is sloping upward as price reaches higher lows. Traditionally, the pattern can signal weakening resistance and an impending breakout to the upside. These higher lows indicate that bulls are gaining the upper hand in the market.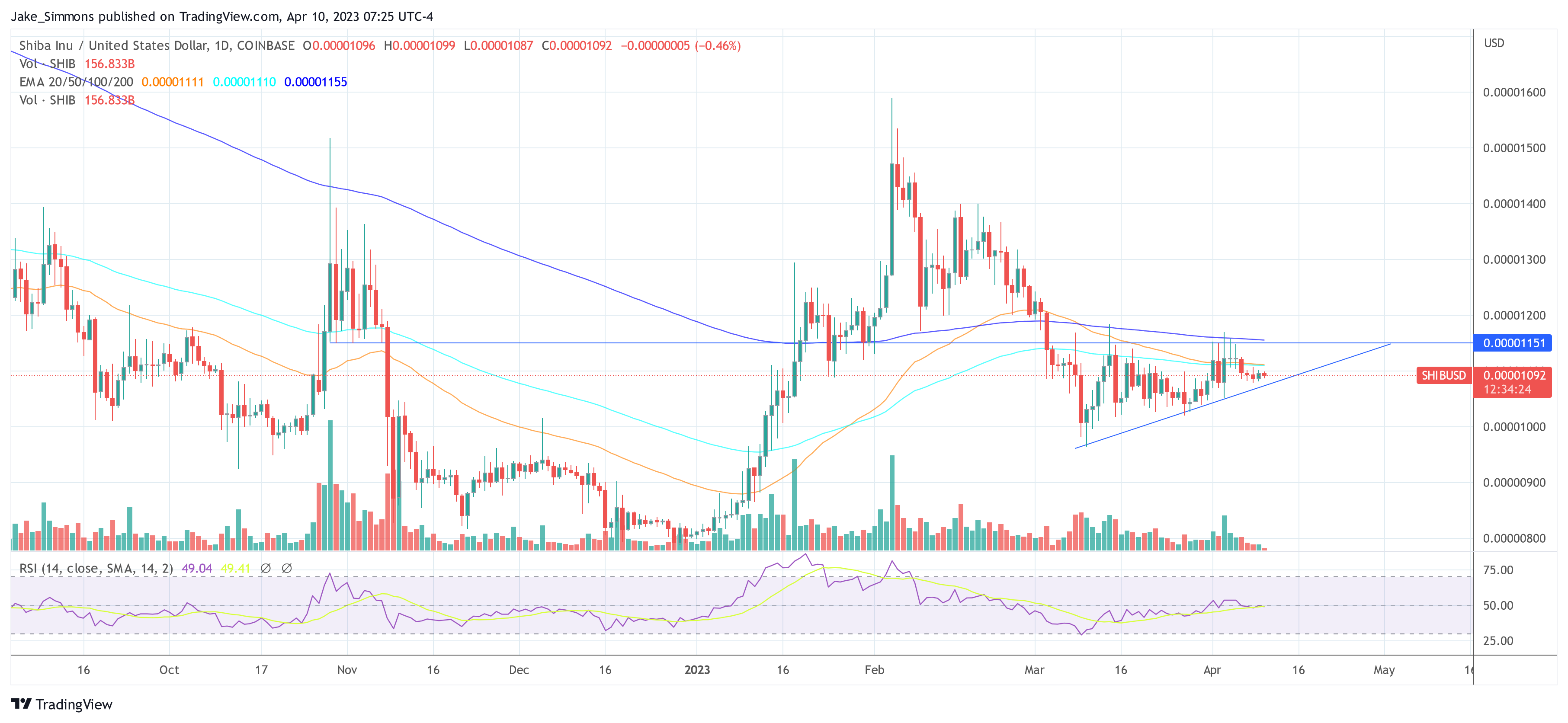 In other words, this could mean that Shiba Inu may continue the uptrend initiated in early January after a two-month consolidation if the horizontal resistance line at $0.0000151 is cleared. For this to happen, however, buyers will need to build more pressure against sellers to continue writing higher lows and ultimately achieve the breakout.
The apex of the ascending triangle sits at the end of April, so a turning point for SHIB will come no later than that. Either the $0.00001151 level is broken or the bullish chart pattern is threatened to be invalidated. Then, a retest of the local low of early February becomes a possibility.
Importantly, a breakout from the triangle requires a rising trading volume. If the breakout takes place under low volume, it can be a false signal, as some of the last attempts have shown.
Bullish Catalysts For Shiba Inu
An external catalyst outside the SHIB ecosystem could be an "altcoin season." In a recent analysis, Jan Happel and Yann Allemann, co-founders of Glassnode, write that a collapse in the Bitcoin price to $25,000 to $26,500 could lead to a full-blown alt season.
"So, we are seeing signs that the altcoin season is coming, but we await a solid confirmation, such as numerous altcoins going off (exploding). As of now, only 4 show explosiveness," the two analysts write.
Shiba Inu intrinsically, the launch of Shibarium on the mainnet is likely to be the biggest catalyst for SHIB. However, as Influencer Lucie shared today, the date is not yet known. "I don't have a crystal ball, it could be 2-6 months," the SHIB community member wrote.
Wen is not a fruitful question, I ignore it.

I don't have a crystal ball, it could be 2-6 months

— 𝐋𝐔𝐂𝐈𝐄 (@LucieSHIB) April 10, 2023
In that respect, this catalyst seems very unlikely to happen by the end of April. If anything, announcements for the beta testnet could create a re-emergence of hype. Other factors may include a further increase in the SHIB burn rate, led by the Koyo project, as well as the continued growth of the SHIB user base.
Featured image from VOI, chart from TradingView.com