While another breakout attempt for Shiba Inu (SHIB) from the current consolidation pattern failed with yesterday's daily close on the 1-day chart, the price is still in prime position to complete a breakout by the end of April. As NewsBTC first reported last week, the SHIB price has formed an ascending triangle on the 1-day chart ever since March 10.
The ascending triangle is one of the consolidation patterns, which signals that the previous trend direction will resume when the pattern finds its confirmation. The Shiba Inu price is currently showing strong signs that the consolidation phase is about to end, while the upward trend that started in January may resume.
Shiba Inu Price Primed For Another Breakout Attempt?
A look at the 1-day chart shows that despite a strong start to the day, Shiba Inu failed to close above the $0.00001151 resistance line yesterday. Towards the end of the day, SHIB ran out of steam, in line with the Bitcoin price pullback.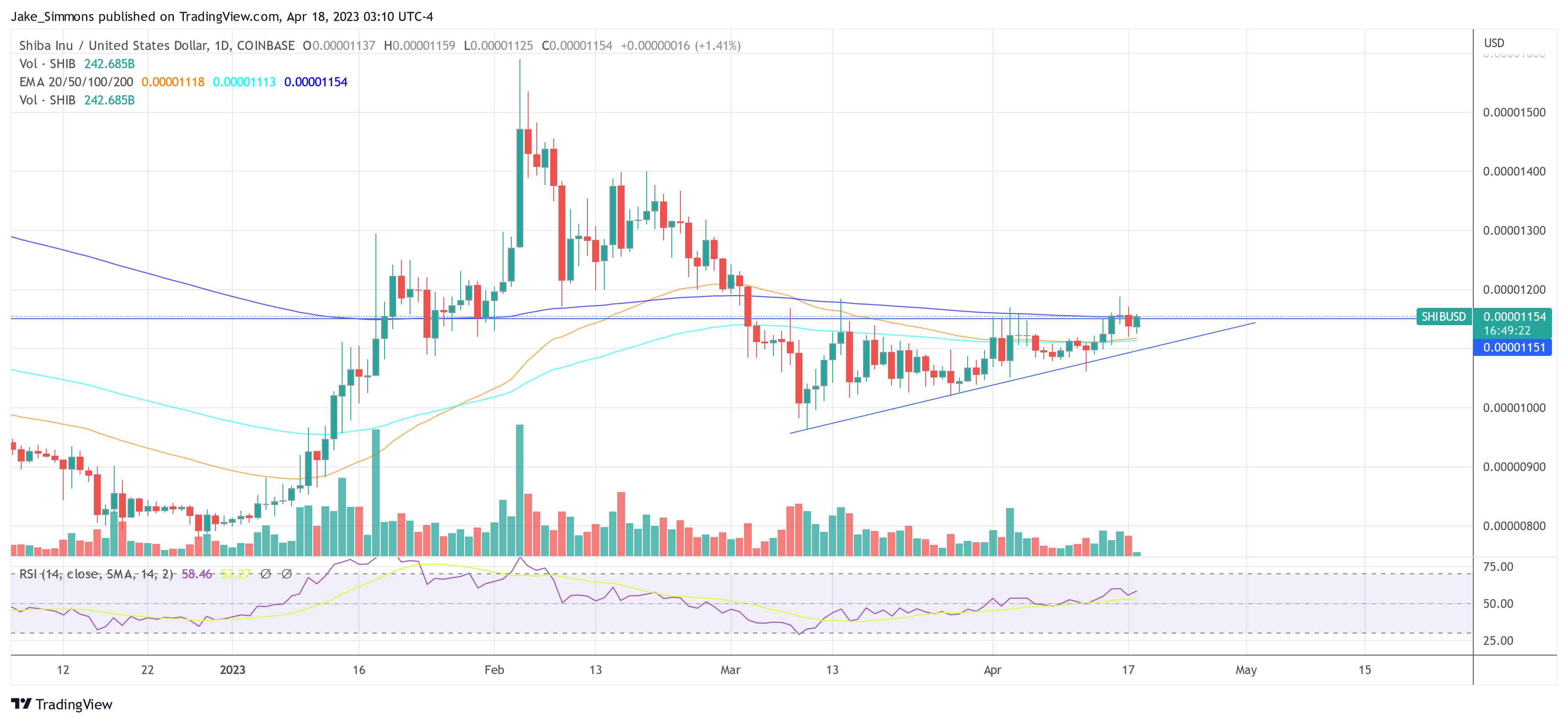 This caused the SHIB price to fall once again into the ascending triangle pattern. As NewsBTC discussed, high trading volume is required for a clean breakout. If the breakout takes place on low volume, as it did yesterday, it is usually a false signal.
At the time of writing, SHIB was trading at $0.00001153, starting yet another breakout attempt. Shiba Inu investors should look out for a significant increase in volume for confirmation of the move.
If SHIB can close above the $0.00001151 resistance today and turn it into support, it could mean that the local high at $0.00001591 from early February is the next likely price target (+38%). At this level, more selling pressure can be expected in the short term.
However, if this price level is also broken, the higher high would fully confirm Shiba Inu's uptrend. After a two-month consolidation, a rise of more than 55% to the local high of August 14, 2022 at $0.00001787 would thus be a second target price.
Altcoin Season May Boost SHIB
The decisive push above the resistance line could be provided by an altcoin season, which according to some experts is just around the corner. Glassnode co-founders Jan Happel and Yann Allemann write in their latest newsletter:
Currently, altcoins are exposed to bitcoin pull-backs – like the one we saw today – given its dominance according to the Altcoin Cycle Signal. The tides are shifting toward ethereum.
Accordingly, the typical shift from Bitcoin to Ethereum to altcoins like Shiba Inu could be imminent. As analyst Scott Melker recently discussed, the Bitcoin Dominance (BTC.D) is at the upper end of a multi-year range. The last few days have already seen the first drop in BTC.D, which could mark the beginning of an altcoin season.
Beautiful. https://t.co/4Q8CtGxquL pic.twitter.com/gFRGfzXAPJ

— The Wolf Of All Streets (@scottmelker) April 14, 2023
Featured image from Binance Academy, chart from TradingView.com