Acute Angle PC is coming out, please stay tuned.
Acute Angle PC had been launched on its official website at 12:00 on December 12th. This is a universal hardware host based on IPFS point-to-point hypermedia protocol storage and Acute Angle Chain management of digital assets and formulating reward system for the users through smart contract.
History of Acute Angle PC
Based on blockchain technology, Acute Angle PC acquires digital assets by sharing idle disk space and bandwidth through distributed cloud storage and cloud computing. This is what we commonly refer to as "mining" and the hardware that acquires digital assets is what we call "mining machine".

Gao Shengli, the developer of Acute Angle PC, is a computer enthusiast. He started to keep an eye on blockchain technology as early as 2014 and began to devote himself to personal computer development the following year: he started with iterating computer hardware performance and appearance constantly and never stopped research on the application of blockchain technology, and finally completed the world's first Acute Angle PC based on the blockchain technology.
Acute Angle PC, built with 128G SSD hard disk storage inside and interface with hard disk storage device outside, provides comprehensive and stable CDN services for the Internet business with the idle resources provided by users and a series of innovative and valuable massive business acceleration services for the download platform, UGC acceleration platform, streaming media platform and dynamic acceleration platform.
In the future, Acute Angle Cloud will offer more massive services to provide users on the cloud with CDN acceleration services that better meet the needs of the Internet business. Users can not only earn Acute Angle Coin by sharing the idle storage space and bandwidth through Acute Angle PC but also easily win community rewards and technological innovation bonuses by sharing contents.
Why Acute Angle PC?
 The significance of Acute Angle PC's research and development lies in that it can bring users point-to-point information dissemination at lower costs and has made a great contribution in the direction of globalization. In addition, Acute Angle PC also has the necessary advantages of long lasting storage and great stability to go global. Let's take a closer look at its advantages.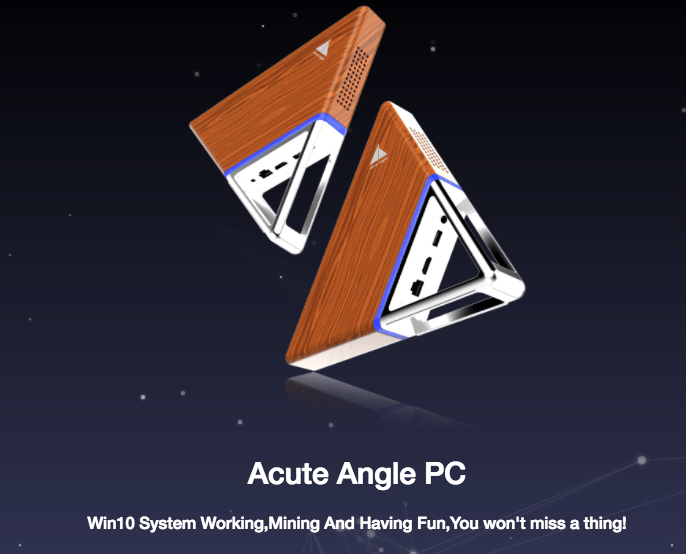 Storage advantages
It solves the waste of storage space through distributed storage technology and automatically reallocates data to improve utilization of storage space and connect all computing devices with the same file system.
Its principle lies in that the domain-based address is replaced with the content-based address, that is, the user is looking for the content stored in an address instead of the address itself, and there is no need to verify the identity of the sender, but only verifying the hash of the content. In this way, the web pages can become faster, more secure, more robust and more durable.
 Lower cost of use
The distributed IaaS platform is realized through technologies such as blockchain, cloud computing, and IPFS to subvert the operation mode of the traditional centralized computer room with high operation and maintenance costs and makes rational use of idle resources and returns benefits to users.
 Avoiding waste of resources
Acute Angle PC solves idleness of the personal computer hard drive, CPU, and other resources through virtual technology. It collects, allocates and fully recycles the user's idle hard disk and CPU resources to apply Acute Angle PC and Acute Angle Cloud in the chain ecological system.
Comparison between Acute Angle PC and OneCloud, LLT Box
 The biggest difference between Acute Angle PC and OneCloud, LLT Box is the form of the equipment. The essence of Acute Angle PC is a computer based on blockchain technology with the Windows10 system, the latest Apollo N3450 14nm quad-core microprocessor of Intel, 8+64G internal memory, solid node storage with capacity of 128G or larger, which is safe and high-speed with node storage. Thus, it can not only be used for mining, but also for daily office working and entertainment. The other two are private Nas (Network Attached Storage), and if users use Nas' memory, the unused space for digging up the mines is more limited. In addition, Acute Angle PC's service system also surpasses the only cloud storage services of the other two devices, and constructs a better global distributed IaaS platform.
At present, we have already released the White Paper and the product has drawn the attention of many investment institutions.
For more information, please go visit our official website: www.acuteangle.com and leave your email to be the first to know any updates regarding the product.